10 Images
PHOTOS: Monrovia is all the rage with black bears
Black Bear Canyon
A sign reading "Black Bear Canyon" sits atop mailboxes along Norumbega Drive in Monrovia.
(Anne Cusack / Los Angeles Times)
Samson
In the 1990s, a bear called Samson became Monrovia's unofficial mascot after being pictured in a local swimming pool.
(Gary Potter)
Damage
Nina Rambeau, with son Chase, says bears broke the gate to their swimming pool several times and swam in the pool.
(Anne Cusack / Los Angeles Times)
Roaming
Monrovia residents don't always agree on how to deal with bears that wander through residential areas. Some people say the bears should be left alone until they move along; other people are more aggressive about calling animal control.
(Boni Forte)
Bear and her cubs
A black bear and her cubs roam through a foothill neighborhood in Monrovia.
(Boni Forte)
Up a tree
In 2002, a bear called Billy went up a tree in Monrovia and kept animal control officers at bay during a 14-hour standoff. Billy finally was tranquillized and taken back into the mountains.
(Robert Gauthier / Los Angeles Times)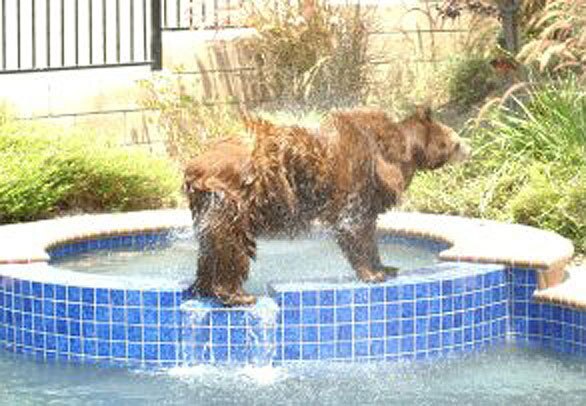 Hot tub
Bears have been known to take a dip in local hot tubs.
(Ron Schwartz)
Bear flag
"We love watching [bears] coming across the yard," says accountant Boni Forte. "There's so much you can see, and you should embrace it instead of calling the city and saying, 'There's a bear out here.' Just wait and he'll go away."
(Anne Cusack / Los Angeles Times)
Cub
A black bear cub paces through the foothills of Monrovia.
(Rudy Libra)
Homeowner
Nina Rambeau says bears broke through a screen and and crawled underneath her house. She has replaced the screen with a wood-and-metal barrier.
(Anne Cusack / Los Angeles Times)