War of words erupts over Fourth of July event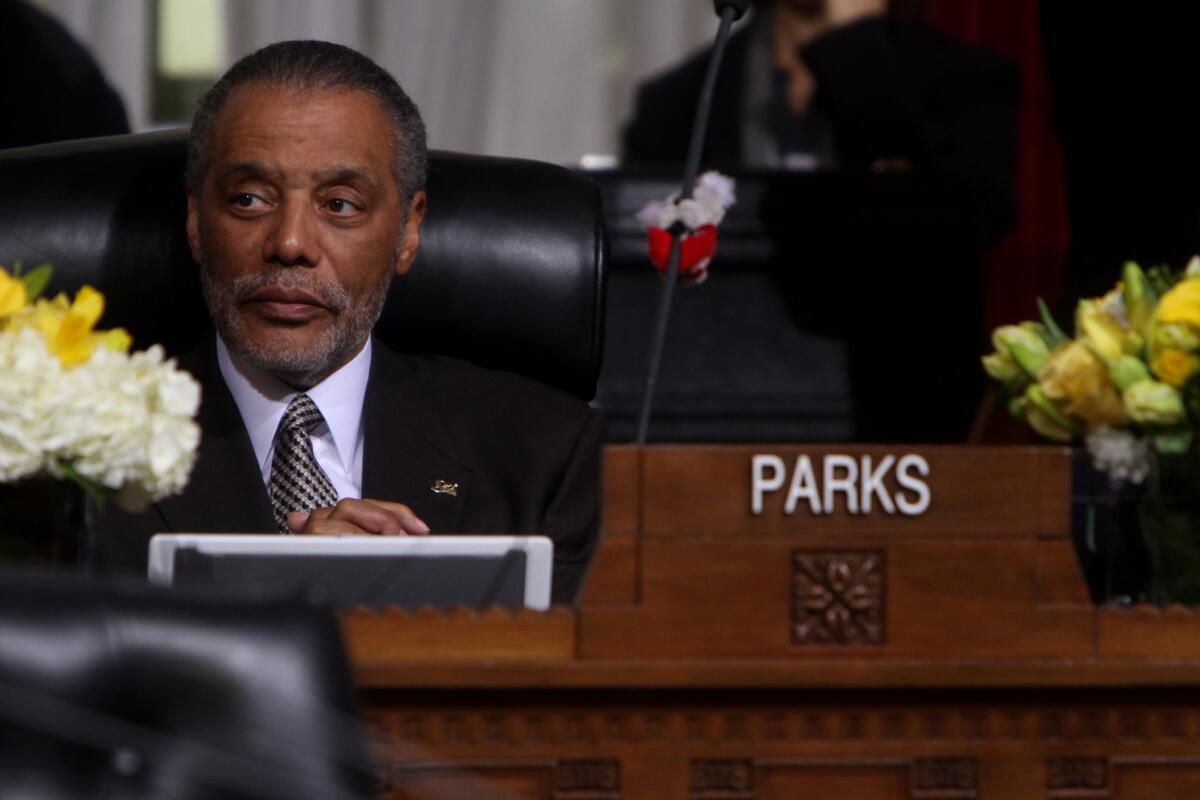 A war of words erupted Tuesday between two Los Angeles City Council members vying for control of the annual Fourth of July fireworks show at the Los Angeles Memorial Coliseum.
In a blistering press release, Councilman Bernard C. Parks accused Councilman Curren Price and USC of "continuing what has become a petty retaliation effort" to force Parks out of the Fireworks Extravaganza he founded more than a decade ago.
Parks said the university and some Coliseum Commission members have been at odds with him since he publicly opposed a deal giving USC control of the Coliseum, which he argued gave the community "little to nothing in return." After Price proposed a Fourth of July fireworks show and fair of his own at the Coliseum, Parks accused USC of working with Price to cut Parks out of the celebrated event.
Parks also stressed his longtime role in creating and securing funding for the event. In a barb apparently aimed at Price, Parks said that "instead of actually earning accomplishments, we're dealing with a herd of elected officials who have become accustomed to claiming the hard work of others."
Parks' council district was redrawn to exclude the Coliseum during redistricting two years ago, and it became part of the district represented by Price. In a statement responding to Parks, Price said it was "only logical that now, as the elected representative of the Coliseum, I would want to produce the Annual Fireworks show that is hosted there."
"I am disappointed that Councilmember Parks has decided to take such a negative and accusatory tone when, frankly, there is so much we could be doing together to support and benefit our neighboring underserved communities," Price added. "To suggest that there is any wrongdoing here is uncalled for."
USC did not immediately respond to requests for comment after Parks released his statement late Tuesday afternoon. Earlier on Tuesday, David Galaviz, USC's executive director of local government relations, said the university had only had two "very brief conversations" with Price's staffers about the event.
"Now that the university manages the Coliseum, there's the need to become involved in some kind of undetermined role," he said. Galaviz said that Parks hadn't contacted them about his proposed event.
The Coliseum Commission is slated to discuss and possibly act on a Fourth of July event proposal from each councilman at its meeting Wednesday. Price sits on the commission, as Parks did in the past.
Twitter: @LATimesemily
Sign up for Essential California for news, features and recommendations from the L.A. Times and beyond in your inbox six days a week.
You may occasionally receive promotional content from the Los Angeles Times.