3 associates of rap mogul arrested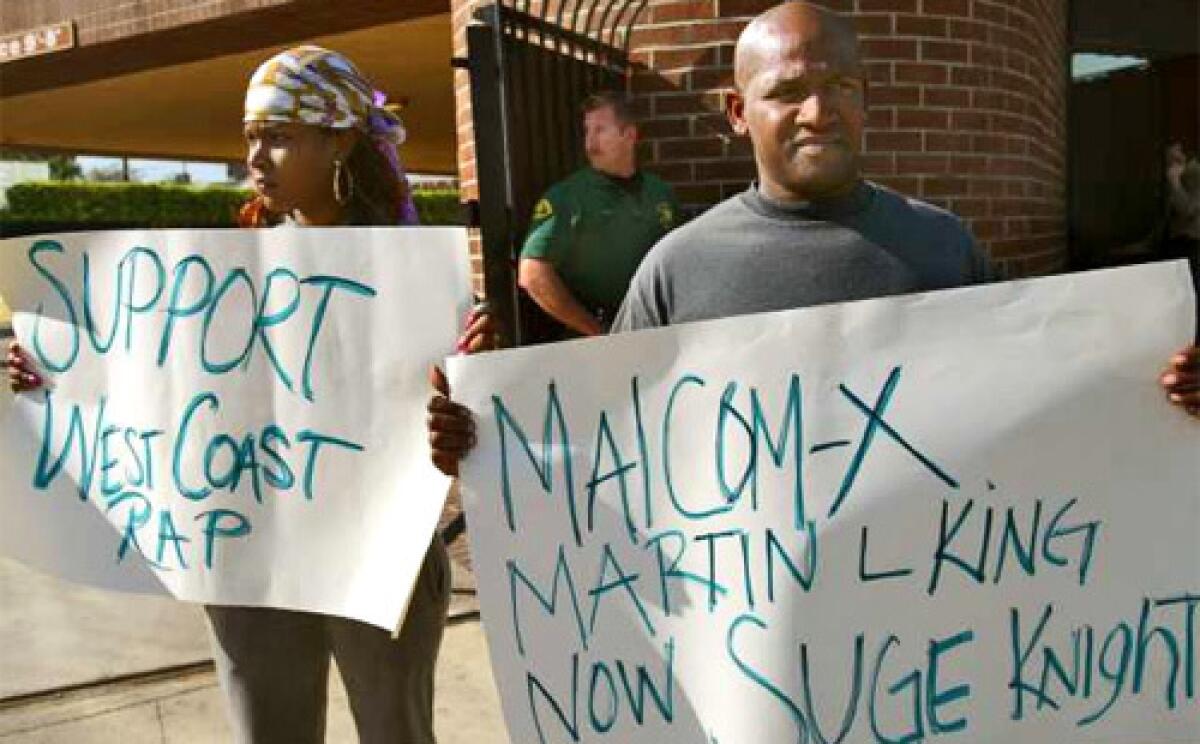 Los Angeles Times Staff Writers
In an investigation that centers on the crumbling rap music empire of Marion "Suge" Knight, Los Angeles authorities arrested three of his associates Thursday on suspicion of conspiring to murder a gang rival.
The three -- a former Los Angeles County sheriff's deputy and two alleged gang members -- are accused of plotting to kill the rival in revenge for the death of another Knight associate who was gunned down in April. The arrests came during an early-morning sweep in which 175 sheriff's deputies served search warrants at 16 sites in Southern California and Las Vegas, including Knight's Beverly Hills office and his homes in three cities.
Knight, the founder of Death Row Records, was one of the most influential figures in the development of rap and hip-hop music, which he helped launch from an urban fad into an international cultural phenomenon. Along the way, however, he has been closely associated with the music's dark side: violence that has claimed the lives of several of its brightest stars and many hangers-on.
Sheriff's officials said Thursday that Knight is not a suspect in their investigation, which focuses on a string of alleged gang killings, including several in which the victims were Knight employees or associates. The officials also stressed that the investigation is not related to the unsolved killings of two of rap's biggest stars, Tupac Shakur and Christopher Wallace (also known as Biggie Smalls and Notorious B.I.G.).
"This is strictly a gang-related murder in the city of Compton," Sheriff's Capt. Pete Amico told a news conference.
Thursday's sweep led to the arrests of former Sheriff's Deputy Kordell Depree Knox, 37, along with reputed gang members Michael Payne, 25, and Theodore Kelly, 29, authorities said. The three were charged with conspiracy stemming from the June 7 death of Eric Letheal Daniel, 29, a reputed Compton gang member known by the nickname "Scar."
None of the three arrested is believed to have been the gunman, investigators said. Sheriff's investigators have arrest warrants for five other people, who are still at large.
Kelly was arrested at 5 a.m. at the Wilshire Boulevard headquarters of Knight's company, now known as Tha Row Records. Knox, who worked as a security guard at Tha Row, was arrested about the same time at his Compton residence. Payne was arrested at a home in Long Beach.
Knox is a former Compton police officer who became a sheriff's deputy when the department took over policing duties in Compton. He was dismissed by the department earlier this month when he came under investigation over an off-duty assault, Amico said.
Two other men, Darryl Small and DeShone Lacey, were arrested Thursday on unrelated drug possession charges, sheriff's officials said. Small was arrested at Knight's office; Lacey at his Compton home. It was Small's second arrest in a month. The first was on weapons charges after what sheriff's deputies described as an attempted drive-by shooting on an Inglewood street in late October.
Daniel's mother, Rose Mary Daniel-Rogers, said she was overjoyed to hear of the arrests, and grateful to detectives for "not letting it rest."
"I just heard it on the television, and it feels like something has just lifted," she said Thursday afternoon. "You don't know how good I feel. It's just the idea of me knowing who really murdered my baby."
Her son had struggled in life but had recently been going to church, she said, and was trying to improve his lot. Regardless of bad times, he always appeared happy, she said.
Daniel-Rogers said she was also glad to be able to tell his 8-year-old son that someone had been arrested.
"Now he doesn't have to be mad with the world," she said.
Heavily armed deputies in Thursday's sweep served search and arrest warrants in and around Los Angeles. Besides Compton, Beverly Hills and Long Beach, warrants were served in Malibu, Lakewood, Paramount, North Hollywood and Lynwood, plus Las Vegas.
Sheriff's officials said they employed the department's SWAT team because of the suspects' history of violence.
At Tha Row's office, a pile of glass marked the entrance where sheriff's investigators smashed a door to force their way in. Yellow tape surrounded the building as deputies seized boxes of documents and a computer, which they carted away in an unmarked pickup.
In addition, a 9-millimeter handgun was recovered from Knight's offices, Amico said. However, he added, "It's not the 9-millimeter related to the Daniel shooting." One goal of the sweep was to recover the weapon used in that slaying.
During a search of Knight's 9,000-square-foot Malibu home, his pregnant wife was briefly handcuffed, Amico said. "Deputies used their discretion to make sure the home was safe and secured," he said.
Investigators believe Daniel's murder resulted from a rivalry between two factions of the Bloods gang and was in revenge for the killing of Alton "Buntry" McDonald, a former associate of Knight.
"We are searching for evidence related to a murder and conspiracy to commit murder," said Deputy Darren Harris. "Tha Row Records has some connections."
Knight was not in his office Thursday and did not return calls seeking comment. His lawyer, David Z. Chesnoff, issued a one-sentence statement: "We appreciate the professionalism of the police in clearly indicating that Mr. Knight is not a suspect."
McDonald is one of several members of Knight's inner circle who have been killed in recent months. The most recent was Tha Row employee Henry "Hendog" Smith, gunned down the afternoon of Oct. 16.
A task force of federal and local law enforcement officials has been looking into these and reputedly retaliatory killings, primarily involving members of two Bloods factions, the Mob Pirus and the Fruit Town Pirus, both based in Compton.
During the early days of Death Row, Knight would brag that his company hired ex-cons and gang members to give them a second chance. In the early 1990s, Knight employed both Mob Pirus and Fruit Town Pirus.
But in the mid-1990s, the two factions had a falling out, setting the stage for the recent violence.
Knight himself was sentenced to prison in early 1997 for a probation violation stemming from his participation, along with Tupac Skakur and four reputed members of the Bloods, in a brawl in a Las Vegas hotel lobby on Sept. 7, 1996. Shakur was mortally wounded three hours later in a drive-by shooting near the Strip. Knight was at his side.
The four Bloods who participated in the Las Vegas altercation were Alton McDonald, Travon "Tray" Lane, Roger "Neckbone" Williams and Aaron "Heron" Palmer. Of these, Lane was later sent to prison for his role in a drive-by shooting; Williams was jailed on a weapons violation; Palmer was killed in a drive-by shooting in June 1997 and McDonald was gunned down April 3, 2002, while filling his SUV with gas.
*
Times staff writers Mitchell Landsberg and Jill Leovy contributed to this report.
Sign up for Essential California for news, features and recommendations from the L.A. Times and beyond in your inbox six days a week.
You may occasionally receive promotional content from the Los Angeles Times.