11 Images
Montana plane crash kills 14
A day before it crashed in Montana, killing all 14 people on board, the single-engine turboprop Pilatus PC-12 airplane comes in for a landing at Redlands Municipal Airport.
(Liam Savage / Associated Press)
The plane left Redlands early Sunday and stopped in Vacaville and Oroville to pick up passengers, the NTSB said. According to NTSB investigators, the plane's occupants were traveling to Bozeman, Mont., to meet other family members for a ski vacation.
(Eric Reed / Associated Press)
The airplane crashed in a cemetery Sunday afternoon, about half a mile short of the runway, after the plane's nose suddenly veered downward during its approach to the airport in Butte, Mont.
(Martha Guidone via The Montana Standard/EPA)
NTSB investigators and local police and sheriff's departments scour the crash site. The plane does not have a "black box" with a cockpit voice recorder and flight data recorder, but NTSB officials said they hoped enough of its avionics were preserved to give a clue to what happened in its final moments of flight.
(Mike Albans / Associated Press)
Members of the Feldkamp family walk near the crash site. Irving M. "Bud" Feldkamp III, second from left, lost two daughters and five grandchildren in the crash. The prominent Redlands dentist is president of Eagle Cap Leasing Inc., which owned the plane.
(Mike Albans / Associated Press)
NTSB Acting Chairman Mark Rosenker declined to say definitively that the plane was overloaded, but authorities said it was designed to carry only 11 people. It was probably also carrying ski gear.
(Mike Albans / Associated Press)
Linda Federico, a pharmacy technician at St. Helena Hospital, places a note on a memorial set up for Dr. Erin Jacobson and his family, at the hospital in St. Helena, Calif. Dr. Jacobson, his wife and three young children were among those killed in the crash.
(Rich Pedroncelli / Associated Press)
Flowers and a note sit on the front porch of the Jacobson family's home in St. Helena. Dr. Erin Jacobson's wife, Amy, was the daughter of Irving M. "Bud" Feldkamp III.
(Rich Pedroncelli / Associated Press)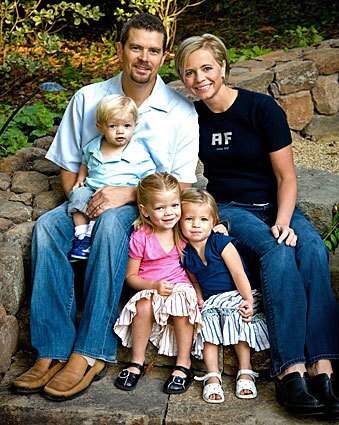 In November 2008, Erin and Amy Jacobson pose with their children, from left: Jude, then 1; Taylor, 4; and Ava, 3.
(Briana Marie Photography)
The Ching family from Durham, Calif., were also killed in the crash. From left to right: Brent, Caleb, Hailey and Kristen Ching.
(Photo courtesy of Bradley Ching)
Vanessa and Michael Pullen, with children Sydney and Christopher. The pilot and 13 passengers, including seven children under the age of 10, died when the plane crashed as it was approaching the Butte airport.
(Adrian Cotton)