State a step closer to minimum wage hike, paid sick leave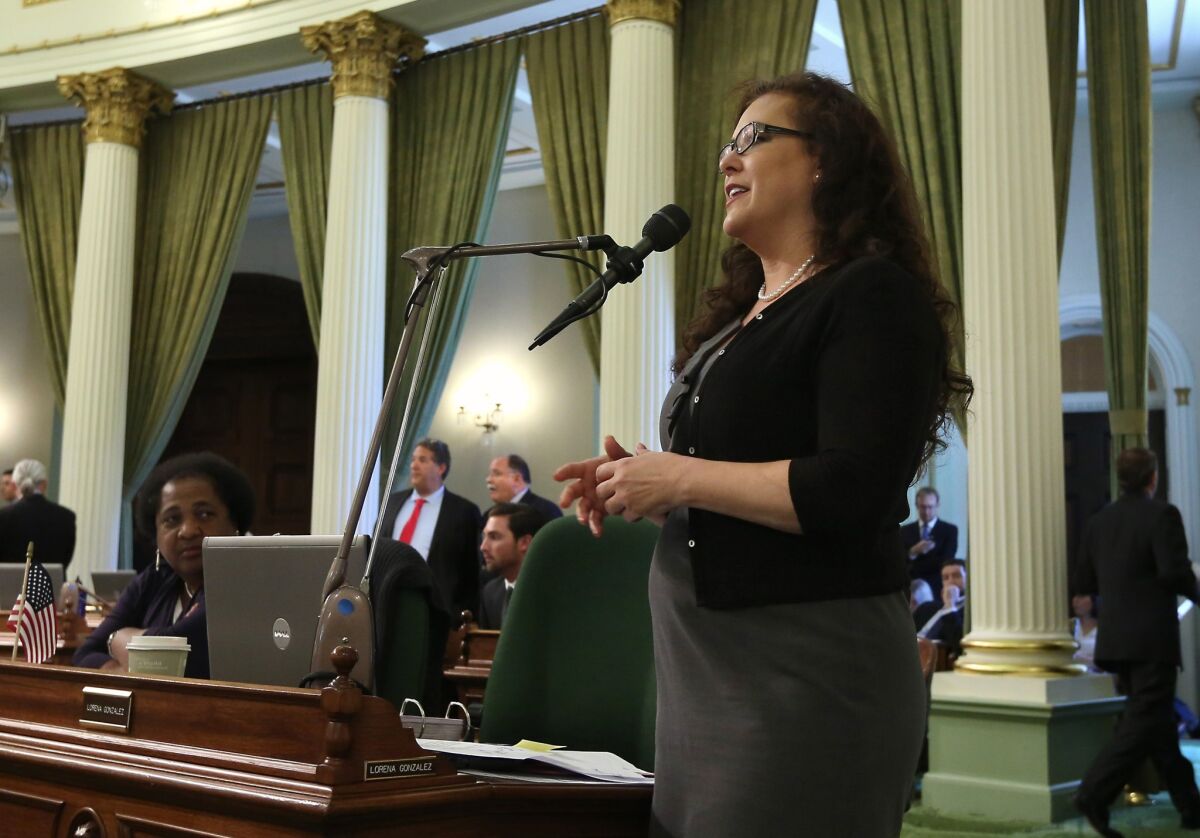 Reporting from SACRAMENTO —
Legislators moved Thursday to further hike the state's minimum wage and to guarantee workers three paid sick days a year, despite opposition from the California Chamber of Commerce, which labeled both proposals "job killers."
Lawmakers also advanced a bill that would close a loophole in Proposition 13, California's landmark property tax law that for decades has been politically untouchable.
The sick leave measure was a priority for labor groups. It would make all workers in California eligible to accrue one hour of paid sick time for every 30 hours worked. Employers would be able to limit use of accrued leave to three days a year.
The measure, by Assemblywoman Lorena Gonzalez (D-San Diego), would go into effect in July 2015.
"We want basically every worker in California, in those dire times when they or a loved one is sick, to be able to take paid time off without worrying about whether they're able to make ends meet," Gonzalez said.
The bill passed the Assembly 48 to 20 and now goes to the Senate.
Republicans opposed the measure, arguing it imposed too high a burden on employers.
Assemblyman Donald P. Wagner (R-Irvine) called the bill, AB 1522, an "ill-considered, heavy-handed, one-sided piece of legislation."
Republicans in the Senate opposed a measure that would gradually raise California's minimum wage from the current $8 an hour to $13 in 2017, and increase it annually after that in accordance with the consumer price index.
The minimum wage is already set to increase to $9 an hour on July 1 and to $10 on Jan. 1, 2016.
Under the bill by Sen. Mark Leno (D-San Francisco), the minimum wage would go to $11 an hour on Jan. 1, 2015; $12 on Jan. 1, 2016, and $13 on Jan. 1, 2017.
Leno said another increase is necessary to help lift out of poverty many of the 7.9 million Californians who are paid minimum wage.
"Income inequality has been spoken of by our president as the defining challenge of our time," Leno told his colleagues.
The proposal, SB 935, passed the Senate 21 to 12 and goes to the Assembly.
Lawmakers also waded into the politically perilous territory of Proposition 13, which has remained unchanged since voters approved it in 1978.
A measure by Assemblymen Tom Ammiano (D-San Francisco) and Raul Bocanegra (D-Pacoima) would eliminate businesses' ability to divvy up ownership shares in commercial property purchases so no one has a majority stake.
The maneuver avoids a reassessment of the property, which could lead to a tax increase.
The bill, AB 2372, is supported by business interests including the Chamber of Commerce and by longtime Proposition 13 opponents such as the California Tax Reform Assn.
The Howard Jarvis Taxpayers Assn., a fervent defender of Proposition 13 whose organization is named for its champion, withdrew its opposition to the measure, signaling tacit approval.
The measure, which needed a two-thirds vote, passed the Assembly 56 to 8. Seven Republicans voted for it. Three Democrats — including Steve Fox of Palmdale and Sharon Quirk-Silva of Fullerton, who are facing tough reelection fights — voted no.
It now heads to the Senate.
Also on Thursday, lawmakers pushed forward a measure to require health warning labels on sugary drinks.
Sen. Bill Monning (D-Carmel) said his bill is meant to address the country's "epidemic" of health problems stemming from too much sugar consumption. The labels would say that sugar contributes to obesity, diabetes and tooth decay.
Republican lawmakers objected to the measure, SB 1000, saying it unfairly singled out one industry. The California-Nevada Beverage Assn. also opposes it.
"Putting government warning labels on more than 500 beverages will do nothing to change personal behaviors or teach people about healthy lifestyles," the association said in a statement. "The last thing California needs is more warning labels."
But the bill cleared the Senate on a 21-13 vote and now heads to the Assembly.
The Senate also passed a proposal to allow proponents of initiatives to withhold them from the ballot if the Legislature agrees to address the issue it involves.
The bill, SB 1253, by Sen. Darrell Steinberg (D-Sacramento), was sent to the Assembly on a 29-8 vote.
---
The stories shaping California
Get up to speed with our Essential California newsletter, sent six days a week.
You may occasionally receive promotional content from the Los Angeles Times.