Poll: Beneath Jerry Brown's high ratings, voters have reservations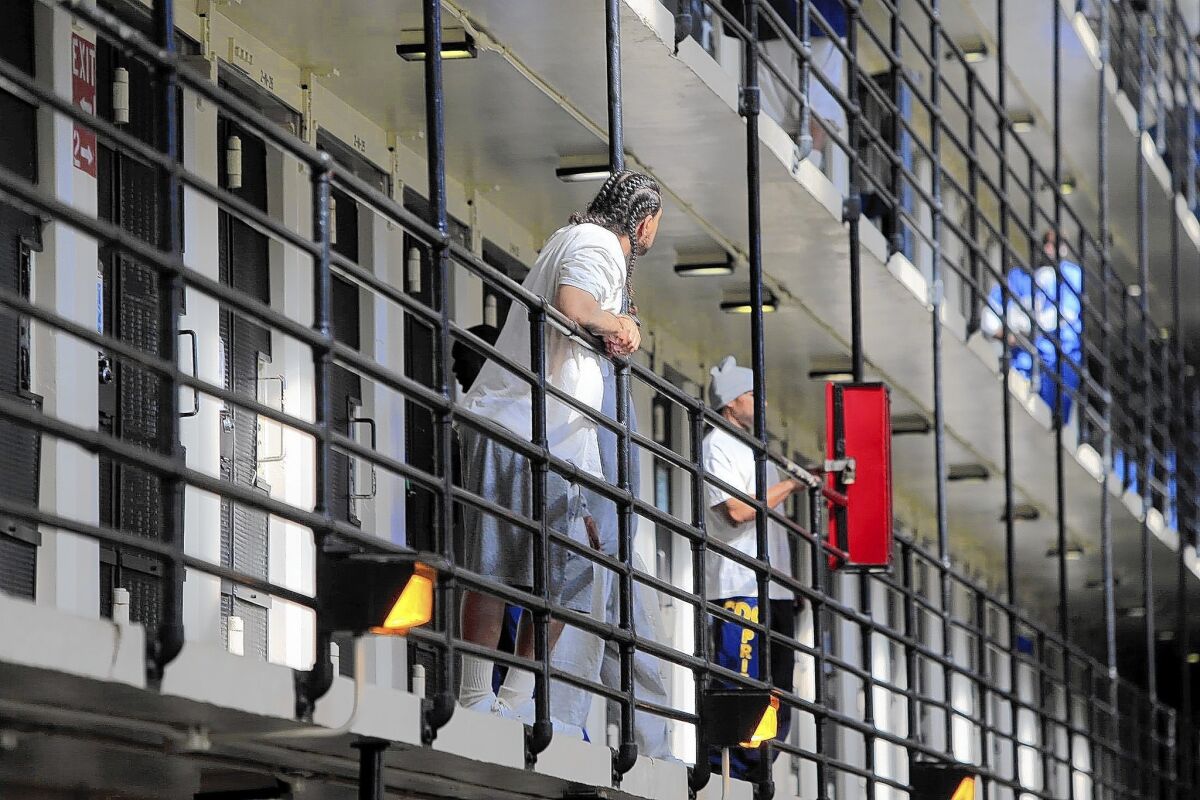 Reporting from SACRAMENTO —
California voters overwhelmingly embraced Democratic Gov. Jerry Brown over his Republican rivals in the June primary, but he has failed to win them over on some of the state's most pressing issues.
Brown's handling of state prisons, efforts to address poverty and his response to California's drought and water issues all received low overall grades from voters in a USC Dornsife/Los Angeles Times poll conducted shortly before the primary.
That discontent provides an opening for political newcomer Neel Kashkari, who will face Brown in November, to attack the Democratic governor.
"There are problems when you look under the hood," said Republican political consultant Michael Madrid, co-director of the poll, who expects Brown to be reelected. "There's a very good likelihood of a more substantive discussion of some of these than people think.''
Though Brown received good marks on crime and public safety — 50%, up from 46% in November — he ranked lowest on prisons.
Forty-six percent disapproved of his record on prisons, compared with 30% who approved — nearly identical to the November findings.
The governor answered court orders to alleviate prison overcrowding partly by keeping tens of thousands of nonviolent felons in already packed county jails, forcing an increase in local inmates being released early. He has also begun releasing some offenders early from the prisons.
William Smylie, a county detention officer from Angels Camp in the Sierra foothills, said he has seen first-hand the problems caused by Brown's prison policies.
"There's a lot of people who aren't going to prison who should be.…They're filling county jails, and more are getting out," said Smylie, 43, a Democrat who took part in the poll. "I understand he had to do something. The prisons are overcrowded. But what he did was put a heavy burden on the counties."
Brown is known for his fiscal caution and has been criticized by some lawmakers and others who say his tightfistedness has undercut the state's ability to the address basic needs of the 9 million Californians living in poverty — more than in any other state, according to census figures.
With state revenue on the rise, a growing number of Democrats argue that Brown must do more for those in need. Voters appear to agree: 45% of those polled disapproved of Brown's handling of poverty.
Deborah Crawford, a Republican from Mariposa, said she hears about the economy recovering but has not seen the poorest of the poor benefiting.
"I haven't seen any difference," said Crawford, 57, who used to work at Sears and is now on disability.
As drought grips the state, the governor also received low marks on water policy, with only 39% approval, weighted heavily by residents of the farm-rich Central Valley and California's northern interior. The response comes despite a $687.4-million emergency drought relief package approved by the governor and Legislature earlier this year.
Robert Gates, a self-employed businessman from Santa Barbara, said Brown has done a good job overall but should be more aggressive about moving water from north to south.
"He needs to lead the charge against the environmental extremists who put a fish … above an orchard or people,'' said Gates, 68, who is registered without a party preference and who voted for Brown in the primary. (Most respondents — 55% — opposed suspension of environmental regulations that protect fish and wildlife.)
Democratic consultant Matt Rodriguez, a co-director of the poll, noted that despite some deficiencies in the eyes of many voters, 54% approved of Brown's overall performance.
Voters see him as a "serious person in a serious time who has governed well," Rodriguez said. "I don't see a ton of vulnerability. I think there might be if there was someone who was more credible running against him."
Brown, 76, is running for a historic fourth term as California's governor, and has been a familiar face in California politics since the Los Angeles Rams played in the Coliseum and Richard Nixon was in the White House. Brown was first elected in 1974, serving two consecutive terms before his second act began with his election again in 2010.
For Kashkari, a former Goldman Sachs banker and U.S. Treasury official, the 2014 gubernatorial race is his first foray into politics.
Brown captured 54% of the vote in the June 3 primary election and has $20.7 million socked away for his campaign. Kashkari received just under 20% of the vote and spent most of the $4 million he gathered to beat Republican rival Tim Donnelly, a state assemblyman.
The governor said he delivered on campaign promises to mend the state's finances, require voter approval for any tax increase and give local government more authority — especially over schools and the incarceration of criminals.
"California has come a long way in the last few years," Brown told reporters on the night of the primary. "Californians appreciate living within our means, managing the people's money, creating a rainy-day fund and just bringing a very common sense, get-it-done kind of approach.''
Kashkari began attacking Brown's record on poverty months ago.
"Jerry Brown can be beat because the middle class is struggling, and he has no answers," Kashkari said. "It's all about job creation. Once again, Democrats in Sacramento are looking for a Band-Aid rather than trying to address the disease."
Two of Kashkari's top priorities for "rebuilding the middle class" and alleviating poverty are cutting corporate taxes to attract new companies and opening California's Monterey Shale Formation to hydraulic fracturing, known as fracking.
Brown's campaign spokesman, Dan Newman, brushed aside Kashkari's criticisms, noting that the Republican ran the Bush administration's taxpayer-funded bank bailout.
"He's a guy who thinks Wall Street banks should have billions and the working poor should have a lower minimum wage,'' Newman said.
He added that the governor's focus on balancing the budget was the essential first step to addressing other needs in the state. A federal court order is forcing Brown to reduce inmate numbers, and the governor pushed for the drought-relief package, Newman said.
On poverty, he noted, in the last year Brown signed legislation to raise the minimum wage to $10 an hour and proposed a budget to cover an unexpected rise in Medi-Cal enrollees — 1.4 million low-income people who may now receive healthcare.
"The governor's only vulnerability is misinformation," Newman said.
The poll was conducted jointly by American Viewpoint, a Republican firm, and Greenberg Quinlan Rosner Research, a Democratic company, for the USC Dornsife College of Letters, Arts and Sciences and the Los Angeles Times. They surveyed 1,511 registered state voters by telephone from May 21 to May 28. The margin of error is plus or minus 2.9 percentage points.
Follow @philwillon for Sacramento news.
The stories shaping California
Get up to speed with our Essential California newsletter, sent six days a week.
You may occasionally receive promotional content from the Los Angeles Times.