A revival in Reseda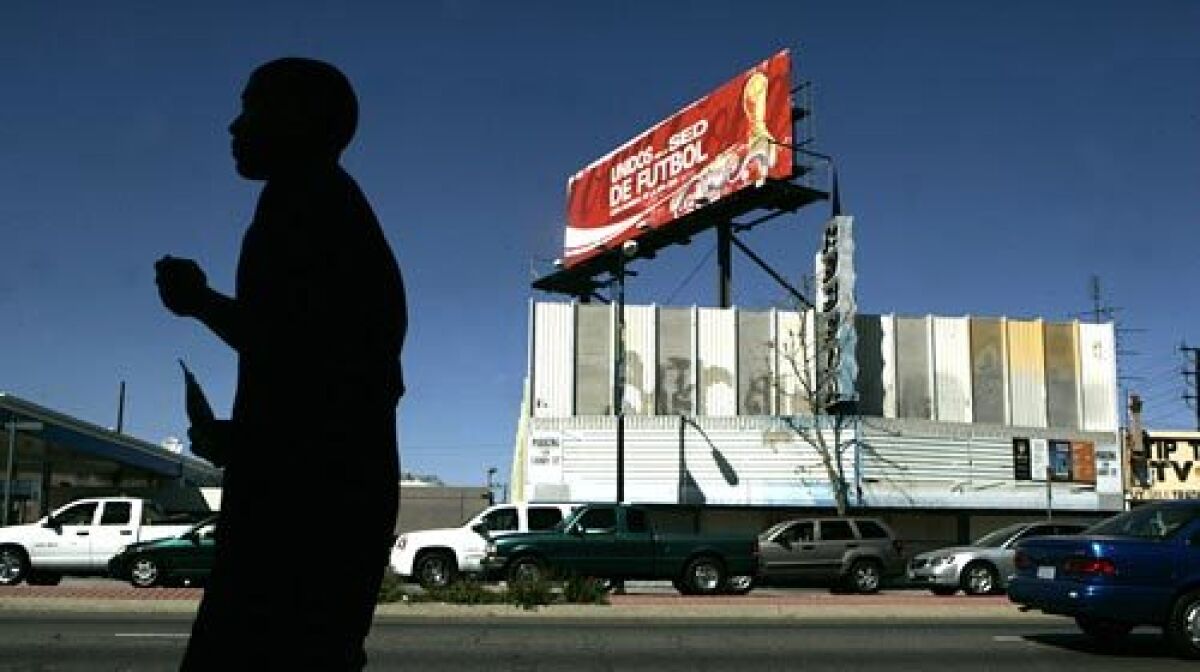 Los Angeles Times Staff Writer
The double feature advertised on the Reseda Theater marquee made Pat Towers' father laugh out loud when they drove by some 50 years ago: "Friendly Persuasion" and "At Gunpoint."
But the days of double features, or any features at all, at the Reseda Theater have long since faded away, replaced by a graffiti-covered facade that belies Towers' childhood memories of lazy Saturday afternoons spent inside the darkened theater, enjoying such sci-fi classics as "Godzilla," "House of Wax" and "It Came From Outer Space."
Back then, the theater was the centerpiece of a thriving community of 30,000, living high off the post-World War II suburban boom. Back then, Reseda's main street, Sherman Way, had a J.C. Penney department store and a J.J. Newberry's five and dime, as well as an ice skating rink. Into the 1980s, it was home to the Country Club, a legendary concert venue that showcased punk rock and New Wave bands.
But something happened to Reseda. Middle-class families began moving to newer suburbs, and lower-income immigrants moved in. Moviegoers flocked to multiplexes rather than to single-screen theaters, and main streets gave way to mega-malls. The big shops shut down. Sherman Way was left deserted.
"It was depressing to drive by," said longtime resident Susan Davis.
But now Reseda is hoping for a revival -- with the Reseda Theater again its centerpiece, this time serving the area's growing Latino population.
CIM Group, a company that operates the Hollywood & Highland complex in Hollywood that includes the Kodak Theatre, has entered into an agreement with the Community Redevelopment Agency of Los Angeles to renovate the 60-year-old structure and transform it into a venue showcasing community-oriented entertainment.
The $8.7-million project should be completed this fall, said Shaul Kuba, principal and founder of CIM Group, based in Los Angeles. "The intent is to have a Latino band playing there one day, a Persian band the next day, and the day after that, a little rock band can come in and play," Kuba said. "The venue will be there for all different sorts of events."
Residents, business owners and city officials hope the theater's renovation will usher in a new era for the community whose population has grown to 99,000.
Reseda was one of the San Fernando Valley's post-World War II boomtowns, one of scores of suburbs to rise with the population explosion of the 1950s and '60s. And the Reseda Theater was a local landmark.
As a boy growing up in nearby Van Nuys, Towers, 61, would ride his bike to the theater to watch the Saturday afternoon matinees with his buddies. The theater screened cartoons and serials, such as "The Lone Ranger," "Captain Midnight" and "Buck Rogers." During intermission, the proprietor raffled treats from the snack bar.
But by the 1970s, the movie theater and its surrounding neighborhood had fallen on hard times as middle-class families moved to more upscale communities like Northridge and Calabasas. And ticket sales continued to decline as more people chose to watch movies at home. Now, the building is surrounded by mattress shops, check-cashing stores and discount clothing outlets. The theater is wedged between a gas station and a VCR-TV repair shop.
By the time Tom Petty immortalized Reseda in "Free Fallin'," the song title and lyrics seemed prophetic: "It's a long day living in Reseda."
For a while Spanish-language movies were shown at the theater, but that venture eventually failed.
The 1994 Northridge earthquake (residents still fume that Northridge got the name even though they insist the quake's epicenter was actually in Reseda) caused considerable damage to the already blighted structure. The marquee of the long-dormant theater was seen in the opening shot of the 1997 film "Boogie Nights."
The boxy, faded-blue facade attracted vagrants, squatters and graffiti vandals. As the abandoned building grew more dilapidated, the shops and stores around the theater became seedier and more run down, said Davis, a schoolteacher who has lived in Reseda for 35 years. "It's been an eyesore for decades, it's just embarrassing," Davis said.
She used to walk to the theater with her husband when they were first married, sneaking in popcorn under her coat because they couldn't afford to buy it inside.
The empty theater symbolizes a larger problem.
"No one wants to come to Reseda anymore," said community activist Nancy Sweeney, co-founder of Revitalize Reseda, a volunteer organization that works to improve the area. "It's kind of the broken-window effect. If you don't clean something up, other businesses tend to follow suit. It's a domino deterioration effect."
Gabriel Peretti, who owns a carpet cleaning business around the corner from the theater, said the situation got so bad that he once showed up for work to find old mattresses, chairs and tires dumped in the alley outside the back door.
"I think that [kind of incident] will be history if we have an active area with people walking around," Peretti said. "As it is, it's not a place where you would say to your special someone, 'Hey, let's go take a walk on Reseda Boulevard.' "
Peretti and others take heart in what transpired in Canoga Park 10 years ago when the Madrid Theatre -- another aging movie house on Sherman Way -- was refurbished with community redevelopment assistance into a venue for live performances.
Since then, the neighborhood has steadily attracted funky thrift stores, sit-down restaurants and small cafes in addition to the already established antique shops that line the boulevard. The increasingly pedestrian-oriented thoroughfare is something Reseda residents would like to see replicated in their own neighborhood.
CIM plans to turn the theater into a multiuse venue with a small restaurant in front and theater in the back. Kuba said the restaurant would be open every day for lunch and dinner The center will be available to the community for private events and banquets, for lectures, concerts, plays and comedy shows. The marquee will also be restored.
The redevelopment agency also plans to improve the street scape and will offer grants of up to $30,000 to local businesses to spiff up their storefronts, said Jay Virata, regional administrator of the agency's West Valley office.
"It's time to bring the community up to where it belongs," said Pete Hankwitz, a member of the Reseda Neighborhood Council. "If we start by helping the Reseda Theater, then other projects will move forward."
In time, officials hope entrepreneurs will want to take a chance on Reseda by opening shops and restaurants on Sherman Way as they see people drawn to the refurbished theater.
"When people have choices, that's good," said Arturo Velasquez, who owns La Tortilla Loca/Canoas Banquet Hall, about three blocks east of the theater. "It's important to keep the money in the community."
Davis looks forward to the day when her young music students can perform at the theater. "Someone said they're going to allow the schools to use it for a minimal amount of money," she said. "That's going to be a wonderful thing. It's going to be a focal point for everyone in the community."
amanda.covarrubias @latimes.com
The stories shaping California
Get up to speed with our Essential California newsletter, sent six days a week.
You may occasionally receive promotional content from the Los Angeles Times.