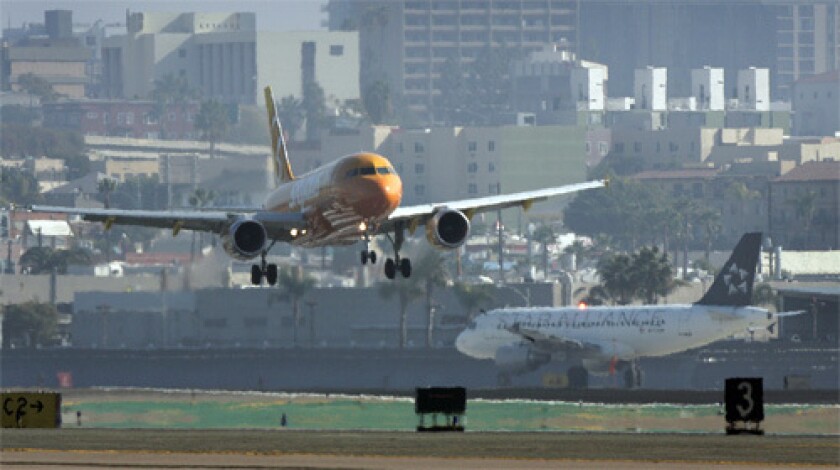 Los Angeles Times Staff Writer
SAN DIEGO -- —
As an American Airlines jet readied for takeoff on the runway at this city's airport recently, red lights embedded in the pavement at intersecting taxiways down the field blinked on, warning other aircraft to stay clear.
Air traffic controllers watched from the tower as the slender silver MD-80 started rolling down the runway, gaining speed on its way to Dallas. Once it was safe, the red lights clicked off.
The warning system, currently being tested at San Diego and Dallas/Fort Worth international airports, dramatically reduced the number of close calls between aircraft on a runway and taxiways where lights are embedded at the latter facility, federal auditors found.
"The system is preventing potential accidents today," testified Henry Krakowski, chief operating officer of the Federal Aviation Administration's Air Traffic Organization, this month before a House aviation subcommittee.
But after almost two decades in development, the FAA has yet to decide whether to deploy the equipment at the nation's busiest airports, where close calls on the ground approached record levels last year. Officials at Los Angeles International Airport have been trying to get the system since 2006, even going so far as to offer to pay for it.
Federal officials recently demanded that the FAA, which operates the nation's air traffic system, speed development of new systems -- like the runway warning equipment and technology in the cockpit that displays a map of where a plane is on the airfield -- that directly warn pilots of a potential problem on the ground.
"There will be a catastrophic collision on the ground -- it's a matter of when -- if we don't put a new technology in," said Mark Rosenker, chairman of the National Transportation Safety Board. "I don't want to have to appear before families and tell them that there are technologies there that could have prevented an accident."
Engineers who have worked on the runway-light system attribute the long development period to the fact that the programs that operate it are complicated and require a high level of precision. The system relies on three complex computerized technologies and must be practically error-free before it can be installed on crowded airfields -- where controllers choreograph hundreds of landing and takeoffs each day.
"At a big and busy airport that does complex operations, they often have split-second timing in crossing runways," said Jim Eggert, a staff member at the Massachusetts Institute of Technology's Lincoln Laboratory, who has worked on the project since 1989. "You need to make sure any indication you give pilots about the status of the runway is correct and timely."
It took engineers decades to fine-tune ground radar that the warning system relies on to properly pinpoint an airplane's location, Eggert said. Then engineers had to make sure that the lights wouldn't confuse pilots or controllers or add to their workload.
Currently, there is no automated technology in place to warn pilots directly of potential runway conflicts. Nationwide, pilots have been found to be responsible for about half of close calls at airports. At LAX, decisions by pilots have contributed to about 80% of these incidents since 2000, according to the FAA.
Aviation officials said they hoped to begin testing in the coming year the runway warning system at LAX, which had the highest number of close calls among the nation's busiest airports since 2000. They expect the system will cost up to $5 million.
Los Angeles' airport agency had to wait for the technology in part because the installation of its advanced ground radar was repeatedly delayed. This radar is scheduled to be ready late this year, although it may take several months to train controllers how to use it.
In an effort to curb close calls, the agency has spent millions over the last decade upgrading airfield markings, distributing posters to pilots showing hot spots and reworking the south runway complex.
Installing new technology at LAX is necessary, officials added, because pilots and controllers make mistakes that put more than one airplane on a runway at a time. In one harrowing incident last summer, two jets carrying 296 people came within 37 feet of each other.
LAX was also the site of a deadly runway collision in 1991, when a controller mistakenly placed a departing SkyWest commuter plane in front of an arriving US Airways jet. The accident killed 34 people.
Engineers say the runway layout at Dallas is similar to the two sets of parallel runways at LAX, giving them confidence the system will provide comparable benefits here.
The runway-stoplight system, known in aviation jargon as "runway status lights," relies on a series of computerized lights embedded along the runway and at taxiway intersections.
The equipment is tied into collision-alert systems that pinpoint where aircraft are by picking up signals sent by ground radar and sensors on the airfield and transponders in aircraft.
After the radar nails down an airplane's position, it communicates it to a computer. This computer predicts where conflicts might arise and determines which intersections -- or runway -- should have red lights. It then sends a command to a computer which turns on the lights.
The lights work two ways: For a pilot about to land or take off, red lights illuminate on the runway if another aircraft is crossing downfield. For planes waiting to cross a runway, red lights go on at taxiway intersections if another jet is about to take off or land.
"Imagine you're standing at a railroad crossing point and there's a train coming. Those bars come down and say there's a train coming," said Jaime Figueroa, field prototype and demonstration team leader for the FAA's light program.
"The red lights are the equivalent of a bar coming down and saying there's a train coming. Once the train clears that intersection, they go off."
The FAA expects to make a final decision this summer about how many systems it can afford to install around the nation. Initial proposals were to roll out the technology at 20 airfields, but much depends on how much money is available, the agency said.
Proponents say the system provides better information to pilots, who rely in many cases on controllers to warn them about potential problems before making split-second decisions that could affect dozens of lives.
"This is very effective and very intuitive to pilots, and it doesn't increase their workload," said Capt. Terry McVenes, executive air safety chairman of the Air Line Pilots Assn., a trade group.
Controllers who participated in the tests at the Dallas airport agree that the technology is safe and effective. Indeed, the system reduced close calls on a test runway there by 70%. But controllers cautioned that the system did have some glitches initially and required additional training for both pilots and controllers.
"Fairly early on, the lights actually caused a runway incursion," said Ric Loewen, a controller at Dallas/Fort Worth and facility representative for the National Air Traffic Controllers Assn.
"An aircraft was instructed to hold short of a runway that had red lights on, and when the lights went off, he took it upon himself to go, and someone was departing on the runway."
There were also a few questions initially by pilots wondering whether they would get a green light telling them they could proceed, Loewen said. The lights are either red or off, and pilots still must await clearance from controllers to cross the runway once the red lights go off.
Controllers at Dallas and in San Diego also cataloged several cases in which the lights didn't switch off, forcing supervisors to reboot the system.
The FAA is testing a second runway safety system at Long Beach Airport that relies on sensors in the pavement, akin to those cities use on streets to control traffic signals, to warn pilots coming in for a landing that a plane is on the runway.
Known as Final Approach Runway Occupancy Signal, the system uses cables in the ground that detect metal objects moving over them and transmit a signal to a series of lights pilots use as they are approaching an airport to make sure they are following the right path. If a plane passes over cables and onto the test runway, the lamps flash to warn incoming pilots that the runway is occupied.
Officials say it's unclear how effective this system has been, adding that they plan to test it at a busier airport this year. If the system works at a bigger facility, it may be suitable for airports that aren't in line to get advanced ground radar systems.
Aviation experts emphasize that these systems are not the whole solution but are part of a layered approach to limit close calls at the nation's airports that includes training pilots and controllers and upgrading airfield markings. "Our research shows that runway status lights would address -- that doesn't mean fix, but would address -- two-thirds of runway incursions," said Lincoln Laboratory's Eggert.
---