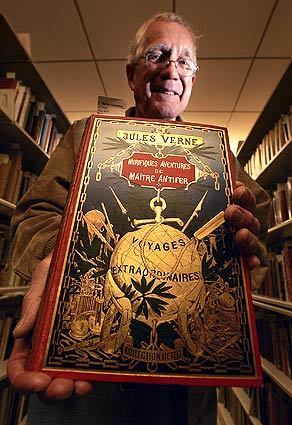 8 Images
A Rare Collection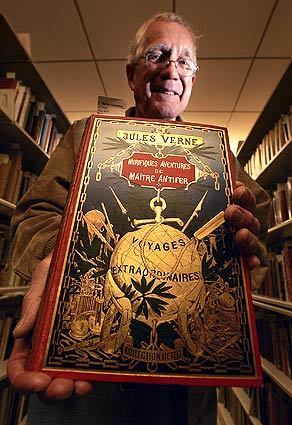 Curator George Slusser, 67 and now retired, holds an embossed publisher's edition of Jules Verne's "Mirifiques Aventures de Maitre Antifer." The book, printed in 1900, is part of the 110,000-volume Eaton collection at UC Riverside, the world's largest library collection of science fiction, fantasy and horror books.
(Irfan Khan / LAT)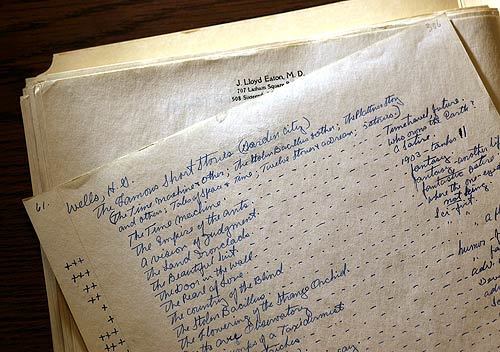 UC Riverside's collection began with thousands of rare science fiction, fantasy and horror novels it acquired from J. Lloyd Eaton, a Bay Area physician. He scribbled plot summaries and criticisms of nearly every book on faded sheets of letterhead and kept a handwritten catalog of his holdings.
(Irfan Khan / LAT)
Physician Eaton amassed a personal library that provided the seed for UC Riverside's science fiction collection. For years, the books were relegated to a university storeroom. But then the head librarian, Eleanor Montague, found them and joined with George Slusser, a comparative literature scholar, to use them as a foundation for a literary archive.
()
Retired curator Slusser holds a rare first edition of Mary Shelley's "Frankenstein," printed in 1818.
(Irfan Khan / LAT)
Student assistant Victoria Garza shelves material in the Eaton collection at UC Riverside's Tomas Rivera Library.
(Gary Friedman / LAT)
Batman trading cards from 1966 are among the many works in the Eaton collection donated by collector Fred Patten.
(Gary Friedman / LAT)
Books wait to be shelved in the Eaton collection.
(Irfan Khan / LAT)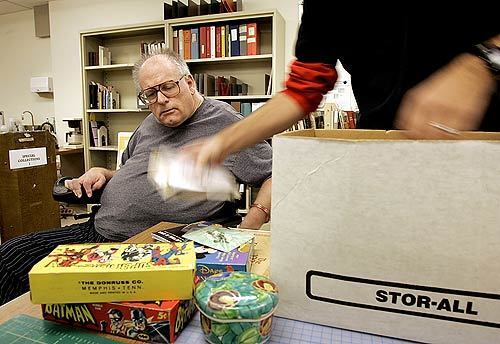 Fred Patten, left, watches as a worker sifts through some of the items he gave to the Eaton collection library at UC Riverside. Patten donated 900 boxes of comic books, tapes and records to the collection.
(Gary Friedman / LAT)