Simpson to tell how he could have killed pair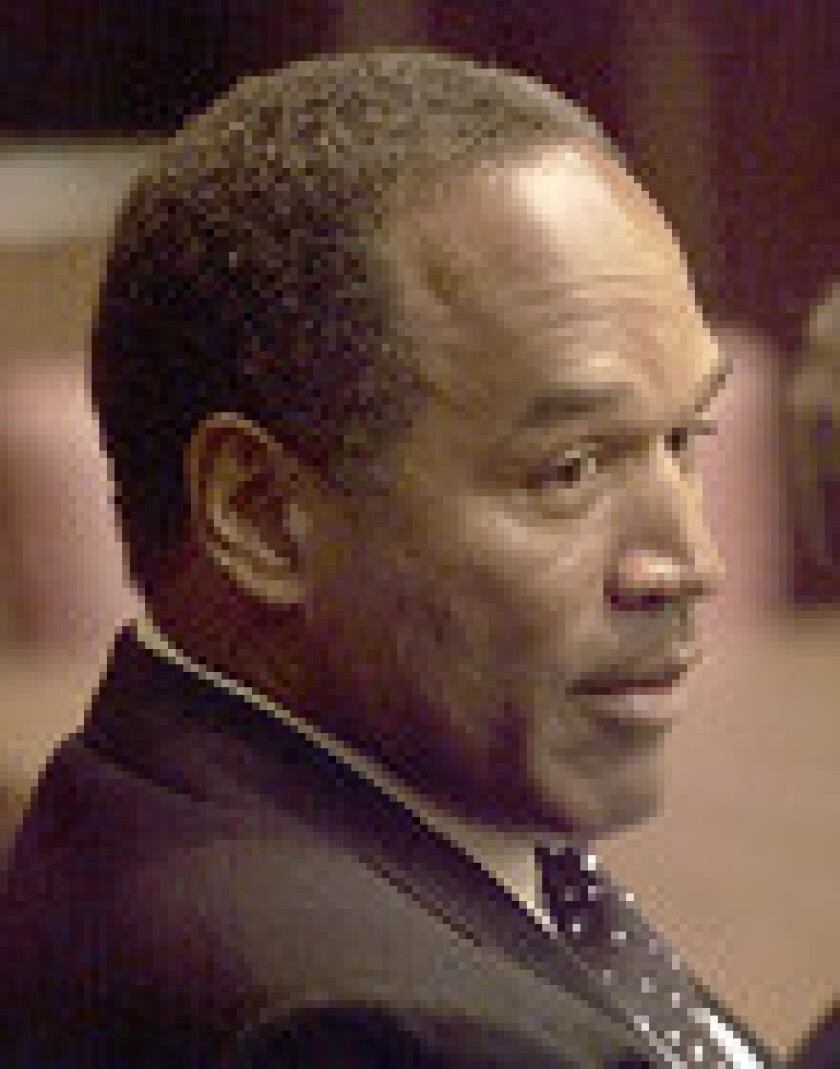 Times Staff Writers
The two abiding emotions that characterized the O.J. Simpson double-murder case — revulsion and fascination — surfaced again this week when, just in time for November television sweeps, Simpson revealed that he will participate in a two-part Fox television special and release a book that will address how he could have killed his ex-wife, Nicole Brown Simpson, and her friend Ronald Lyle Goldman.
"If I Did It" is to be released Nov. 30 by Regan, an imprint of HarperCollins, which is owned by Rupert Murdoch's News Corp. Another division of News Corp, the Fox network, will air a two-part interview with Simpson, conducted by his publisher, Judith Regan, on Nov. 27 and Nov. 29. In the book and the interviews, according to a statement from HarperCollins, Simpson will give a "bone-chilling account of the night of the murders," which took place June 12, 1994.
---
FOR THE RECORD:
O.J. Simpson book: An article in Thursday's California section about a new book by O.J. Simpson, "If I Did It," left an incorrect impression of attorney Daniel Petrocelli's view about whether the family of murder victim Ronald Lyle Goldman, whom Petrocelli represented in the civil trial of O.J. Simpson, might collect the money Simpson owes them. The article said Petrocelli doubted that any money would be recovered. In fact, Petrocelli said the money would probably be "exceedingly difficult to seize" but added there would be "a solid effort to penetrate any asset protection vehicle" put into place by Simpson and his advisors. —

---
"I'm going to tell you a story you've never heard before, because no one knows this story the way I know it," Simpson writes in the publisher's release. "I want you to forget everything you think you know about that night, because I know the facts better than anyone."
As condemnation flowed from the victims' families, publishers, broadcasters, bloggers and others involved in the sensational criminal case, Regan defended her decision to publish the book.
"It's not fiction," she said Wednesday evening at a dinner for the National Book Awards in New York. As to whether Simpson would agree with that, she replied, "I don't know." She sidestepped questions about whether he had approached her and how he might be paid. But she acknowledged the torrent of criticism already directed at the joint television-book project.
"I think the media has spun it in the wrong direction," Regan said. "When they see the special, and when they read the book and hear about why I did it, why I think this is an important moment, I think they'll have a different viewpoint."
Simpson, who was acquitted of the murder charges, was found responsible for the killings in a subsequent civil trial. The televised criminal trial deeply divided the country, often along racial lines; changed the way crime scenes are handled; and spawned a new category of TV personality — the courtroom legal analyst.
One such pundit, Dan Abrams, who provided legal analysis on the murder case for Court TV and "The Today Show," called the former football star's willingness to undertake the project "vintage O.J. Simpson."
"My guess is that there's more talk of golf and his kids than there is about how the killer may have committed this crime," said Abrams, now general manager of MSNBC. "I think it will probably do pretty well, because I do think there's still a fascination with him. But I don't think it's going to be a blockbuster night the way it would have been 10 years ago. I think there's a little O.J. fatigue."
Others familiar with the tragic public soap opera also said that little, if any, new information was likely to come to light in a case that has spawned exhaustive coverage and speculation and generated scores of books, television programs and even reenactments. In the past, even Simpson has speculated about his possible guilt. "Let's say I committed this crime," he told Esquire magazine in 1998. "Even if I did do this, it would have to have been because I loved her very much, right?"
The Brown family expressed outrage. "It's unfortunate that Simpson has decided to awaken a nightmare that we have painfully endured and worked so hard to move beyond," said Nicole's sister Denise Brown in a statement. "We hope Ms. Regan takes full accountability for promoting the wrongdoing of criminals and leveraging this forum and the actions of Simpson to commercialize abuse."
Their view was echoed by Fred Goldman, the father of Ron Goldman, who has continued to pursue collection of the $33.5-million judgment that was levied in 1997 against Simpson by a civil jury. To date, the family has only been paid a couple of thousand dollars in proceeds from items seized from the former football star and sold at auction. According to Daniel Petrocelli, who represented the Goldmans in the civil trial, the debt — with interest — has grown to nearly $40 million. Petrocelli doubts that the Goldman family will receive any of the money Simpson will earn from the project.
"It is an all-time low for television," Goldman said. "To imagine that a major network would put a murderer on TV to have him tell how he would murder the mother of his children and my son is beyond comprehension." Goldman said he thinks the outrage should extend to the entire Fox network. "Send a message to Fox that if Fox believes their viewers want this kind of trash on television, they must not think very highly of their viewers," he said.
Fox television executives declined to comment on the broadcast.
Two weeks ago, in his most recent attempt to collect the debt, Goldman was rebuffed in a Santa Monica courtroom when he sought control over the rights to Simpson's name, image and likeness.
Goldman's current attorney, Jonathan Polak, said he plans to appeal the ruling. He expressed indignation that Simpson could profit from the very slaying that he has long denied committing, and denounced those who would profit from Simpson's story.
From a legal perspective, experts said, even if Simpson confessed to the double murder, he could not be tried again. Under the legal concept of double jeopardy, a person may not be charged with a crime for which he has already been acquitted.
The controversy and attendant publicity may guarantee what Fox hoped for all along — big ratings at a critical period when advertising rates are being determined. Media observers likened the move to ABC's 2003 interview with Michael Jackson about allegations of child molestation, which drew 27 million viewers.
"This is an old-fashioned sweeps stunt pure and simple," said Brad Adgate, research director for the ad-buying firm Horizon Media. "There's going to be a high curiosity factor to watch it."
And despite the controversy, media observers believe that the network will have little trouble selling ads. NBC was approached regarding a potential Simpson interview about a year ago, according to a network spokeswoman, but it was deemed "inappropriate" for the network. Meanwhile, a CBS spokesman was "unaware" of any Simpson pitch at that network. ABC did not immediately return phone calls.
The case's reverberations are still felt in the world of crime scene investigation. Michael Baden, the renowned forensic pathologist who worked for Simpson's defense team, said that investigators in the case learned important lessons about keeping such scenes intact and not moving bodies in ways that destroy evidence. He also said the trial gave credence to and even helped increase funding for DNA research and evidence.
And though most people know what they think about Simpson's guilt or innocence, some questions about the slayings linger. If Simpson is truly confessing to the crimes, perhaps he will solve some of the biggest mysteries: Why didn't those gloves fit? And what became of the murder weapon, a knife?
---
robin.abcarian@latimes.com
martin.miller@latimes.com
---
Times staff writers Greg Krikorian, Matea Gold, Paul Lieberman and Maura Dolan contributed to this report.
---
Get breaking news, investigations, analysis and more signature journalism from the Los Angeles Times in your inbox.
You may occasionally receive promotional content from the Los Angeles Times.