'Tagging' or just hanging out -- busted either way?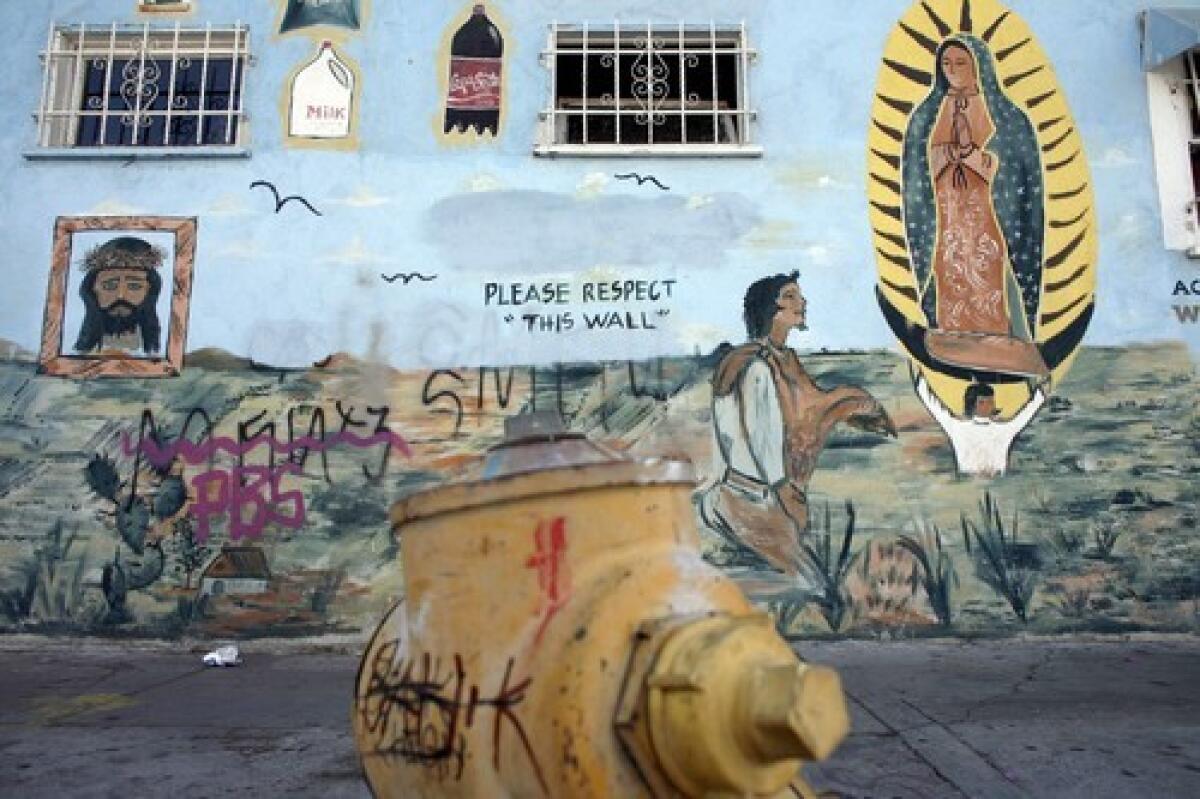 Los Angeles City Atty. Carmen Trutanich wants to give police the ability to arrest "taggers" simply for hanging out together, without having to catch them in the act -- raising thorny constitutional issues as he lays the groundwork for a campaign to tackle the city's vexing graffiti problem.
In an interview, Trutanich said his staff has begun amassing street-level intelligence and reviewing legal strategies that would pave the way for a series of injunctions targeting graffiti and "tagging" crews. The measures would be lawsuits of sorts, brought on behalf of the public, treating much of the graffiti that mars buildings and overpasses as a criminal enterprise and arguing that it has become such a nuisance that it requires an extraordinary police response.
Los Angeles is the national leader in the use of civil injunctions to combat criminal gang behavior -- the model for Trutanich's proposal. The city has 43 injunctions targeting 71 gangs, including one rolled out earlier this year over a 13.7-square-mile area of South L.A., the largest in California. The tagging injunctions would focus on neighborhoods where graffiti is a particularly acute problem, such as the Harbor Gateway area, the San Fernando Valley and, especially, South L.A.
"I'm going to put together an end-of-days scenario for these guys," Trutanich said. "If you want to tag, be prepared to go to jail. And I don't have to catch you tagging. I can just catch you . . . with your homeboys."
It's tough talk, but Trutanich has some work ahead of him. Peter Bibring, staff attorney with the American Civil Liberties Union of Southern California, called the proposal "unquestionably unconstitutional," and some law enforcement officials said they were skeptical or ambivalent.
Injunctions prohibit behavior that would otherwise be legal: wearing certain clothes, making certain hand signs, going to certain parks. Their most potent provisions make it illegal for two alleged gang members to associate in public -- an arrestable offense even if no other crime is being committed.
Critics say injunctions go too far, criminalizing entire communities and pushing kids on the edge into the criminal justice system, not helping them stay out of it. Injunctions, critics argue, don't distinguish between hard-core gangbangers and hangers-on and fail to recognize that in some neighborhoods, an association with a gang is the only way to stay safe.
Blurring the line?
In South Los Angeles, Police Capt. Mark Olvera said he feared that injunctions against taggers would be untenable. He also said it could blur the line that police use when confronting graffiti -- between hardened criminals who use graffiti to mark territory and challenge rivals, and aimless punks who try to enhance their street credibility by scribbling designs on lampposts, vans and buildings.
Olvera is commander of the LAPD's Newton station on South Central Avenue, in the heart of a neighborhood where graffiti is ubiquitous. He said an injunction could be very helpful in policing hard-core gangsters. But he feared that targeting low-level taggers could undermine the city's efforts to combine traditional police suppression tactics with social-service programs that can steer at-risk youths onto a better path.
"I think the concept could be useful," Olvera said. "But I'd have to see where this is going to go. What are we doing? Let's say we pick up a kid for this. Who is going to work with that kid? Is there another organization that is going to do counseling or work with him in [developing] a new art form? Or are we just going to keep arresting them?"
Some civil libertarians had hoped that Trutanich, who in May won a rancorous election to succeed Rocky Delgadillo, might curtail the city's use of injunctions.
Instead, though Trutanich said he is sensitive to the criticism and is seeking a balance between public safety and civil liberties, he is proposing to adopt the same tactics police use on the city's toughest criminals against people who are typically viewed as more of an annoyance.
"At the end of the day," he said, "they are no less of a gang."
To support that contention, he pointed to several incidents in which people have been shot and killed after confronting graffiti vandals in residential areas -- a Valinda man in 2006, for instance, and a Pico Rivera woman a year later.
Though his proposal is still in its infancy, Trutanich said it would treat many graffiti vandals and taggers as like-minded members of a criminal enterprise and make it a crime for documented taggers to associate in public.
Almost all of them, he argued, work in teams -- with lookouts who can help them access difficult-to-reach areas. The injunction would enjoin the members of a team from associating with one another in public -- making the association a crime, without any direct evidence of vandalism. Anyone targeted by the injunction would have been accused of tagging in the past, and Trutanich's office stressed that each individual injunction would be tailored to a specific problem in a specific neighborhood. Each injunction also would require a judge's approval.
The city received more than 600,000 reports of graffiti last year -- and many other incidents went unreported.
Trutanich said his proposal would not operate in a vacuum but be one of several new tools the city could use to combat graffiti.
City and county officials recently approved measures allowing authorities to hold taggers and their parents liable for civil damages. A similar measure was passed this spring by the state Assembly and awaits approval by the Senate.
City officials are also considering further restricting the sale of aerosol spray paint and other materials to people under 21.
Trutanich has time to drum up support, but so far his proposal has brought harsh criticism from the ACLU.
'Nobody likes tagging'
Bibring, a frequent critic of gang injunctions, said courts have allowed provisions enjoining people from associating only because authorities have successfully argued that gathering in public is a central part of a gang's criminal activity -- "a way to intimidate the neighborhood and advance the criminal activities of the gang."
"That is just not true for taggers," he said. "So there is no basis to enjoin association.
"Nobody likes tagging. Nobody likes vandalism," Bibring added. "That doesn't mean you can strip away all the protections of the criminal justice system for people suspected of being taggers."
Greg Estevane, program director of the School of Justice at Westwood College, was equally skeptical.
On the one hand, he said, city authorities have often conflated -- unfairly -- hard-core gangbangers with small-time taggers. Perhaps, he said, a proposal like this could help draw a distinction.
But he said it was a stretch to draw any parallel between the aims and goals of gangs with those of tagging crews. Using the same legal strategies against taggers, he added, "will turn them into gang members."
"Tagging crews are a hassle. They are definitely something that costs money," Estevane said. "But it's vandalism. Vandalism is not the same thing as gang activity -- something that is done to further murder, rape, drug dealing. It's an identity crisis. They are trying to make it analogous. It's not . . . It's like using a Howitzer to kill a fly."
But Ruben Guerra, chairman and chief executive of the Los Angeles-based Latin Business Assn., said it is time for some unorthodox approaches to a maddening problem. Guerra owns a design and construction firm; eight months ago, he founded another company that coats walls and signs with a clear material that can be wiped clean of graffiti. He said most of the graffiti in places like South L.A. is on the walls of small, locally owned shops and restaurants.
"Look, these are struggling times for all businesses. There are businesses that are closing down, letting employees go," he said.
"If you have graffiti on top of that, guess what? It just makes it a little bit harder."
He applauded Trutanich for trying something new.
"If you let graffiti go, it takes away the pride of the community," he said. "There have to be some laws put in place that are really going to scare these guys into stopping graffiti. And right now there aren't any."
Sign up for Essential California for news, features and recommendations from the L.A. Times and beyond in your inbox six days a week.
You may occasionally receive promotional content from the Los Angeles Times.