700 streetlights in L.A. out due to copper thefts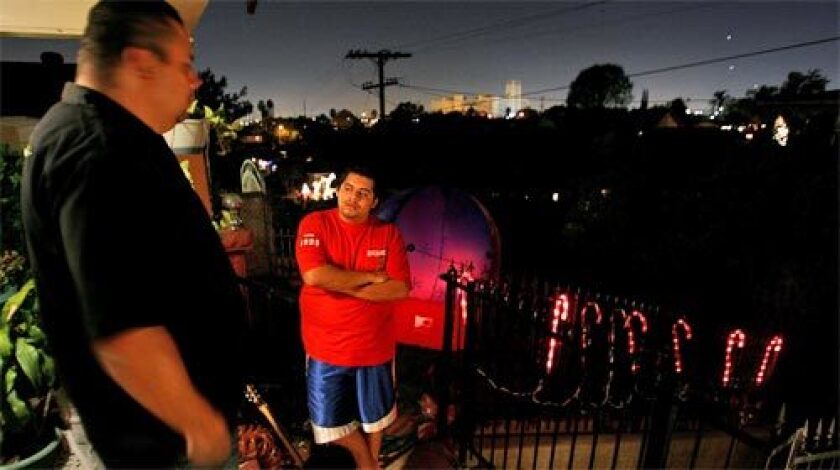 Los Angeles Times Staff Writer
Thieves have disabled about 700 streetlights in Los Angeles, making off with 370,000 feet of valuable copper wiring over the last four months.
L.A. officials said it is a twist on copper thefts that have plagued new home sites and even some office buildings in the last few years.
---
FOR THE RECORD:
Copper wire: An article in Wednesday's California section about the theft of copper wire from city streetlights said a pound of copper sells for $30 as scrap, according to police. Investigators said a pound of copper sells for $2 to $3 as scrap. —

---
With some lights pilfered during the summer still out, city officials Tuesday expressed concerns about the safety of passing drivers, pedestrians and bikers. The Los Angeles Public Works Department has already spent nearly $1 million repairing the lights.
"When we have to go out and replace that wire, it takes away from other city services," said Public Works Commissioner Cynthia Ruiz at a news conference on a downtown street corner near samples of copper streetlight wire. "If I had an extra million dollars I could put 10 graffiti crews on the streets."
Among the hardest hit areas are Boyle Heights, the east San Fernando Valley and Wilmington, as well as a three-mile stretch of the Los Angeles River Bike Path between Los Feliz Boulevard and the L.A. Zoo. Police in other cities, including San Bernardino, Redlands, San Jose, San Francisco and Pasadena, are struggling with a similar spate of streetlight wire thefts.
Some large blocks in the Eastside have not had street lighting since August. At the corner of 12th and Soto streets Tuesday, Mary Rivera worked in darkness loading furniture she had just bought from a warehouse store into her truck.
"When you don't have light in the streets you can have an accident, especially when you have people who are drinking liquor and walking in the street," Rivera said.
Jose Sanchez, 34, a production manager at AAA Glass Corp. on East 12th Street, watched Tuesday as darkness fell and the streetlight in front of his business remained off.
"Now you can see it's very dark," he said. "They stole a car last week from here. And they broke into this company Thanksgiving weekend. I think it does make a difference."
There are more than 200,000 streetlights in Los Angeles, and authorities worry the thefts will continue unless they target the criminals.
The thieves pry open boxes at the base of two neighboring poles, exposing a stretch of copper wire that connects the poles underground, then snip the wire and pull it out from one end. The wire can take hours to haul -- 10 feet weighs about a pound and sells for up to $30 as scrap -- which is why thieves usually target borderline industrial areas after dark, police said.
Thieves have plagued construction sites, parking lots, stadiums and vacant buildings across Southern California in recent years, scavenging for copper wires, pipes and panels.
But as copper prices climbed last summer, streetlight thefts increased, said Thomas Higgins, a Los Angeles County prosecutor.
Cities across the nation are also grappling with a rash of streetlight wire thefts and have found ways to prevent the damage.
Some in central Florida leave streetlights on all day or replace copper with aluminum wire, which has a shorter life span but is less attractive to thieves. Others have reinforced streetlight wiring boxes, welding some shut.
"This problem is happening all over the country, but because we are one of the largest systems, we are noticing it more," said Ed Ebrahimian, director of L.A.'s Bureau of Street Lighting.
Ebrahimian said city workers try to better secure the streetlight wire they replace but are often foiled by thieves. Last month, they welded boxes shut along the L.A. River Bike Path only to see thieves break in and steal the wire again, Ebrahimian said.
Higgins said lawmakers could combat the thefts by changing the law to hold copper scrap dealers to the same standard as pawnbrokers dealing in gold, who must keep detailed records of those they buy from or face misdemeanor charges.
Police say it is difficult to charge copper thieves. It is a felony to steal more than $400 in city property, but investigators say they often catch wire thieves just as they are getting started, with less than $400 in wire.
Councilman Jose Huizar, who receives about seven calls a week from Boyle Heights constituents complaining about broken streetlights, wants to increase enforcement and penalties for scrap dealers who buy stolen copper wire and possibly label city wire to prevent it from being stolen.
Police encourage residents to write down license plate numbers and contact them when they see people other than city crews removing streetlight wire.
---
The stories shaping California
Get up to speed with our Essential California newsletter, sent six days a week.
You may occasionally receive promotional content from the Los Angeles Times.