Death in a seaside paradise
From a San Diego lifeguard boat, Cindy Kauanui spreads the ashes of her slain son as his brother, Nigel, stands at left with arms raised, exulting with hundreds of other surfers who conducted a paddle out ceremony in the surfer's honor.
(Nancee E. Lewis / San Diego Union-Tribune)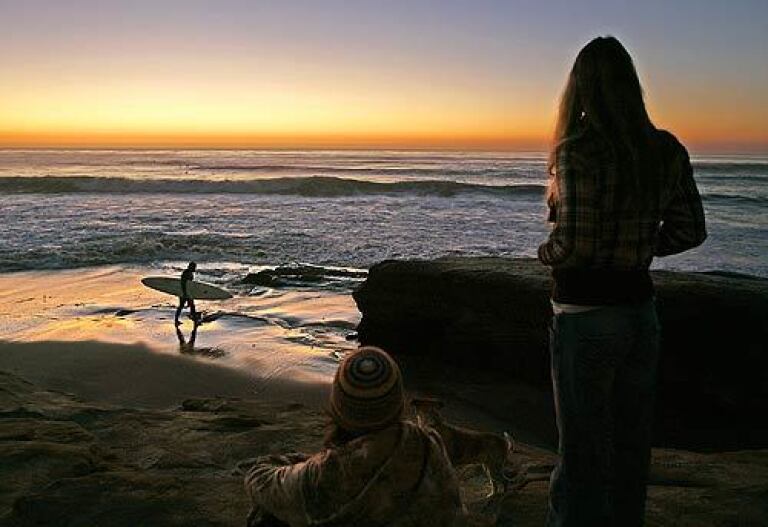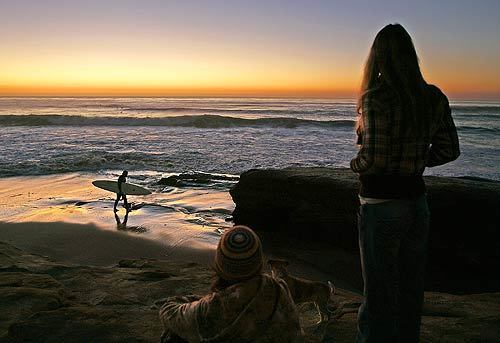 Sandstone cliffs offer a sunset view at Windansea Beach. Five fellow surfers were originally accused of murder in Kauanui's death. Four of the men have pleaded guilty to lesser charges and now face sentences of three to five years.
(Don Bartletti / Los Angeles Times)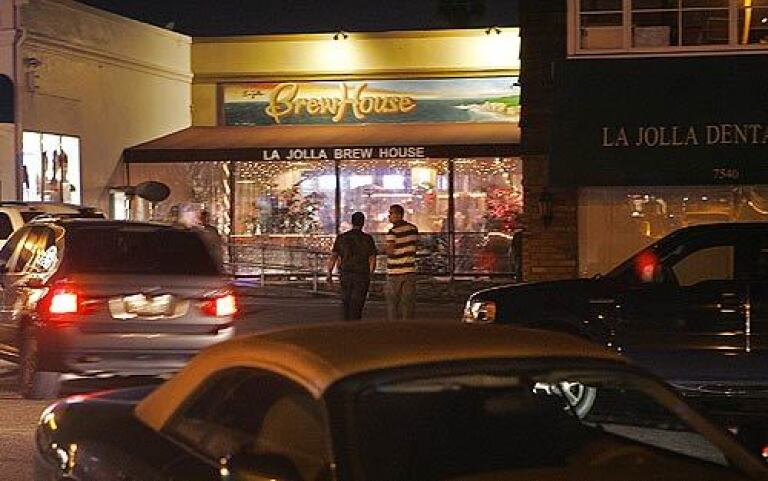 The events that led to Kauanui's death began with a fight in the crowded La Jolla Brew House four days before Memorial Day 2007. Lawyers for the defendants said Kauanui's death was an accident.
(Don Bartletti / Los Angeles Times)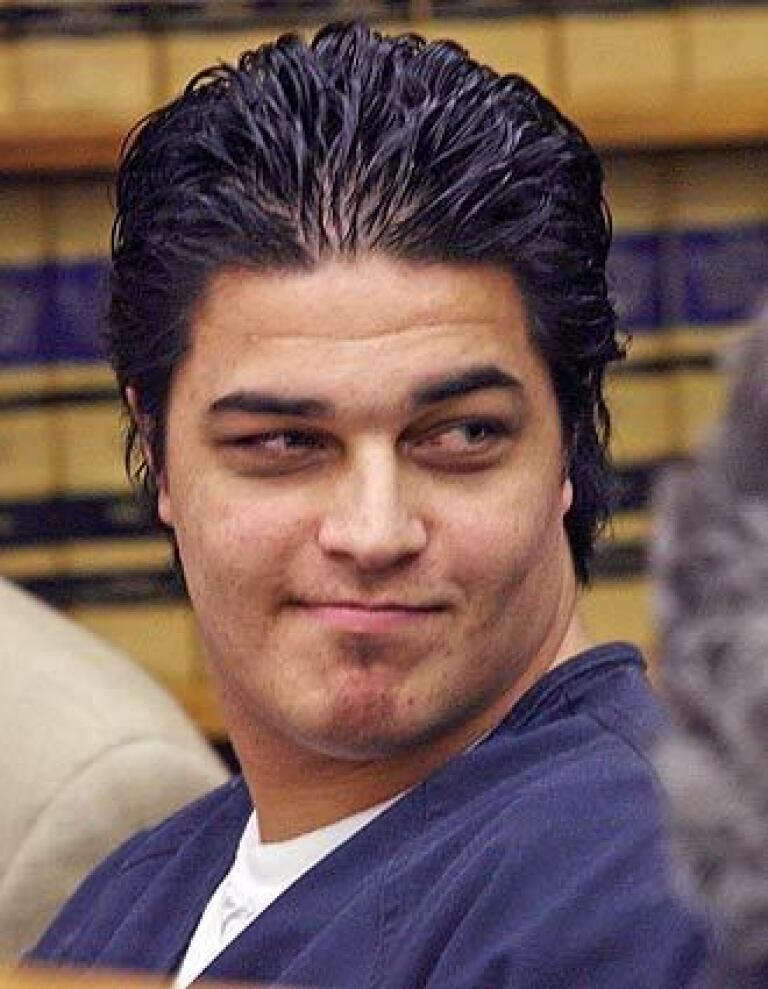 Defendant Seth Cravens, 22, listens to testimony during a bail hearing. He was the only one of the five defendants to not plead guilty in the slaying. Prosecutors allege Cravens threw the punch that resulted in Kauanui's fatal head injury.
(Sean Masterson / For The Times)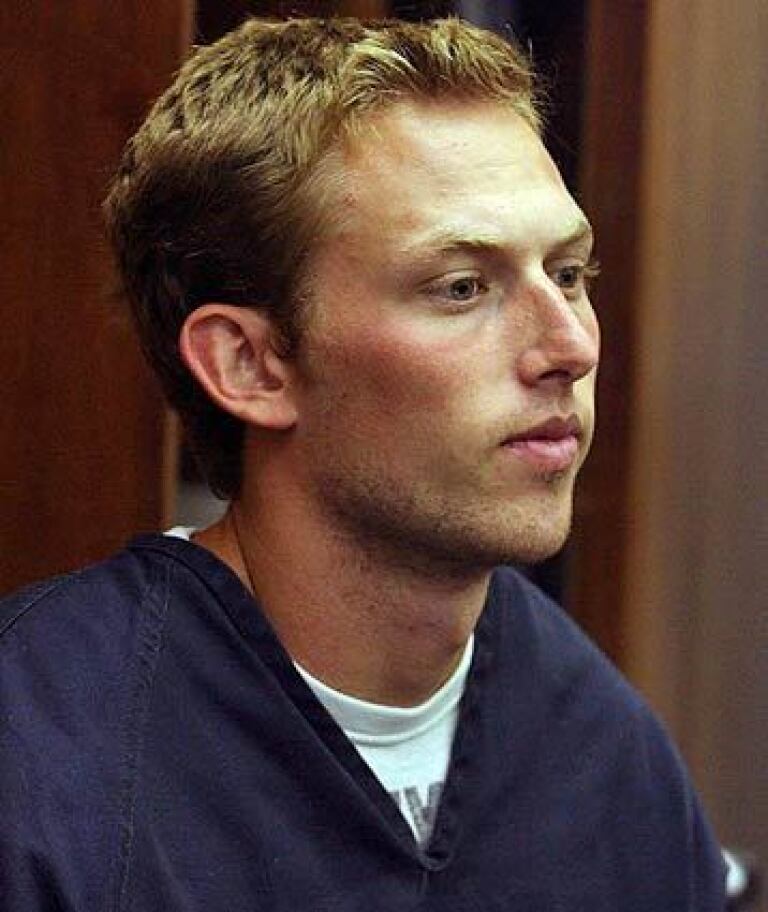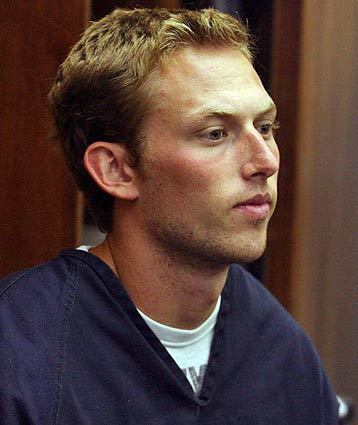 Defendant Henry Hendricks, 22, has pleaded guilty to a felony charge of being an accessory in the fatal beating. An honor student in high school, Hendricks received an athletic scholarship to the University of New Hampshire.
(Sean Masterson / For the Times)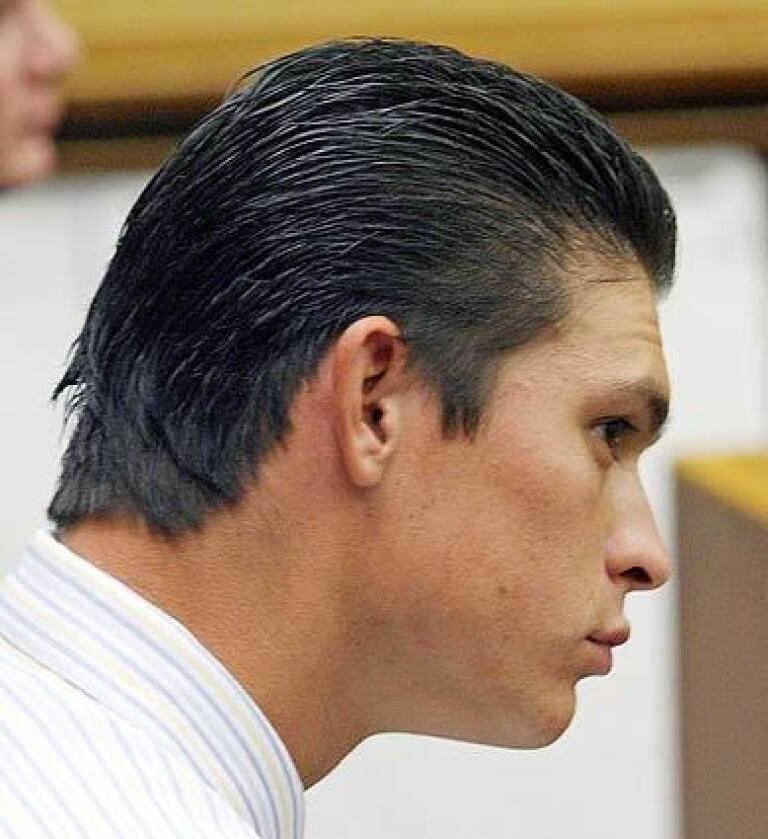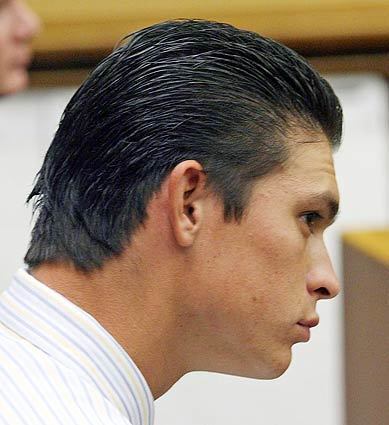 Defendant Orlando Osuna, 23, listens to arguments during a San Diego court hearing in September 2007. "They're just a group of guys having a good time," said Osuna's stepfather, Scott Wright. Osuna pleaded guilty Friday to involuntary manslaughter and misdemeanor battery.
(Sean Masterson / For The Times)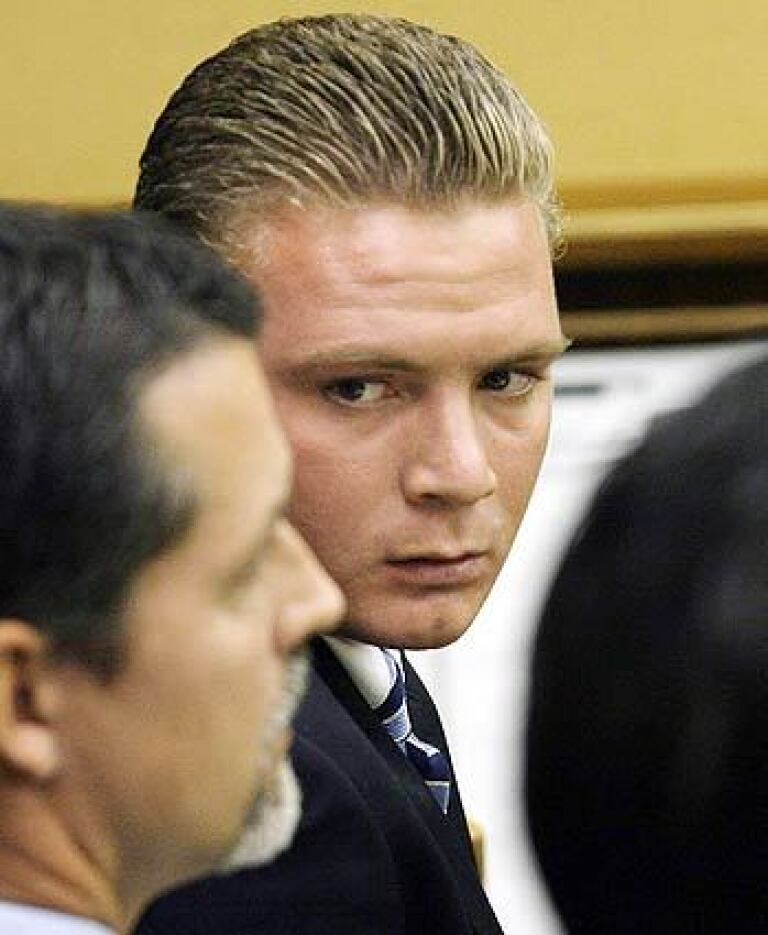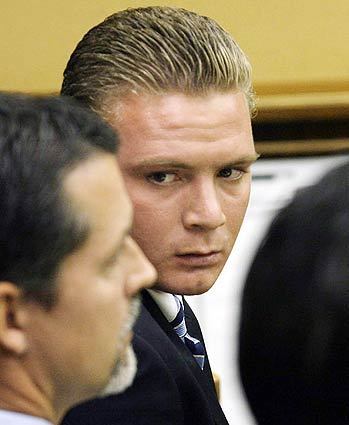 Defendant Eric House, 21, right, and his legal counsel, Earl Potts, consult at the September 2007 court hearing. House lost a front tooth in the deadly confrontation that ended near Kauanui's mother's La Jolla home. House pleaded guilty Friday to involuntary manslaughter and misdemeanor battery.
(Sean Masterson / For The Times)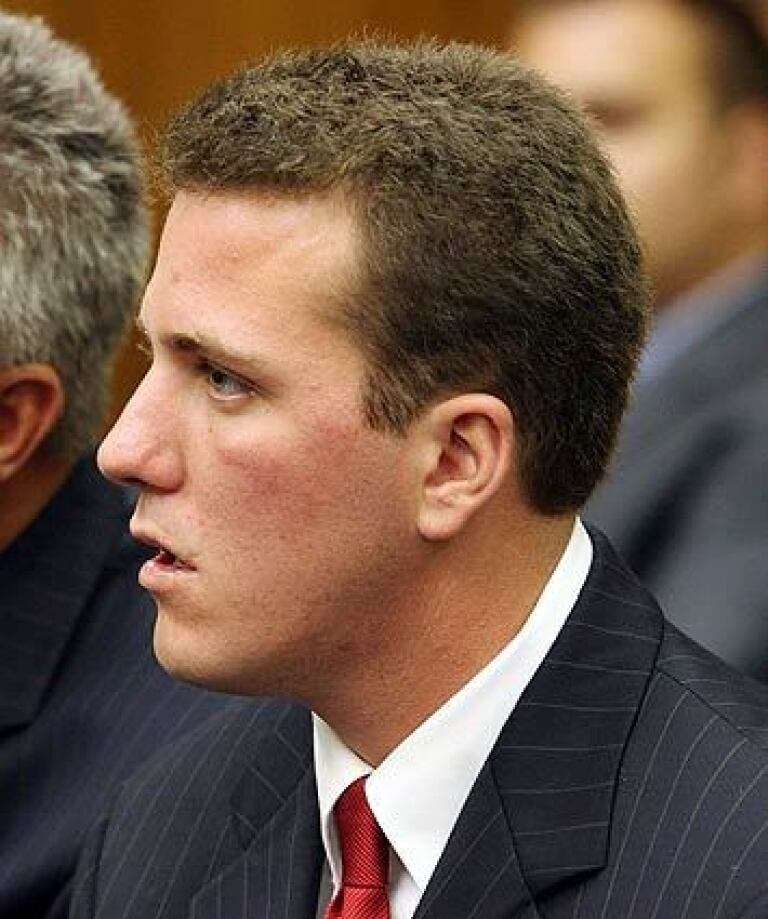 Defendant Matthew Yanke appears in court in September 2007. " 'I'm so scared. This can't happen to me,' " a friend recalled him saying after Kauanui's death. "He kept begging me to let people know that it wasn't his fault." Yanke pleaded guilty Friday to involuntary manslaughter and misdemeanor battery.
(Sean Masterson / For The Times)
Los Angeles Times Staff Writer
They are sons of La Jolla, five friends who came of age on the edge of the Pacific.
They all played on La Jolla High School's football team. One was the defensive player of the year. Another was a star quarterback mentored by former pro standout Doug Flutie, who said he'd be proud to have the boy as his own.
Off the field, they cruised around town and hung out in picturesque coves beneath bluffs lined with spectacular homes. As they grew from youngsters to young men, they also became known as partyers who sometimes threw a few punches.
One eventually left on an athletic scholarship but kept in touch. The others started calling themselves the Bird Rock Bandits, drawing on the name of La Jolla's most affordable neighborhood, where a house can still be found for under $1 million.
Now, together, the five stand accused of first-degree murder, charged with beating to death one of La Jolla's most accomplished and popular surfers in front of the home he shared with his mother.
Authorities say the killing of Emery Kauanui Jr. was the tragic culmination of a spree of under-the-radar assaults spanning several years by the Bird Rock Bandits, which allegedly had morphed from a party crew into a street gang that intimidated and beat young adults in La Jolla.
Kauanui's death-- and the violent encounters that came before -- has generated a wave of soul-searching in this seaside haven of 50,000 north of downtown San Diego. Were parents too indulgent or preoccupied? Were police too slow to spot the pattern? Were those aware of the beatings too afraid to speak up? Could the laid-back culture of La Jolla itself have created a climate of permissiveness, especially when it came to alcohol and fighting?
The night that ended so horribly began with a petty beef in a crowded La Jolla restaurant and bar in late May. Kauanui spilled a beer on one of the five friends. Within an hour, the 24-year-old surfer was hospitalized, his skull fractured, his brain bleeding.
The San Diego district attorney's office has accused the five of following Kauanui home, jumping him gang-style on the street and beating him unconscious with their fists and feet --intending to inflict serious harm.
Prosecutors say the "most deadly weapon of all" was Bandits leader Seth Cravens, 21. Only he remains in jail, unable to post bail of $1.5 million. Cravens has pleaded not guilty, as have Eric House, 20; Matthew Yanke, 21; Henri "Hank" Hendricks, 21; and Orlando Osuna, 22. A preliminary hearing is scheduled for March.
Lawyers for the defendants, who would not let their clients be interviewed, contend that prosecutors succumbed to public passions over Kauanui's death and filed charges that are excessive. They say Kauanui, who was well-acquainted with his alleged killers, instigated the fight and that several of the accused did not throw a single punch. The death, they say, was accidental.
"This wasn't a killing," says one of Cravens' attorneys, Alan Spears. "It was a fistfight."
Whatever happens in court, La Jolla's veneer of tranquillity has been stripped away. Residents say the death has forced them to look beyond the luxury boutiques, six-figure incomes and sunny beaches to the town's darker realities.
Anne Cleveland, president of the Town Council, has soaked up the La Jolla life since 1961. She knows how the ocean breezes can seem to blow away the ills that settle on other places.
"It's easier to sanitize these things in a place like La Jolla, to sweep it under the rug and go on with your life," she says. "But you can only do that for so long."
A pattern of violence
For years, Seth Cravens had cut a menacing presence. He had big, punishing fists, and he liked to use them. He always seemed to have an entourage that appreciated his loyalty and protection.
"He definitely liked to be intimidating," says buddy Matthew Schneider. He was such a confident puncher that most adversaries would back away to save themselves, Schneider says. "I've never seen him get dropped."
Schneider says Cravens was the "odd one out" in a family of 13 brothers and sisters. They lived in Mount Soledad, an exclusive hilltop enclave in La Jolla with panoramic views of the coast. While his siblings were charting careers and building families, Cravens, the second-youngest, was getting suspended from middle school for fighting, according to Schneider and others.
Cravens' parents tried hard to control him, says one of his sisters, Sarah. They grounded him, took away his video games and lectured him on respect for authority.
"My parents never made excuses for Seth," Sarah says. "Ultimately, the child is going to do what he is going to do, despite the best efforts of the parents."
It wasn't always easy, though, for Cravens' dad to claim the moral high ground. In 2002, William H. Cravens pleaded guilty to federal fraud charges in connection with a $74-million investment scheme. In exchange for his cooperation, he was sentenced last year to 32 months in prison, credited to time he'd already spent in custody. He was placed on probation and ordered to pay more than $36 million in restitution.
Just one month after the elder Cravens' guilty plea, his son was encountering the judicial system for the first time.
At a party in La Jolla in the summer of 2002, Cravens, then 17, was accused of punching Thomas Barrow in the head as many as 20 times, causing hearing loss and jaw damage. Barrow, also 17 at the time, was beaten after he came to the defense of a young woman Cravens allegedly had threatened to hit. A group of Cravens' friends made sure nobody got in the way, trapping one would-be rescuer inside a car.
"I remember trying to shield my head and thinking, 'Don't fight back.' If I were to fight back I'd have 10 people on me," Barrow recalls.
Barrow's mom, Clare, was horrified when she saw his bruised and lumpy face. "It's a very helpless feeling when you see that your child has been beaten up like that," she says.
She and her husband began talking to witnesses. "My son was not the first," she says.
The family pressed charges, and the San Diego County probation department recommended that Cravens be prosecuted in juvenile court. His parents, however, sent him to live with relatives in Hawaii. The Barrows say prosecutors explained that they didn't press ahead because Cravens no longer was a threat to San Diego residents.
Cravens' parents had hoped he'd mellow after a year in the islands. He didn't. Court documents allege he was involved in at least five beatings by the time he and some friends showed up uninvited last fall at a small party thrown by Libby Schneider, 16.
When Libby asked the 6-foot, 220-pound Cravens to leave, he allegedly landed a glancing blow on her chin that left a welt and then slugged the tearful girl in the chest.
Libby's dad, David Blende, confronted Cravens' father on the phone. "I told him I thought his son was out of control," Blende later recalled for police. "He was polite and apologized. I got the impression he had heard these reports before about his son and was kind of at wit's end."
Blende, a San Francisco dentist who was staying with his daughter while his ex-wife traveled, also told officers that he tried to track down the younger Cravens. He said he wanted to warn him that "if he does not change, he is going to wind up in prison or someone is going to stab him."
But Blende did not press charges. When recently asked about his decision, he says he was afraid Cravens might retaliate and he'd be unable to protect his daughter and ex-wife from 600 miles away.
This year began with a new lineup of victims. On New Year's Eve, all five men accused in Kauanui's death -- Cravens, House, Osuna, Yanke and Hendricks -- were among a group that tried to crash a party at 1 a.m.
Stopped at the door of the La Jolla home, Cravens and Hendricks allegedly started swinging. One man told police that Hendricks opened a gash in his head that needed stitches. Another recalled being sucker-punched, then falling to the ground, where he was kicked in the head. Standing over him, he said, was Cravens, who allegedly warned: "I'm going to . . . kill you."
The intruders bolted before police arrived. "I didn't want to explain why I had blood on my hands," Hendricks would later tell authorities investigating Kauanui's death.
By early May, Cravens had become so notorious for fighting that a popular La Jolla watering hole called The Shack Bar & Grill banned him and his friends. The final straw came after a patron, walking to his car, was beaten bloody. "I just know someone went to town on my face," he told officers.
The next day, this message was posted on a MySpace Web page that authorities say belonged to Cravens: "Bird Rock Bandits: May 10, 2007 3:32 PM . . . I can't go to the shack for a while because I murdered someone hahahaha no biggie call me up and lets get krunk" [sic].
But the door was still open for Cravens and the Bandits at another popular spot, the La Jolla Brew House. Exactly two weeks after the beating at The Shack, they stepped inside.
A surfer on the rise
Emery Kauanui practically owned Windansea Beach, home to one of the most famous breaks along La Jolla's rocky coast. In the mid-1960s, a young Tom Wolfe immortalized the spot and its rowdy locals in his essay "The Pump House Gang." Only the slang and board shorts seem to have changed much over the decades.
Kauanui started surfing there when he was barely a teen, after his mother, Cindy, moved her three sons from Hawaii in 1992 in the wake of a destructive hurricane and a divorce from Emery Sr., a Kauai native.
The lanky island kid was soon nicknamed "The Flying Hawaiian" because of his dazzling aerial maneuvers. A collection of tiny beginners, the grommets of La Jolla, wanted to be just like him. No one dominated Windansea's left-breaking wave better than Kauanui.
Cindy, a surfer herself, spent hours in the water with the son she called Junior, who dreamed of becoming a pro. She had ambitions too.
A former model, she had long impressed a number of elite fashion photographers with her knack for discovering talent. Building on her connections, she launched Jet Set Models above a surf shop in La Jolla. It was the first agency to specialize in girls and guys who looked as if they'd just stepped off the beach, beautiful and fit.
Her strategy of creating "the surfermodel instead of the supermodel" was an instant success. Her clients appeared in ad campaigns for Guess, Versace, Roxy and other brands looking to capitalize on the exploding market for surf wear.
In 2000, Cindy finally could afford to move her family out of a rental property and into a new two-story home on Draper Avenue, above Windansea. She'd found an oasis for her boys, a place she could give them someday.
Her son's career also was taking off.
Recognizing Kauanui's potential marketability, surf shops and board shapers hustled to recruit him. Among his first sponsors was Lightning Bolt Surfboards, the legendary company founded by Gerry Lopez, who in the 1970s had carved the waves of Hawaii's famed Pipeline with a skill and grace never before seen.
In the water or out, no one seemed to have more best friends than Kauanui, mostly fellow surfers who say they were attracted to his big heart and positive nature.
"So many people don't enjoy their life, and here's this kid loving every minute of it," says Todd Bartlett, whose Liquid Foundation surf shop was a sponsor. "He was never crying about nothing."
"He had soul to give," adds longtime friend Dave Woods.
But Kauanui was a surfer, not a saint. The aggressiveness, even recklessness, that helped him excel on a board occasionally played out badly -- especially when alcohol was involved.
In 2003, on the Fourth of July, Kauanui was drinking poolside at the Orlando World Center Marriott with 20-year-old Michael Penu of Tarpon Springs, Fla., whom he'd just met. Kauanui grabbed a beer from a duffel bag next to Penu's lounge chair.
When Penu asked him to put it back, Kauanui erupted. A police report said Kauanui punched Penu in the face and threw a beer bottle at him that connected above the left eye. Blood was still flowing from the 4-inch gash when police arrived.
Kauanui pleaded guilty to felony assault. He was sentenced to 18 months' probation and ordered to make restitution. One year later, his temper got him in trouble again when he grabbed a surfer in Oceanside around the throat. This time he pleaded guilty to misdemeanor battery.
That case had barely been resolved when Florida authorities issued an arrest warrant accusing Kauanui of violating probation by failing to make a number of his court payments. For nearly a month, he sat in a San Diego County jail awaiting extradition.
His mom was torn. The money he owed was small, easy for her to cover. But she was deeply worried about his drinking and the turbulent path of his life beyond the waves. She would not bail him out.
"It was his time to grow, his time to change," she says. "It was very hard as a mom, but I had to stick to my guns." She says the experience was "absolutely a turning point" for her son, who vowed to be more responsible and ease back on his partying.
He pledged the same to his longtime girlfriend, Jenny Grosso. They'd been together, on and off, since she was 14 and he was 17. "I wanted him to succeed so badly," she says.
On the Wednesday before Memorial Day, the two decided to hook up at the La Jolla Brew House. A radio station and a surf company were sponsoring a promotional event that night. The bar would be packed with young locals, celebrating the arrival of another summer at the beach.
Kauanui's mom was in Hawaii working. Although still on alert, she'd grown more comfortable with her son's choices. "He was making a big change," she says. But that night he faltered. "It was," she says, "a dumb choice to go to that thing."
The fight
Seth Cravens leaned close to the video lens. His eyes were red and droopy. He flashed what looked like a gang sign. "It's all about the BRB!" he yelled above the din of voices and music in the Brew House.
"Bird Rock Bandits!" shouted Matthew Yanke, who then came into full frame, along with Eric House.
The videographer was there to shoot footage for a promotional piece on a local surfer. But the self-proclaimed bandits kept crowding him. "These guys were getting in my face. They were wound up," he says. "It was uncomfortable." He stopped filming.
Soon, Jenny Grosso saw the boys heading toward her as she danced with Kauanui. "Here comes trouble," she thought.
Grosso had known Cravens for years. He used to be close to Kauanui's younger brother, Nigel. Even though she was disgusted with the whole Bird Rock Bandits thing, Cravens had always been friendly. So she asked how he was doing. " 'I smoked seven blunts today,' " Grosso says he replied. "Glad you're doing so well," she responded sarcastically.
Then trouble came.
As Kauanui danced, he spilled a beer on House. Grosso says it was an accident. House contends that a jealous Kauanui intentionally doused him because he was talking to Grosso. Whatever the truth, the two started arguing loudly.
The Brew House's security man stepped in. House and Kauanui said everything was cool, that they'd known each other for years. "Friends shouldn't be acting that way," the bouncer said, according to police reports. Within 15 minutes, they were at it again.
The Brew House booted Kauanui. House left on his own after the bar's security man asked for ID and realized the drunken patron was underage.
Because Kauanui had been drinking, Grosso drove him home in his car and then jogged back to retrieve hers from a parking lot near the bar. She says she saw Cravens and the others jump into a black Ford Explorer. " 'I know where he lives,' " she quoted Cravens as saying. " 'Let's go f--- him up.' "
Panicked, Grosso burst into the Brew House. "Emery's going to get jumped!" she screamed, and then ran to her car and headed back to Draper Avenue. By then, Kauanui and House had already decided during a cellphone conversation to fight.
Inside the SUV, Cravens pumped up his friend, according to an account provided to police by one of the participants. "You can beat Emery," Cravens said. "You can win."
It was just after 1:30 a.m. when the Explorer rolled up to the home that Kauanui's mother envisioned as a refuge. Kauanui emerged through the front door and stripped off his shirt.
Exactly what unfolded next, during a three-minute swirl of violence, is in dispute. The street was dark, the action fast. Eyewitness accounts conflict in small and significant ways. There is, however, a measure of consensus on this much:
The fight began as a one-on-one between House and Kauanui, who quickly got the better of it. He knocked out House's front tooth as they traded blows on the street. Neighbors, who called 911, yelledthat police were on the way.
When Grosso arrived, she says, House was straddling the surfer. Although small and slender, she started kicking House with all her power -- until Hendricks pulled her away. "It was the worst moment of my life," she says.
Neighbors, watching from a balcony across the street, say that as many as four young men pounded Kauanui with their feet and fists. Other witnesses say that only two, maybe three, joined the fracas.
But there's no disagreement over the final punch, the one that buckled Kauanui's knees and dropped him backward to the pavement with a crack. He was hit with a hard left to the head by Cravens, who intervened while House stumbled around looking for his tooth.
Cravens told investigators he acted in self-defense after the 145-pound surfer took a swing. Other witnesses told police that he sucker-punched Kauanui, reminiscent of what previous alleged victims had said of his style of combat.
As blood pooled around Kauanui's head where it struck the street, the young men fled, except for House, who was still searching for his tooth when police arrived. Splattered with blood, he was arrested on suspicion of battery. Officers interviewed Grosso and others at the scene.
Kauanui was transported to UC San Diego Medical Center, where he was treated for bleeding in the brain, facial fractures and multiple contusions. He was alert.
The next morning, as word of the fight spread, one of Grosso's closest friends says Yanke, in tears, called her.
" 'I'm so scared. This can't happen to me,' " Dana Hofflet, 21, recalledhim saying. "He kept begging me to let people know that it wasn't his fault."
Hendricks also got on the phone, she says. He insisted that no one wanted Kauanui to be hurt so badly. "I think they figured that maybe if I believed them that I could make other people believe them," says Hofflet, who refused to be their surrogate.
Three days later, despite encouraging early signs, Kauanui's condition suddenly worsened. His brain was swelling. As doctors wheeled him into surgery, his mom was overcome with a powerful need to call Cravens' mother. "I was hurting and I wanted her to know."
Sitting in the hospital cafeteria, Cindy got the number from information and dialed.
"My son's been badly beaten and your son did it," she informed Karen Cravens. "He might not live." She says the response was muted, something like: "Oh, OK."
"Maybe she was in shock," Cindy says.
By now, Cravens, like the others, was worried, says longtime friend Schneider.
" 'What should I do? What should I do?' " Schneider recalls him saying.
"Honestly, dude, just kinda chill and see what happens," Schneider responded. "There's a lot of fury on the street. People want blood."
On Memorial Day, four days after the fight, Emery Kauanui was pronounced dead, sending a wave of anger through La Jolla and the San Diego surfing community.
When homicide detectives arrived on the Cravens' porch the next day, the father said simply: "Come in. We were expecting you."
As officers searched his son's room, William Cravens stood in the doorway. "We all feel badly about this," he told one of the detectives, who recounted the conversation in a report. "Seth is just sick about this. He really didn't think he hurt him that bad."
Only Hendricks, not yet identified as a suspect, remained free. The others -- four young men who'd grown up shoulder pad to shoulder pad -- now were wearing the blue uniforms of the San Diego County Jail.
On a warm Saturday afternoon, two weeks after Kauanui's passing, 300 surfers, young and old, stroked into the ocean at Windansea. Hundreds more lined the beach and bluffs for a view of the traditional Hawaiian "paddle out" ceremony. On this day, the bitterness over Kauanui's death dissolved in the waters where he had played.
The surfers formed a huge circle around a lifeguard boat that carried Cindy. Organizer Mike Powers asked the surfers to clasp hands and pray that some good would come of the tragedy. He then looked out over the floating assemblage.
"I saw a sense of unity like we'd never had in La Jolla," Powers says. "It was a small 9/11 for our community. It was like, wow, murder can even reach here, in paradise."
Cindy, youngest son Nigel nearby, then poured Junior's ashes into the sea.
Within days, she and Nigel left for Oahu, leaving La Jolla behind for good.
"I couldn't take the pain, the memories in the house," she says. "Nigel and I are in a little condo, but we're happy because we have each other."
A gang in La Jolla?
Longtime locals laugh off the idea of the Bird Rock Bandits as a gang. They dismiss its half-dozen or so members simply as privileged bullies. "The La Jolla do-nothing club," as surfboard shaper Tim Bessell puts it.
Their families and friends also say the gangster tag is wrong -- but not for the same reasons. In interviews and in letters to the court, they describe the accused as gentle and caring boys who've been demonized by overzealous prosecutors.
"They are not a bunch of gang guys talking about whose knife is sharper," says Osuna's stepfather, Scott Wright. "They're just a group of guys having a good time."
The president of the Mormon church in San Diego concedes in his court letter that Cravens "has not been a model citizen." But Elmer Heap Jr., a former prosecutor and family friend, insists there is "a goodness in Seth. There are great qualities in him."
Same for House. The mother of his girlfriend, a straight-A student now in medical school, writes that "if he has any fault, it is that he is too good of a person."
Prosecutors were unmoved. Act like a gang, get treated like one. And they had ammunition. The four suspects had barely been fingerprinted when police received two dozen calls alleging that some of these same guys had been terrorizing the town for years.
Homicide detectives investigated, and in September a slew of assault, battery, intimidation and "gang enhancement" charges were added to the murder counts.
This meant prosecutors could introduce the earlier cases of alleged violence during trial to prove that the Bird Rock Bandits fit the legal definition of a gang and that its members should be subjected to stiffer sentences.
A new defendant, the fifth, also was added: Hendricks, who may not have struck Kauanui but did admit to restraining the surfer's girlfriend and fleeing the scene. The day after Kauanui's death, Hendricks voluntarily talked to police and district attorney investigators. His lawyer says Hendricks was assured he wouldn't be arrested -- not on that particular day.
Hendricks was different from his fellow defendants. An honor student in high school, he received an athletic scholarship to the University of New Hampshire, where, as a junior, he was a business major and the football team's reserve quarterback. Now, he was suspended from college and kicked off the squad.
Hendricks' arrest, more than the others, has raised questions about the district attorney's tactics. His supporters say he was a potentially valuable witness for the defense and was charged with murder and gang activity to undermine his credibility.
Virtually overnight, 75 letters flooded into the court from family members, friends, business executives and teachers on both coasts, many suggesting that he was guilty only of picking bad friends.
One of the strongest came from former NFL quarterback Flutie, who was playing for the San Diego Chargers when he met Hendricks in 2001 on the La Jolla High School football field. He mentored him for three years.
"Hank has always been a model citizen," Flutie writes. "He has no history or reputation for violence, has never been affiliated with any 'gang' of any kind and has no criminal record . . . Hank Hendricks is an exemplary young man who is someone I would be proud to have as a son!"
Paul Levikow, a spokesman for the district attorney, says Hendricks and the others were charged because prosecutors believe their guilt can be proved beyond a reasonable doubt. Other than that, he says, "we will not respond to allegations or complaints by the defendants, their attorneys or friends."
'Dirty little secret'
Although the preliminary hearing is still months away, the La Jolla Light already has offered its verdict -- in societal, not legal, terms -- in an editorial headlined "Bird Rock Bandits are our own creation."
The nearly century-old weekly paper argued that the defendants do not "represent some mutant strain of the La Jolla lifestyle." Like other young people, they found sustenance in the beach and in partying, the paper said, seemingly beyond the control of parents, schools, churches and police.
"How does a group of wayward young men openly embark on a lifestyle that is so repugnant to our communal standards and not feel the pinch of public censure until it is too late? How does a smart, caring community like La Jolla allow this kind of behavior for so long without taking notice?"
There is, of course, no single or easy answer, even with the clarity of hindsight.
Some blame the San Diego police for not identifying and investigating the pattern of attacks in La Jolla. Officers assigned to the community said they had not heard of the Bird Rock Bandits before Kauanui's death.
Police Chief Bill Lansdowne says officers can pursue only crimes they know about. The vast majority of victims, he says, did not file complaints. In some cases, witnesses were reluctant to cooperate or were unreliable because they'd been drinking.
Lansdowne says the department was surprised by the volume of calls after Kauanui's death and investigated those cases vigorously, leading to the additional charges.
"This was a unique case," the chief says. "It's unfair to say we didn't do enough."
Others point to a culture of fighting that has existed for years in La Jolla and neighboring San Diego coastal communities, a culture stoked by alcohol.
"I think this has been La Jolla's dirty little secret," says the high school's varsity football coach, David Ponsford, a faculty member for three decades. "No one has wanted to address it."
Kauanui's death certainly has pushed the problems of drinking and brawling onto a more public stage.
On Labor Day, three months after Kauanui's death, 17 people were arrested after a drunken free-for-all erupted on Pacific Beach, just south of La Jolla. Police in riot gear were pelted with beer cans and plastic bottles.
As a result, the San Diego City Council voted to ban alcohol for one year on city beaches, a restriction imposed long ago by virtually every other city along the Southern California coast. Alcohol already had been banned on four La Jolla beaches.
Many community leaders and residents say the Kauanui case has been a wake-up call. Rich communities are not immune from the traumas that plague less-fortunate neighborhoods, although the catalysts may be different.
"There's a different rationale for the violence, but the effect is similar," says Glenn Rasmussen, a La Jolla lawyer and civic leader. "Somebody gets hurt, somebody gets killed."
Rasmussen, who has lived in La Jolla for 35 years, says he has seen how wealth can embolden some young people, especially those whose parents are "more involved with their vocations, their travel, their exercise and their plastic surgery than their children." This, he says, can lead to bullying and, in extreme cases, "into physical violence."
Cleveland, the Town Council president, says there's plenty of responsibility to go around: parents, police, money, alcohol and, most important, the defendants themselves.
"These kids had been doing this since high school," she says. "It was hidden in plain sight. That's the crux of the tragedy. It could have been avoided if people had spoken up about it more vociferously. As a result, six young lives are basically over."
Times researcher John L. Jackson contributed to this report.
---
The stories shaping California
Get up to speed with our Essential California newsletter, sent six days a week.
You may occasionally receive promotional content from the Los Angeles Times.