Ontario opens arms to homeless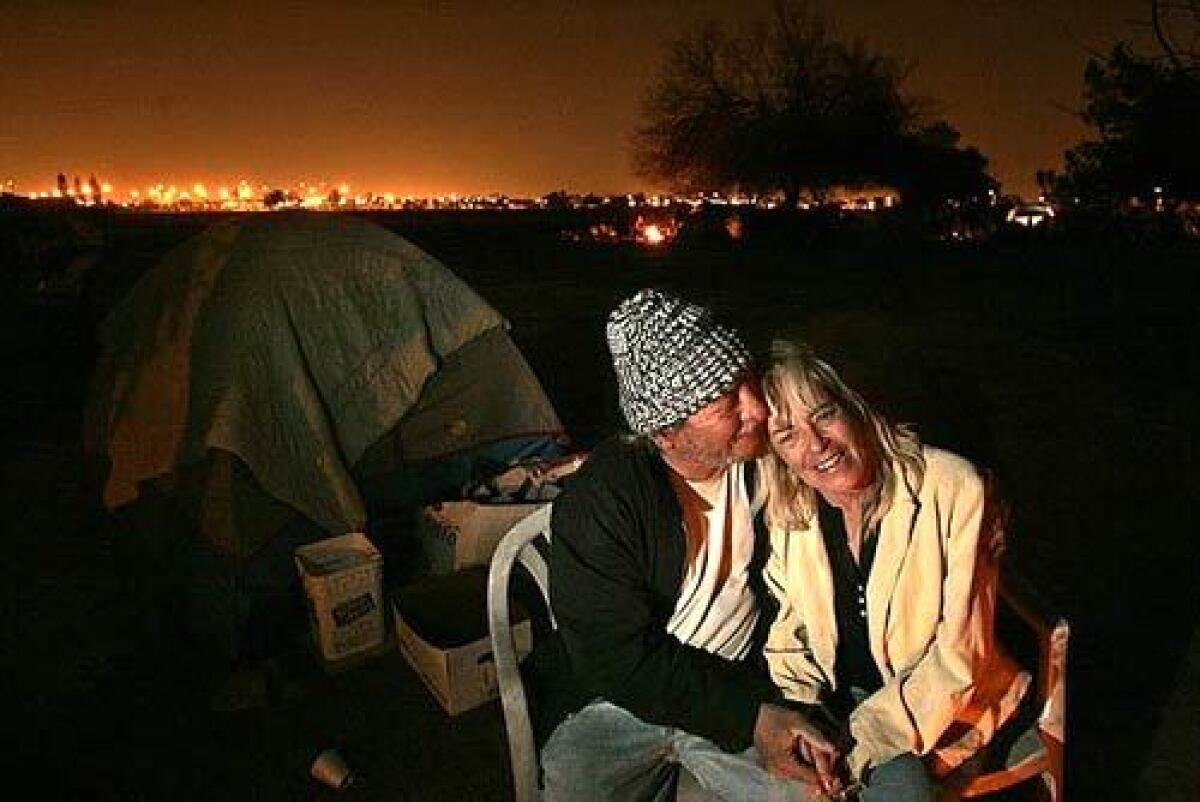 Los Angeles Times Staff Writer
Over the last six months, more than 250 homeless people have pitched tents near the Ontario airport, creating a burgeoning shantytown that sprawls across vacant lots and spills into side streets.
They call it Tent City, and for many it's a welcome refuge from the cars, bridges and offramps they usually inhabit.
"This place is the best thing they could do for us," said Teresa Pacheco, 48, of Upland. "It's got food, water and there is an outhouse."
For others, it's a nightmare.
"I hate it here. I want a house. I want a life," said a tearful Teresa Dodson, 54. "I've never been in this position before in my entire life."
Pregnant women, parolees, alcoholics, the mentally ill, people fallen on hard times: They're all here, living on donated food and water. And rather than running them out, the city has invited them in.
Unlike many communities that hide or deny such problems, Ontario has put its homeless on public display.
The city makes sure trash is picked up. Police patrol the area. Portable toilets have been set up and clean water and showers are provided. Social workers try to place residents in shelters and get help for those with drug or alcohol problems.
"I have done this kind of work for 20 years and have never encountered a city that has made the investment that Ontario has," said Larry Haynes, executive director of Mercy House in Santa Ana, which is helping the homeless at the site. "We have unanimous support from the City Council and city staffers. This isn't Berkeley or Santa Monica. It's a moderately conservative area, not a bunch of wild-eyed liberals."
Ontario officials don't call the place Tent City or Camp Hope as some do. They prefer "rest area." They set it up on city property just west of LA/Ontario International Airport last June to lure the local homeless away from dangerous sites.
"They were living along the railroad tracks, along the 10 Freeway at the major intersections," said Brent Schultz, director of the city's office of housing and neighborhood revitalization. "We said, 'You don't have to go, but we have created a place where you can go.' It's not a permanent solution. We are trying to keep a lid on it, but we are not putting our head in the sand. We are reaching out to people."
Ontario is spending $3 million to deal with its homeless. As of 2007, that population numbered 331, the second highest in San Bernardino County, said Isaac Jackson, the county's homeless services coordinator. The city of San Bernardino ranks first with 1,397.
Tent City started with about 30 people. It grew fast to between 250 and 300 from all over the region. And there is increasing concern that it could be getting out of control.
"I worry how it has expanded, from a standpoint of safety and resources," said City Councilman Jason Anderson. "It needs to be regulated. It's taken on a life of its own. I envision the city throttling it back to the point where it was originally envisioned, as a resource for the local homeless community."
But there are no plans to close it, he said: "You can't just flip a switch and shut it down."
At least not anymore.
Tents now cover several large dirt lots on both sides of Cucamonga Avenue. Side streets are lined with battered vans and recreational vehicles. Dogs run wild. A 6-month-old was recently found living in a tent with his mother. Authorities said they would provide better shelter for all mothers with children they find.
Police say there has been one assault, but little other crime has been reported. They have intercepted gang members they say were casing the place in order to extort money from the homeless. And they say they know that parolees had been dropped off at the site.
"We spoke with parole and that has stopped," said Ontario Police Sgt. Bryan Allen, who recently supervised a cleanup operation in the area. "We get folks who come here to gawk, and a few have even brought their children down to play. This isn't a place for kids. Many of these folks are mentally ill. There are a ton of airborne illnesses."
First-time visitors are often shocked by the sea of flapping tents with residential homes barely a block away.
"My first impression was shame on America," said Beverly Earl, director of community and emergency services for the region's Catholic Charities organization. "But you have a lot of people here who are just caught in bad circumstances. They now feel part of a community."
Residents live in donated tents with mattresses. They light fires in barrels or grills to stay warm.
High winds can topple the portable toilets, spilling their contents. Inside one, someone scrawled "God Hates Us All" in black marker.
People freely admit addictions, arrest records and mental illness. Their life stories are harrowing.
Marty Tovar, 53, yanked all the hair from his head -- "to change my look," he said. His nose is scarred from a recent attack by teenagers, his elbow dented from crashing through a car window. His knees barely function and a hip has been broken.
"My kidneys are good, though," he said on a recent afternoon.
Jets landing at the airport thundered just a few hundred feet above him.
"And I got a good nose too," he said. "I can really take a beating."
Dodson walked past. She said her boyfriend kicked her out of the house. She drinks "to relieve the tension" and feeds the birds gathered outside her tent.
"I am grateful for all the help people have given us," she said. "But I get very depressed here."
Gina Worges is 47 and five months pregnant. She hopes her baby is fine but said she really has no idea: "The veterinarians have spayed and neutered the dogs out here, but I haven't seen any doctors for the people."
Her tent smells of mildew, her mattress soaked from the recent rain. She and her daughter Nancy McAbee said they were evicted from their Fontana home when a roommate failed to pay a portion of the rent.
McAbee, who is partly deaf, arrived at the encampment nine months pregnant. On Friday, her water broke and she was taken to a hospital.
A day earlier, she had said she planned to put the baby up for adoption.
"I prefer the baby be in a house than in this place," she said, lighting a cigarette.
Across the street, past a circle of scowling men drinking malt liquor, Danielle Rivera swiveled on an old office chair, its wheels firmly mired in mud. Her 6-month-old son,Daniel, smiled in a stroller beside her.
"I'm trying to get my son off the street," said Rivera, 20, of Ontario. "He's been a real trouper, but I'm hating it. I'm used to being indoors."
A high-strung parolee who identified himself only as "Mississippi" tried to start a fire at Rivera's tent site. He borrowed pieces of notebook paper to use as kindling.
"The parole officer left me here," he said. "The police said I committed assault with intent to commit great bodily harm, but I was just trying to break up a fight."
Rivera and her mother, Pam, said they ended up homeless after being evicted. They watched as Mississippi's anemic fire struggled to burn. It was cold, and the skies threatened more rain.
"We need this place. Otherwise we'd be on skid row," said Pam Rivera.
A fight broke out nearby, one woman screaming obscenities at another.
"Hey!" bellowed the elder Rivera. "There are children around here, and if they start talking like that, I'm coming over there!"
Tent City may be ugly, but plenty of people want to help those inside. More than 30 churches serve lunch and dinner almost every day and donate tents, tarps and clothing. Catholic Charities hands out water and blankets. Mercy House has opened an emergency walk-in center.
"People who want to help are coming out of the woodwork," said Wendy Francisco, director of Camp Hope Ministry for Flipside Church in Rancho Cucamonga. "This is the leper colony outside the city walls. I know Jesus would be out there. That's where he was, among the poor and lowly."
Not every person in Tent City is mentally ill or chemically addicted. Some fell on hard times with no safety net.
Damaris Rodriguez, 45, lost her inventory job when the company went bankrupt. Her last paycheck was $160 and her rent was $300. She was evicted, then lost her car.
"The whole thing was a domino effect, and I ended up here," she said. "Everyone has a different breaking point. For me, this is rock bottom."
Her tent is neat inside, with canned food stacked beside a mattress sitting on a shag carpet. She dug a ditch out front to drain away the water and wears slippers turned black with mud.
"My boyfriend thinks I'm high-maintenance because I'm not out collecting cans and bottles in the dumpsters," she said. "But I'm not going to give up my standards. It's easy to say, 'This will never happen to me.' I said that once and look at me. Never say never."
---
Life is stressful. Our weekly mental wellness newsletter can help.
You may occasionally receive promotional content from the Los Angeles Times.