Fifty-five Tongan soldiers are receiving training at Camp Pendleton as they prepare to deploy to Iraq.
(Mark Boster / LAT)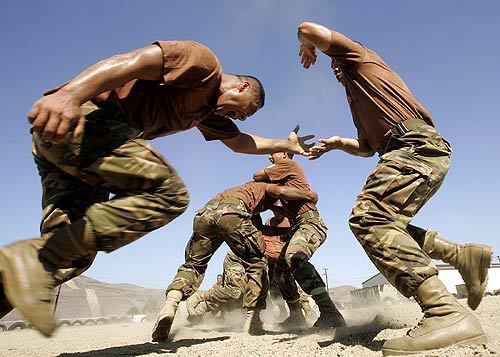 Soldiers demonstrate their martial arts skills during a drill. Tonga has a relationship with the 1st Marine Division that dates to World War II and the battle at Guadalcanal, where their troops fought alongside each other.
(Mark Boster / LAT)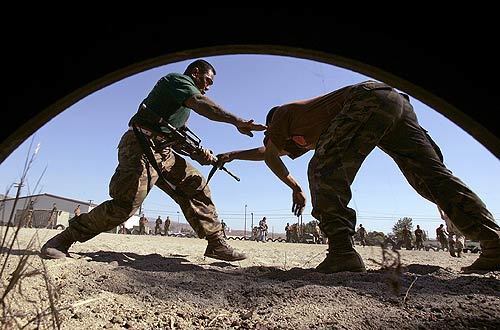 Practicing hand-to-hand combat techniques.
(Mark Boster / LAT)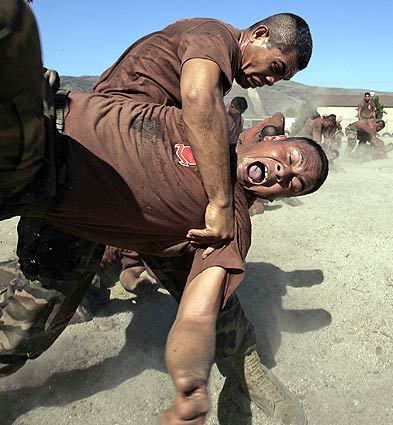 Lance Cpl. Ketim Kal'u takes down Lance Cpl. Daniel Kal'u during a demonstration of their martial arts skill.
(Mark Boster / LAT)
Cpl. Akauola Fisiihoi, left, and Lance Cpl. Sunia Katoanga practice weapon retention as Marine Corps Gunnery Sgt. Dennis Kleyh observes them.
(Mark Boster / LAT)
At the end of a hot morning of training, the Tongans join together in song under shade trees at Camp Pendleton.
(Mark Boster / LAT)
"We're aware of the risks," a Tongan commander said. "The harder we train, the smoother it will work out when we get there."
(Mark Boster / LAT)