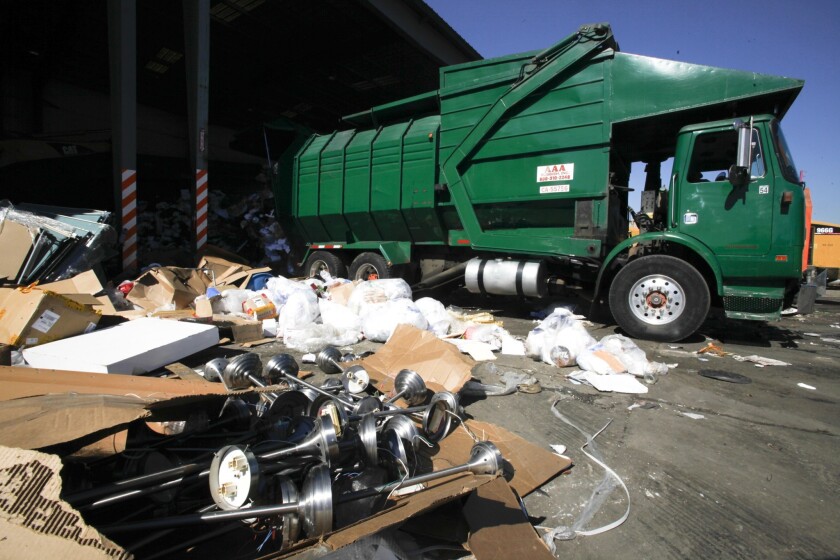 The Los Angeles City Council voted Tuesday to overhaul the way garbage is collected from tens of thousands of businesses and apartment complexes in what city officials, labor leaders and environmental activists described as a groundbreaking plan to put L.A. at the forefront of landfill waste reduction.
"This is going to be the most exacting, the most ambitious, gold-standard waste recycling system not just in the country, but in the world," said Greg Good, Mayor Eric Garcetti's director of infrastructure and a former project director with the Los Angeles Alliance for a New Economy. The group, which focuses on labor and environmental issues, played a major role in pushing for the overhaul.
The controversial plan pitted environmentalists and labor unions against business groups in a heated debate over an estimated $250-million market serving about 63,000 properties.
---
FOR THE RECORD:
New trash law: An article in the April 2 LATExtra about a new trash collection franchise system adopted by the Los Angeles City Council identified Jackie Cornejo as a project manager with the Los Angeles Alliance for a New Economy. She is a project director. —

---
Landlords for businesses and apartments now choose from among scores of competing businesses to haul their trash. Under the new "exclusive franchise" system, Los Angeles will be divided into 11 zones. Haulers will bid for city contracts giving them the exclusive right to collect garbage in each zone.
Linda Escalante, a policy advocate with the Natural Resources Defense Council, called the existing market "a kind of Wild West, race-to-the-bottom kind of system with very few standards."
The new approach will be hitched to environmental standards: To be eligible to win each zone, haulers would have to provide bins for recycling and use "clean fuel" vehicles, as well as meet other ecologically friendly requirements.
The changes will not affect roughly 750,000 single-family homes or apartment buildings with four units or fewer, which get their trash and recyclables hauled by city workers. City officials plan to start the new commercial system by early 2017.
Labor and environmental groups argue that the new system will steer more garbage away from landfills, result in fewer trucks crisscrossing city streets and produce safer conditions for workers.
Business groups counter that the same environmental goals could be met without an exclusive system by setting green standards and letting any hauler that meets them keep operating.
"The city has yet to convince the business community that an exclusive franchise system would do anything other than create a costly bureaucracy, raise trash collection rates as much as 40%, potentially shut down 140 small family-owned businesses and eliminate thousands of high-paying jobs," Los Angeles Area Chamber of Commerce President Gary Toebben said in a statement Tuesday. The group argued that the plan was meant to ensure that contracts went to unionized companies.
City Administrative Officer Miguel Santana recommended using a non-exclusive system when the council started exploring the overhaul, saying that it would maintain a "competitive marketplace." However, an environmental impact report by the Bureau of Sanitation recently concluded that such a plan would not do as much to reduce air pollution.
Without an exclusive system, "we'd still have overlapping truck routes," said Jackie Cornejo, a project manager with the Los Angeles Alliance for a New Economy.
The council voted 12 to 1 to approve an ordinance laying out the rules for the new system. Councilman Bernard C. Parks, who raised concerns about the threat to small haulers, cast the sole vote against the plan. The measure will require a second procedural vote next week.
As labor and environmental groups celebrated after the vote, Maria Elena Durazo of the Los Angeles County Federation of Labor told the crowd gathered in City Hall that their work wasn't finished. "This ain't over until this industry is unionized — that's when we can really, really celebrate," Durazo said.
Times staff writer David Zahniser contributed to this report.
---