5 Images
Working together
Doug McKay, left, a U.S. Forest Service archeologist, and James Ramos, the cultural resource coordinator for the San Manuel Band of Mission Indians, visit the site of a prehistoric village in the San Bernardino Mountains. In the past, tribal representatives were left in the dark about firefighting operations and fire officials had little clue about the historical significance of ancient sites threatened by blazes.
(Glenn Koenig / LAT)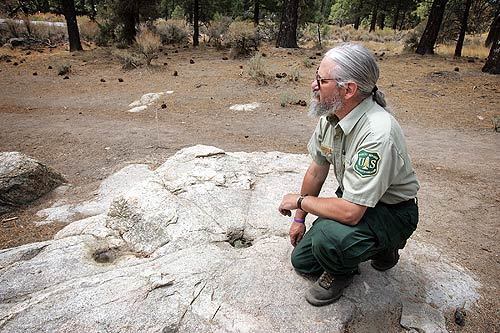 "Every individual site is an endangered species of its own," McKay said. "Once it's gone, it's gone. You can't re-create [artifacts from] an 8,000-year-old village."
(Glenn Koenig / LAT)
This hole in a rock in the San Bernardino Mountains was used by Indians as a bowl for food preparation. "People are realizing that if we plan ahead we should be able to protect these resources," said Larry Myers, executive secretary of the Native American Heritage Commission, the state agency responsible for identifying and cataloging Native American cultural resources. "How important would it be to non-Indians if you bulldozed over a cemetery?"
(Glenn Koenig / LAT)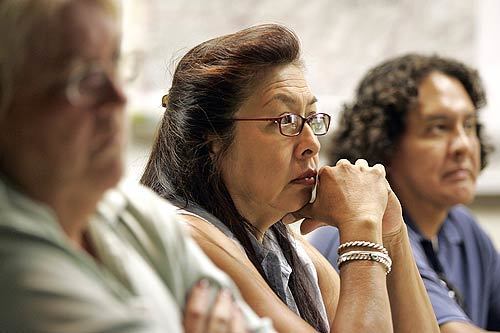 Ann Brierty, a member of the San Manuel Band of Mission Indians, takes part in a fire safety class for Indian officials. The goal is to have a better working relationship between firefighters and tribes.
(Irfan Khan / LAT)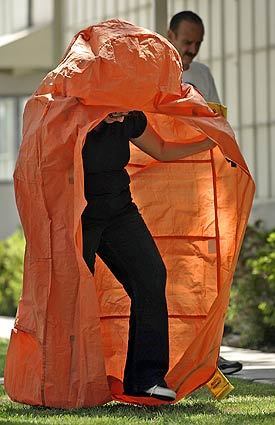 Patricia Tuck of the Agua Caliente Band of Cahuilla Indians takes cover in a fire shelter during a safety class.
(Irfan Khan / LAT)