8 Images
Visions of the Virgin Mary
Virgin Mary on Griddle
An outline resembling the Virgin Mary, right, is seen on the griddle at the the Las Palmas restaurant in Calexico, Calif.
(Todd Krainin / Imperial Valley Press)
Virgin Mary on Griddle
Wrestlers Renegado, left, and Mr. Tempest look at an image of what they believe is "Our Lady of Guadalupe" on a griddle at Las Palmas restaurant on Wednesday, April 29, in Calexico, Calif. Restaurant manager Brenda Martinez says more than a hundred people have flocked to the small town of Calexico on the
California
-Mexico border to gaze at the image since it was discovered as the griddle was being cleaned.
(Todd Krainin / Imperial Valley Press)
Chocolate
Workers at Martucci Angiano's gourmet chocolate company, Bodega Chocolates, in Fountain Valley discovered under a vat a 2-inch-tall column of chocolate droppings that they believe bears a striking resemblance to the Virgin Mary on Aug. 18, 2006.
(Glenn Koenig / Los Angeles Times)
Chocolate
Employee Maria Luisa Orales, right, shows visitors the figure. "It's really emotional," said the woman who found it.
(Los Angeles Times)
Virgin Mary sightings
In April 2004, an image said by some to resemble the Virgin of Guadalupe appears under a patio lamp in a state-run hospital in Ensenada. At the time, hundreds of people gathered daily for what they called a miracle as the automatic lamp turned on at dusk. The Virgin of Guadalupe is Mexico's most revered Christian symbol.
(David Maung / Associated Press)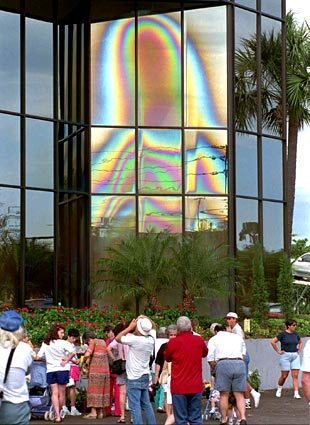 Virgin Mary sightings
In March 1997, people gather to view an image that many believed to be that of the Virgin Mary on the windows of a building in Clearwater, Fla. Seven years later, the windows were found broken. The three top panes that showed what appeared to be the Virgin Mary's veiled head were destroyed, with just shards of glass remaining in the window frames. The image had first appeared a week before Christmas in 1996.
(Peter Cosgrove / Associated Press)
Virgin Mary sightings
In June 2003, people gather below a bricked-in window on a doctors office building on the grounds of Milton Hospital in Milton, Mass., that many took as a religious sign because the image in the window resembled the shape of the Virgin Mary with a baby. After the discovery, hundreds of people showed up regularly to see the window and pray.
(Robert E. Klein / For The Times)
Virgin Mary sightings
Some saw the image of the Virgin Mary on this sandwich, but others thought it looked more like actress Joan Crawford.
()