Jerome "Joe" Wier, 88, smokes his briar pipe and looks out at what used to be his 5,500-square-foot ranch-style home in Poway in San Diego County. The house, which he built himself, was lost in the October wildfires.
(Don Bartletti / Los Angeles Times)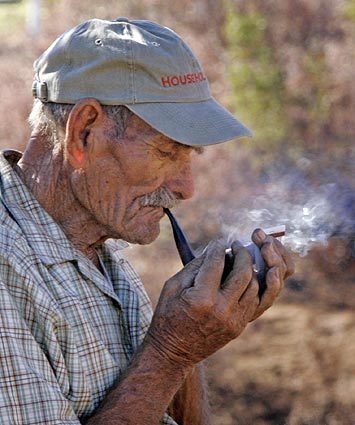 Joe Wier is planning his new house, vowing to improve on the last one. "I'm visualizing things," he says. "I take this as a challenge." Fire took his and his wife's home, and all their possessions, the night of Oct. 21.
(Don Bartletti / Los Angeles Times)
Marion Wier, 80, still dotes on Joe after 58 years of marriage, even as she needles him about being a tightwad and stubborn. Time is the enemy as they plan their home. "Remember the hummingbirds we had here, Joe?" Marion asks. "Oh, sure, nature will rejuvenate itself in a few years. But we don't have a few years, Joe. That's the sad part."
(Irfan Khan / Los Angeles Times)
The Wiers walk across the empty lot where their house once stood in Poway. These days they live in a rental house with their daughter and grandson.
(Irfan Khan / Los Angeles Times)