6 Images
After the sun goes down
Jessica and Cliff Capps of Long Beach relax with their son Tyler amid friends and a warm fire at Bolsa Chica State Beach. Huntington Beach's almost 600 fire rings likely qualifies it as Southern California's beach fire capital.
(Allen J. Schaben / LAT)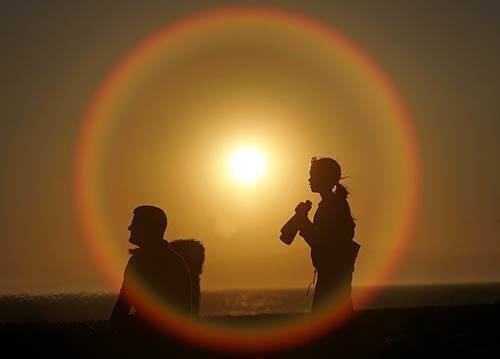 Michael St. Pierre, left, of Fullerton, and Karissa Dudgeon, 12, of Rossmoor, watch the sun set over Huntington Beach. As dusk nears and tourists and surfers pack up for the day, another group of beachgoers takes their place: locals who bask in the summer nights and huddle around bonfires swapping tales with family and friends.
(Allen J. Schaben / LAT)
Cliff Capps warms up with son Tyler as they wait for hot dogs and marshmallows.
(Allen J. Schaben / LAT)
The sun slowly fades as Jet Rodriguez, from left, Ben Garcia, Brandon Dudgeon and Michael St. Pierre take their spots around the fire in Bolsa Chica State Beach. Garcia says he spent an hour cramming his Explorer with scrap lumber to torch.
(Allen J. Schaben / LAT)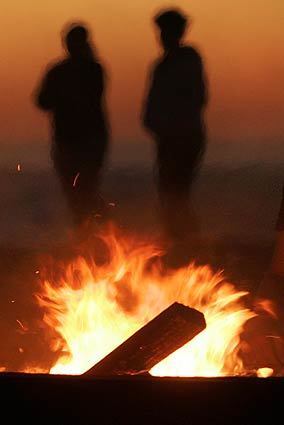 As the sun sets on Bolsa Chica State Beach, the glow of bonfires dots the 3-mile shoreline. Huntington Beach is among a handful of Southern California beaches that still hold on to the tradition. Safety concerns have prompted many areas to discontinue the fire pits.
(Allen J. Schaben / LAT)