6 Images
When leash laws fail
Laila, Christopher Allen's Labrador, gets a treat after the illegal romp in Solstice Creek. Allen was fined for the violation. Because many owners fail to obey leash laws, officials are starting to ban dogs from specific areas of state and national parks.
(Gina Ferazzi / LAT)
Madeline Riepe says she lets Heidi off the leash because the dog has been well-trained. But UC Davis' Lori Gaskin says a dog's instincts will trump obedience training.
(Genaro Molina / LAT)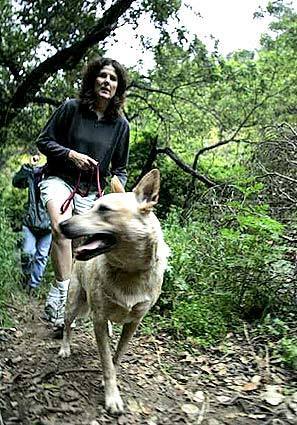 Wynne Benti, hiking with a leashed Rosy, wonders if dogs are being unfairly targeted.
(Genaro Molina / LAT)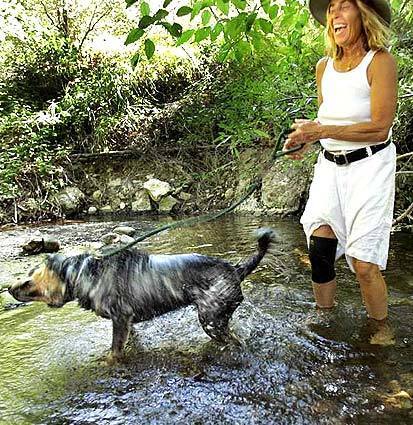 Judith Marks of Malibu withstands the shower as Sam shakes off his coat in Solstice Creek in the Santa Monica Mountains area. Parks ranger Bonnie Clarfield, who has earned the nickname "dog narc" for dispensing leash violation citations, says, "People don't understand. Dogs are a threat to wildlife."
(Gina Ferazzi / LAT)
Ranger Bonnie Clarfield cites Christopher Allen of Newbury Park for letting his Labrador into the creek without a leash.
(Gina Ferazzi / LAT)
A panting Akita gets its breath back after a leashed walk in the Santa Monica Mountains. Park officials have proposed a 20-year management plan that bans pets on certain trails.
(Gina Ferazzi / LAT)