Foiled again
Tim Williams, of Gatorland in Orlando, Fla., cruises a swampy area of Lake Machado in August, searching for Reggie. The lake has been fenced off to protect people, particularly children, and pets from the reptile, but even in Florida alligator attacks are rare.
(Jae C. Hong / AP)
Sighted
Some naturalists say the 7-foot alligator in Lake Machado may destroy invaders that have wiped out the area's native species.
(Robert Casillas / Daily Breeze)
Looking for Mr. Gator
Flavio Morrissiey, in the kayak, searches for the gator in Lake Machado. Searchers say it is hiding because it knows it is being pursued.
(Allen J. Schaben / LAT)
Two arrest
One of three alligators seized at the home of a suspect accused of dumping a larger gator in Lake Machado. An anonymous tip led to two San Pedro exotic animal fanciers.
(Allen J. Schaben / LAT)
Drained
The alligator, estimated to be 3 to 31/2 feet long, basks in a Harbor City drainage channel near Machado Lake.
(Ken Hively / LAT)
Machado man
Tim Williams, the self-described "dean of gator wrestling" from Gatorland in Orlando, Fla., searches for the Lake Machado alligator. He is part of a four-man Florida "A-Team" that has vowed to catch the creature for the city of Los Angeles.
(Robert Lachman / LAT)
Slipper when wet
The alligator frustrated the capture efforts of the LAPD, animal control and park rangers Wednesday.
(Ken Hively / LAT)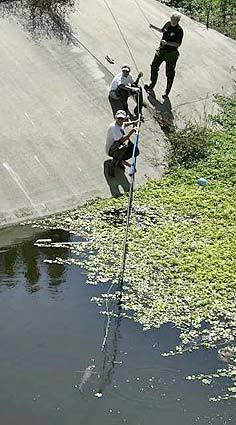 No catch
Workers try to snare the alligator spotted in a flood channel leading into Lake Machado. "We'll spot him again," said one observer. Half a dozen firefighters, half a dozen LAPD officers, animal control and park rangers, and even City Councilwoman Janice Hahn took part.
(Ken Hively / LAT)