Northridge earthquake: Readers remember the disaster before dawn
The quake woke me from a sound sleep in the Palms apartment I shared with three UCLA classmates. The first impression I remember forming was that the motion was up and down, not the shimmy of all previous quakes. Crossing to the doorway, I think my feet left the ground more than once. I barely dodged the overturning of my chest of drawers. The sound, as always, was as shocking as any motion. Everyone wants to know what it's like for the earth to move under your feet but the scary part is how a whole city sounds as it shakes around you. While my roommates and I gathered in our respective doorways I smelt a queasy mixture of all the cologne bottles that had been on my dresser and that now were broken and puddling on the floor.
— Craig Sanders, Los Angeles, CA
I had to be to work at 6AM at the Omni Hotel Downtown (back then it was the Intercontinental) Coming from Huntington Beach I decided to take the new 105 carpool interchange to get up high and see what was going on. (dumb move after I heard what happened at the 5/14 interchange) No electricity as far as the eye could see and fires in the distance. When I got downtown the brick facade of the Biltmore Hotel was a pile of bricks 3' high on the sidewalk in front of the hotel. At the Intercontinenetal all the out of town guests were in the lobby in bathrobes trying to arrange rides to the airport GET ME OUT OF LA!
— Steve Ferrera, Cedarpines Park, CA
I was 9 years old, living in Malibu. I had just gotten up to go to the bathroom and was back in bed, still awake. The earthquake started and I knew exactly what it was, but I was thinking "Wow, this is really long". My sister told me to stop shaking her bed.
We still have a book that came out later that year, "4:31", that has tons of photos and comentary about the quake. I remember a woman who lost her husband, Phil Sook Lee (?), and one of her sons, who was only about 13, and how the book told how she was screaming for 'her baby'. That really stuck with me.
Also, I remember the photos of the accident where the police officer flew off the end of the freeway where it collapsed. To this day it makes me nervous when I'm going over a bridge and I momentarily cannot see the freeway continue on the other side.
— Sarah Christine Schmidt, Flower Mound (Dallas), TX
I was nine years old when the earthquake hit, and I lived with my family in Sylmar. I would have slept through the thing if I hadn't had a dream about my mother screaming, only to wake up and find that it wasn't a dream. My parents, two older brothers, and myself couldn't linger to survey the damage and search for the family cat for too long; we soon discovered that there was a gas leak and that we needed to vacate the premises immediately. When we returned later in the day, we found that our home had been shifted completely off its foundation and we had to move until it could be fixed. We were fortunate enough that family friends and Grandma were willing to open their homes to us during that time... It completely changed all of our lives.
— Lori D., Winnetka, CA
After a week of suffering from a nasty cold and getting very little rest, I was roughly shaken out of a deep, restful sleep. I recall holding onto my bed to keep from being shaken off. It was pitch black in my Sylmar condo and I was thinking, "This is the Big One, I'm going to die." I held on forever as I listened to the rumbling and things falling around me. Finally, it stopped, I got out of bed, managed to find something to put on and made my way to the front door, slipping and sliding on the way. I heard water rushing as the water heaters from the other units had broken away as the aftershocks kept coming, freezing me on the spot. My husband and I went outside where we thought it was safer. I looked up at the sky and saw more stars than I ever seen anywhere. So gorgeous and it calmed me for a little while. We waited until the sun came up before going in to assess the damage. It was a mess, but no serious damage, We were very lucky, but that fear is still with me and always will be.
— Beth Mack, Glendale, CA
I was sleeping poorly, having to wake shortly to go to the San Diego airport for a flight back to Alaska, when I was jolterd out of bed. I heard my grandmother screaming and running out the back door of the house in Ocean Beach. All I could think was that the power lines over the steps could fall on her. By the time I got to the back door, the shaking stopped. Lindberg Field was on edge, and people were glued to the TV's at the gates and snack bars. My flight left on time, and looking down on LA was surreal. No cars on the freeways, no activities at the airports, and smoke rising from several spots south and north of the Hollywood Hills into the Valley. All I could do was wonder if my friends down there were OK. Months later I visited the area and remember piles of fireplace bricks at the curbs of the big homes of the Flats of Beverly Hills. I'll never forget!
— Randall B. Smith, Lake Havasu City, AZ
I went to Winchell's Donuts on Laurel Canyon and Ventura - they charged $35.00 for a donut and a cup of coffee.
— Steve Jackson, Reseda, CA
I actually woke up a few minutes before the quake hit. I was laying in bed staring at the clock waiting for the sun to rise. I was so excited because I had my 5th birthday party scheduled for that afternoon. It was a Power Rangers birthday party and I couldn't think about anything else. Just as my digital clock turned 4:31 the shaking started. I was so terrified. I looked around my room and saw all my books falling along with my giant blue bookcase. Downstairs I could hear our cabinets open and all of my mother's Deruta ceramics crashing on the tile below. I stayed in my bed, frozen and petrified.
I heard my parents running down the hall towards my room. On their way down the hall, my mother had tried to hurdle a giant bookcase and had cut her leg pretty badly. When they got to my room we all went down the back staircase and into my kitchen. The red tile was smothered by broken ceramics and glassware, it was something I'll never forget. We went on our back patio and spent some time on the chaise lounge chairs and waited for the sun to rise. Our neighbor, who has just undergone some kind of operation, was screaming for help in her house. She was pent up in a 1920's bungalow next door on Adelaide Avenue in Santa Monica. The front of her house was brick and had collapsed. We were worried about her but couldn't get in the house to help. Just then, as the sun was rising, I smelled gas. There was a horrible stench rising out of our backyard and it turned out that our main gas line had broken. Somehow my dad got to our garage, retrieved a wrench, and walked to the back of the property and turned the gas line off. Later that day, we went around the front of our house and saw that the brick chimney had collapsed and our house would need extensive renovations. It was a day I'll never forget. Thanks for letting me share my story LA Times! Go Dodgers!
— Daniel Kaplan, San Francisco, CA
I was in college at USC and I remember being woken up by violent shaking and my tv flying off the shelf and landing on top of me. The dorms evacuated outside and I recall crawling in the dark over all of my belongings that were now on the floor.
It was also a memorable event because I was in USC Architecture School. After the quake the school loaded the Arch majors onto buses and we toured the damage for our Structures course. It was an interesting research trip but it was also incredibly sad. We saw homes destroyed, cars cut in half in their garages, basically total devastation. One building in particular I remember because the whole facade of the building had slipped off on the road fully intact as if it was a slice of cheese.
The Quake changed how I looked at structures in Los Angeles and definitely gave me a better respect for the forces of nature.
— Jenn Fujikawa, Los Angeles CA
My family and I were living in Anaheim Hills. When the quake hit the house shook violently. Plenty of broken glass. We listened to the radio and heard that the Valley was the epicenter. My mother was a life long resident of Notrthridge so I knew she would need help. About 6:30 I drove my truck in loaded with tools, water, food etc. I was surprised that I saw little to no damage on the 210 and 5. When I got to Burbank I began to see smoke all over the Valley. I got off the 5 at Osborne and worked my way across the Valley. There was damage everywhere. Lots of masonary walls had collapsed and many homes had jumped off the foundation. The streets began to show large cracks and you had to go slow. I finally arrived to Sherwood Forest where my mom lived. While the outside didn't look terrible except for the collapsed chimmeney, the inside was a total mess. The furniture had jumped all over the house. The kitchen was totally destroyed and all my mother's fine china destroyed Nogas leak as my mother had turned it off. She told me how she and the neighbors had stayed outside after the first hit and never went back in. Obviously no power etc. I worked 14 straight hours trying to straighten up a few rooms so she could still stay. She didn't want to go for fear of looters. I gave her a gun. We felt big after shocks all day but not big enough to make me want to get out It took several weekends to clean the place up before I found a contractor to help People started tearing their houses down to rebuild all over the neighborhood.
— Paul Andersen, Yorba Linda, CA
I was in Northridge staying at my moms apartment. I was 8 years old at the time. I remember waking up to the shaking and quickly grabbing my shoes and making it to the living room. The living room floor was soaking wet due to a broken salt water fish tank and the pool just outside the door that had splashed so much water that it came into the apartment. I tried throwing the fish into the pool thinking I was saving them (obviously I know now that wouldn't work lol). After we all got out of the apartment and went to a parking lot next door that had a Denny's in it. My step dad ran back to the apartments to help people get out since there was a gas leak. After the sun came up the people at Denny's set up a huge buffet for all of the people in the parking lot to eat. We also got to go around and look at all the damage of the apartment building. The back apartments had collapsed on top of the cars parked under them (my moms car was one of them). I had to go back to my dad's house that day in Sylmar and once I got there I still refused to go inside. I was scared to death to be anywhere enclosed for about a week.
— Kristin Moore, Tulsa, OK
We'd just moved to Los Angeles from New York city less than a week before the quake. That week was filled with a lot of activty and excitement - getting cars, finding an apartment and starting new jobs. As we settled in for our second night in our apartment near Pico in anticipation of what was going to be another busy day ahead, we planned on being woken up early in the morning by our furntiture movers who were heading west with our bed, couch and all manner of stuff for our new life in Californa. However, another kind of wake-up call came at 4:31, when the shaklng began. We didn't have far to fall as we were sleeping on the floor, and the sheer ferociousness of the quake combined with tour half-awakedness made it all see like a horrible, 3-D movie-influenced nightmare, but it was all too real. Though we didn't have furniture we did possess a flashlight, which we used to guide us to the living room after the second set of tectonic waves rolled through the empty apartment. As we huddled in the living room I said to my wife, and not joking, "is this what they mean by an earthquake in L.A.?" Well,we found out soon enough that this was not a typical earthquake at all; it was one that gave a potential preview of the big one. As the tragic loss of life and the city-wide devastation became evident we realized the enormity of the disaster and watched in horror at the images on televison and through our car widshield. As we drove past rows and rows of soon to be condemned buildings along Wilshire in Santa Monica I thought, how canever they fix all oft his? But they did and quickly. Someone arriving in L.A. today, like we did twenty years ago, would never see evidence of that event and lets hope they never do.
— Tom Mills, Los Angeles, CA
I have a lot more to tell, but I'll give you the short version. I owned a shipping and packing store on the corner of Devonshire and Woodley ( which is about 500 yards from the epicenter at Balboa and Devonshire ). I also operated a U-haul dealership out of my little store with truck rentals and trailers and moving boxes. All of these items became critical to the survivors who managed to get out of the Northridge Meadows apartments, and others who had their buildings and homes "red tagged". They were desperate to get their belongings out of the rubble with only minutes left before their buildings were sealed off and no admittance was premitted. My little store called "Here-To-There", was all but destroyed in the strip mall where I was located. I managed to find truck keys and some boxes from inside my store, inbetween aftershocks, and get what I could out to the parking lot. From there I helped as many people as I could by writing down their names and letting them use truck
— Sandy Courser, Sherman Oaks, CA
I was supposed to go to a job interview later that day; I was living in Glendale with two roommates on the top floor of a two-story apartment complex. Immediately after the shaking startled me out of a deep sleep, I ran to the doorway (I had visions of the wall behind my bed falling away, and my bed falling with it!). We lost power until 11:30 that morning, and only then did the extent of the devastation become apparent as we watched TV for the rest of the day and into the evening. The phone lines soon became overloaded, and were out of service for several hours. I still have my "I Survived The Northridge Earthquake" T-shirt that I bought from a street vendor a few days later; you have to love those entrepreneurs! The irony is that I soon moved out to the Valley, and I've lived here ever since - waiting for the next one?!
— John Faber, Rosamond, CA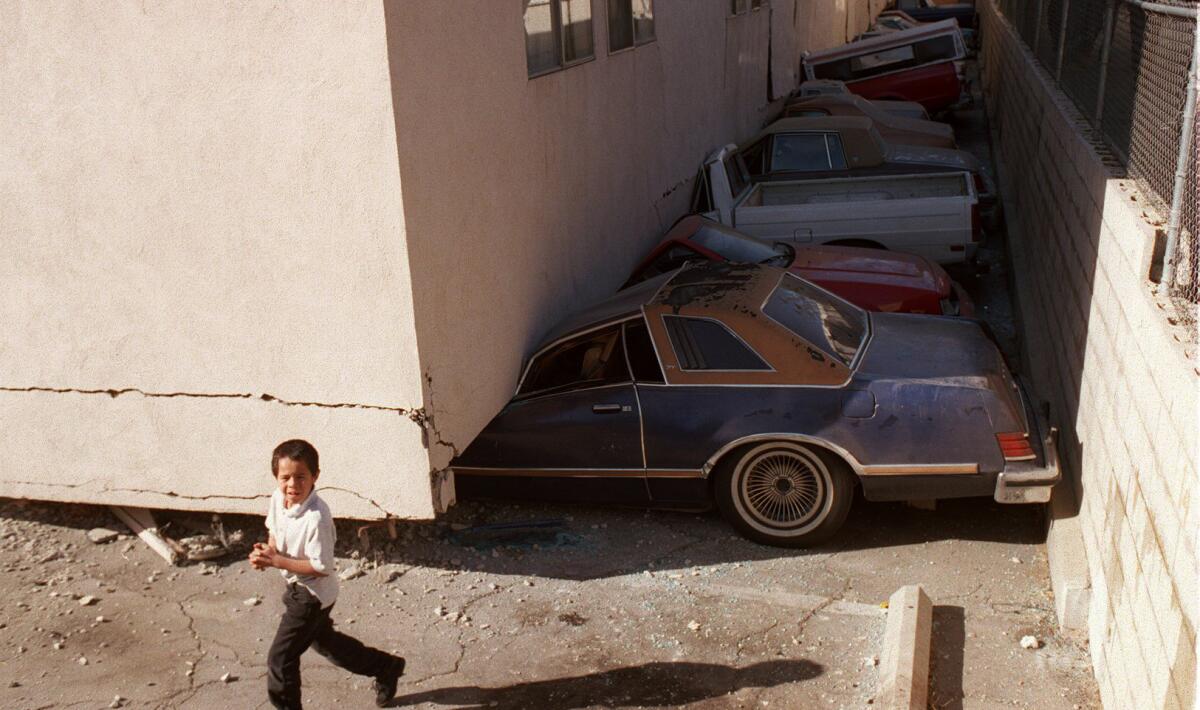 As a single working parent in a one-story home, I yelled to my 7 and 4 year old girls to stay in bed: I would come and get them when the shaking stopped. I leaned over and grabbed 2 shoes out of the closet to head down the hallway. I had over 38 pictures on those walls, and the crashing, shattering glass was making a great deal of noise. The house felt like it was picked up, twisted violently from side to side about 4 times, and then dropped. The noise was horriffic, and it was pitch black as all my windows were shuttered. I felt my way down the hall, grabbed the 4 yr. old onto my back, and headed to the 7 yr old's bedroom. SHE WASN'T THERE!!!! She must have passed me in the hall because when I yelled 'where are you', she replied 'in your bed'. We huddled through the aftershakes until it got light. A dresser had fallen across a back doorway, so we had to climb over all the glass in the hallway to get out. Most of the damage was in the kitchen. My piano, large entertainment center, and refrigeratior moved 4 feet out from the walls. Dishes, pickles, syrup and food were spread all over the floor. Several windows were cracked, but, and here's the lucky part: I had just had a new rock roof put on that previous Friday--so my house survived intact! However, all the rocks were on the ground! What a morning--and that's the 3rd major quake I've been in (Tehachipi, Sylmar, Northridge) The reading on the richter scale for my area (Devonshire and Balboa, where the Kaiser bldg collapsed) was at 8.2!!!!
— Susan Pedinof, Grenada Hills, CA
It was so LOUD. It sounded like a train roaring through the apartment building. I lived in San Diego at the time (I moved to L.A. later that year) but was visiting a good friend who lived in the Pico/Robertson area. I think every dish in her cabinet hit the kitchen floor, and the television worked its way out of the wall unit and gouged a chunk out of the hardwood floor. After spending the remaining night hours huddled in her bed being jolted by aftershocks, we ventured outside once daylight came. We walked west on Pico and then north on Robertson, looking in all the store front windows. One store would be in perfect order, the next would look like a tornado had struck. Shards of shattered glass hung ominously from upstairs windows like murderous icicles; we walked in the street to avoid them. Brick fireplaces attached to the houses in the neighborhood lay crumbled in the yards. When we finally felt normal(ish), we went to Damiano's Pizza on Fairfax for lunch; they had gas-powered pizza ovens so the fact that the power was out didn't prevent them from opening for business — cash only.
— Julia Knox, North Hollywood, CA
My husband and I were living in a high-rise condo in West Hollywood. The building shook violently, but amazingly there was not much damage. Just a few things flew off shelves. The power lines arcing in bright white light and then everything going black. There are the first moments when your mind is racing and you are trying to decide what to do next; do we evacuate or stay in place. What I remember most is the aftershocks that seemed to last for days. Just when you felt your life was getting back to normal and aftershock would hit and you wondered if it was going to be another big one.
— Sharon Davis, Los Angeles, CA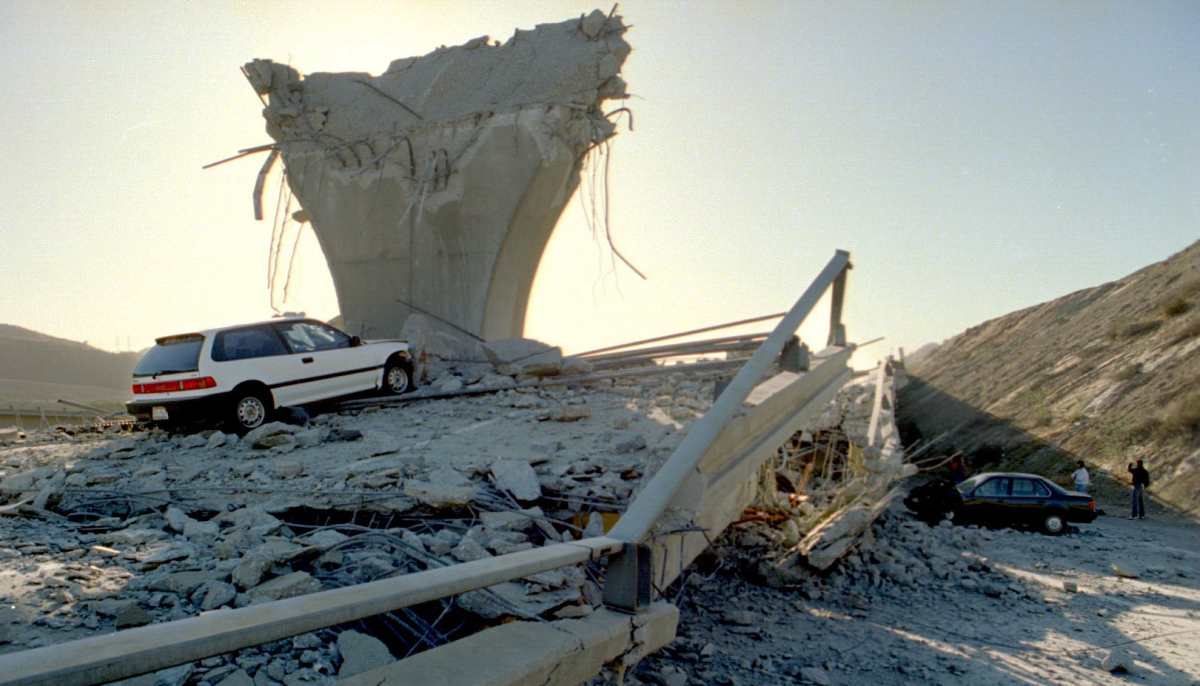 I was living in West LA at the time, but the morning of the earthquake I was camping at Joshua Tree. All night long I was kept awake by animals scurrying about outside the tent. The previous night had been quiet. As I was breaking camp to head back to LA, a ranger stopped by and told me about the earthquake -- "Ah" I thought, "That's why the animals were so riled up last night." It was confirmation that they really do sense when an earthquake is coming and I'll never forget it!
— Tracey Tapp, Destin, FL
It was very early in the morning. My roommate, Paula Locati, was getting up to go to her job working on the stock exchange. There's this huge bang and it felt like my bed had dropped 5 feet. Then the rumbling began. I ran to my door and opened it, and my roommate ran into me, and grabbed me . I heldentenor both her and the door jamb, as the apartment began to shake all around us. And it just went on and on. I'd been in earthquakes before, both in California and Japan, but I had never experienced anything that went on as long as that. The entertainment center in the living room crashed down. My roommate screamed. The building felt like it was traveling in slow lazy circles. I was convinced that the loft portion on the second for the apartment was going to come down. After what I believe was nearly a minute, it's stopped. We went out into the living room. One of our cats crept with his belly to the ground for a week. The aftershocks occurred all the time. I think people forget how many hundreds upon hundreds of aftershocks there were. A water main outside my house broke along with a gas main and fire was spitting out of the flooded intersection at Tujunga and Riverside, about 500 feet from my place. I remember for miles around every home with a brick fireplace, it had collapsed. That night, I drove across town from North Hollywood to Venice Beach to get my girlfriend. There was a building on Olympic whose face seemed to be coming off. It look like the entire building's facade was about to fall into the street. We spent the night together huddled up against the aftershocks. And have been together nearly twenty years. My roommate died of a brain tumor, just a few years later, at the age of 27.
— David Hayter, Sherman Oaks, CA
Reporting, design and production by Maloy Moore and Lily Mihalik
Sign up for Essential California for news, features and recommendations from the L.A. Times and beyond in your inbox six days a week.
You may occasionally receive promotional content from the Los Angeles Times.