The Courting of Celebrities
The Scientology building on Fountain Avenue in Los Angeles.
(Irfan Khan / Los Angeles Times)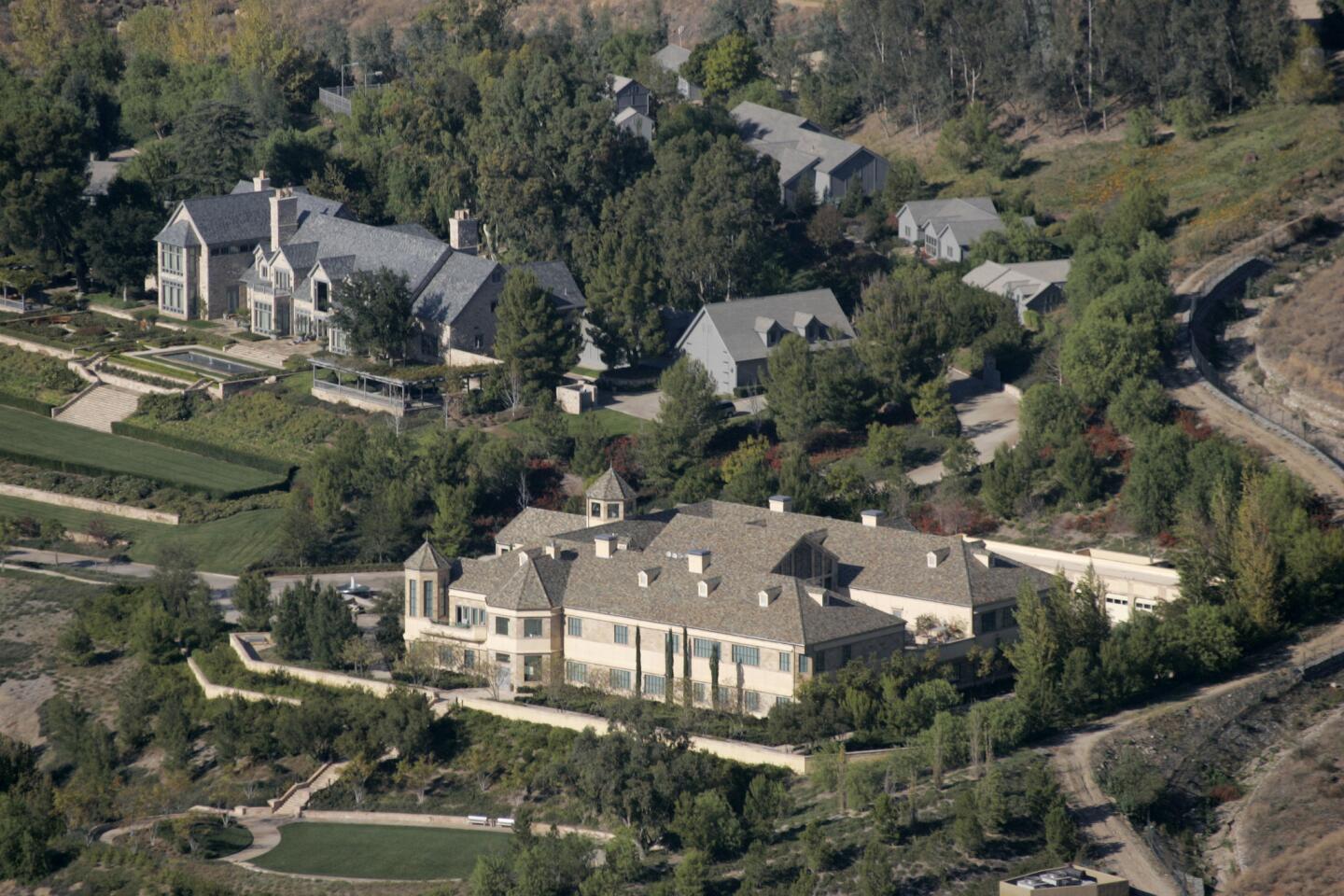 In the past seven years, the church has poured at least $45 million into the former Gilman Hot Springs resort. In the foreground is the $18.5-million management building that includes a wing of offices for church leader David Miscavige.
(Don Kelsen / Los Angeles Times)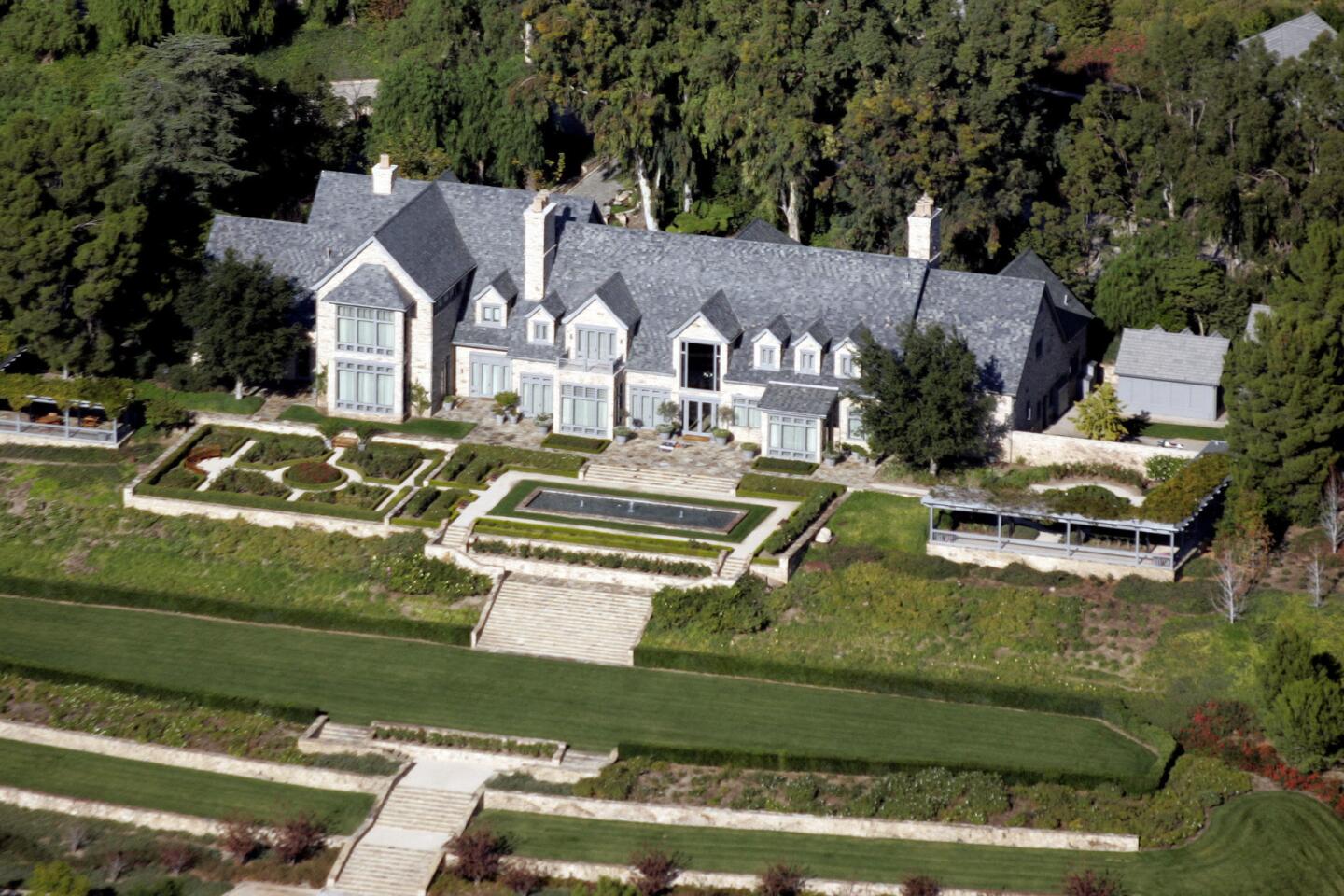 A close view of "Bonnie View," a $9.4-million mansion that ex-members say was constructed for the expected return of late church founder L. Ron Hubbard. Church officials say the mansion is simply a museum to commemorate Hubbard''s life and house most of his possessions.
(Don Kelsen / Los Angeles Times)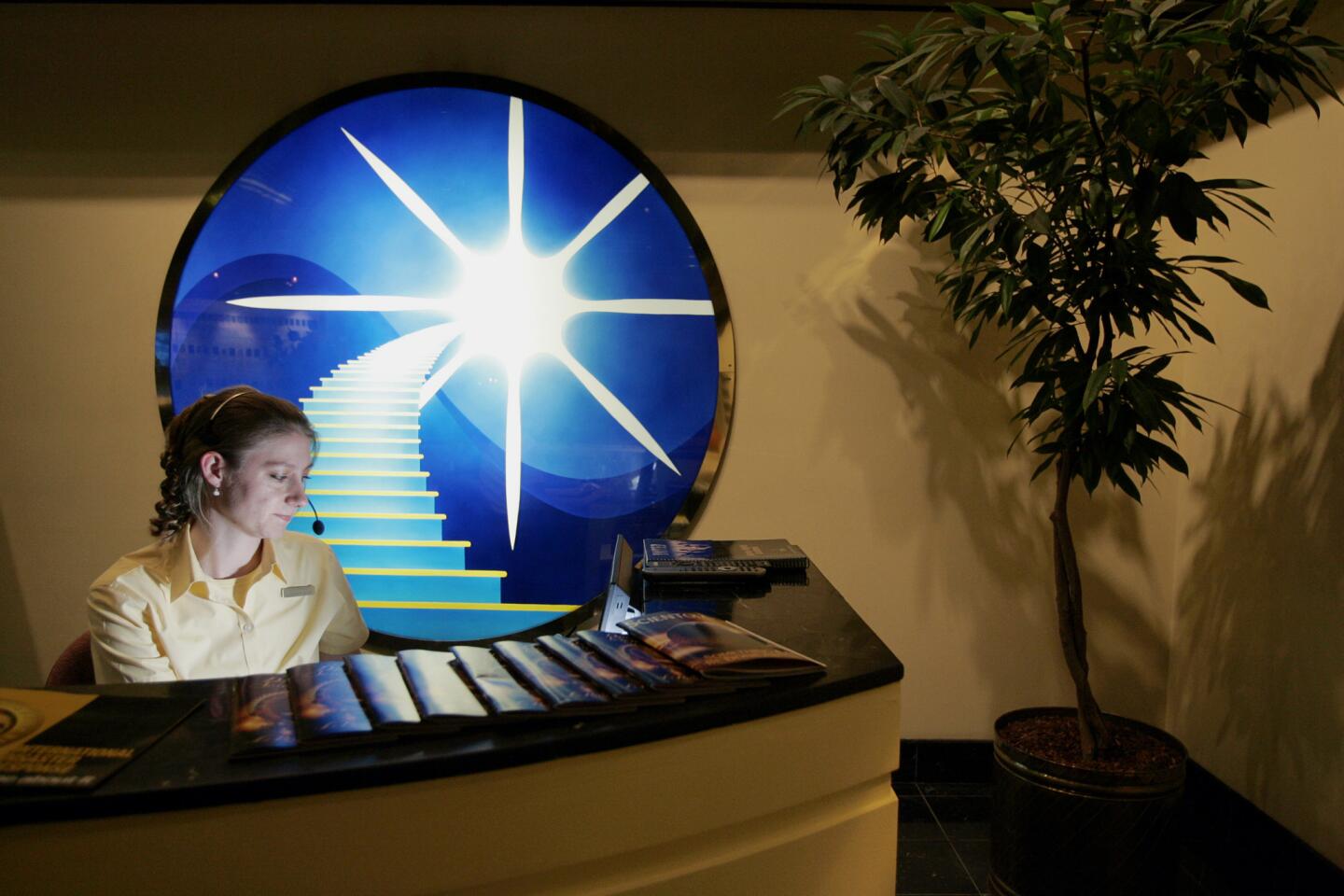 Receptionist Charlotte Heldt at Golden Era Productions. The artwork behind her depicts Scientology's "Bridge to Total Freedom," the church''s path to enlightenment.
(Don Kelsen / Los Angeles Times)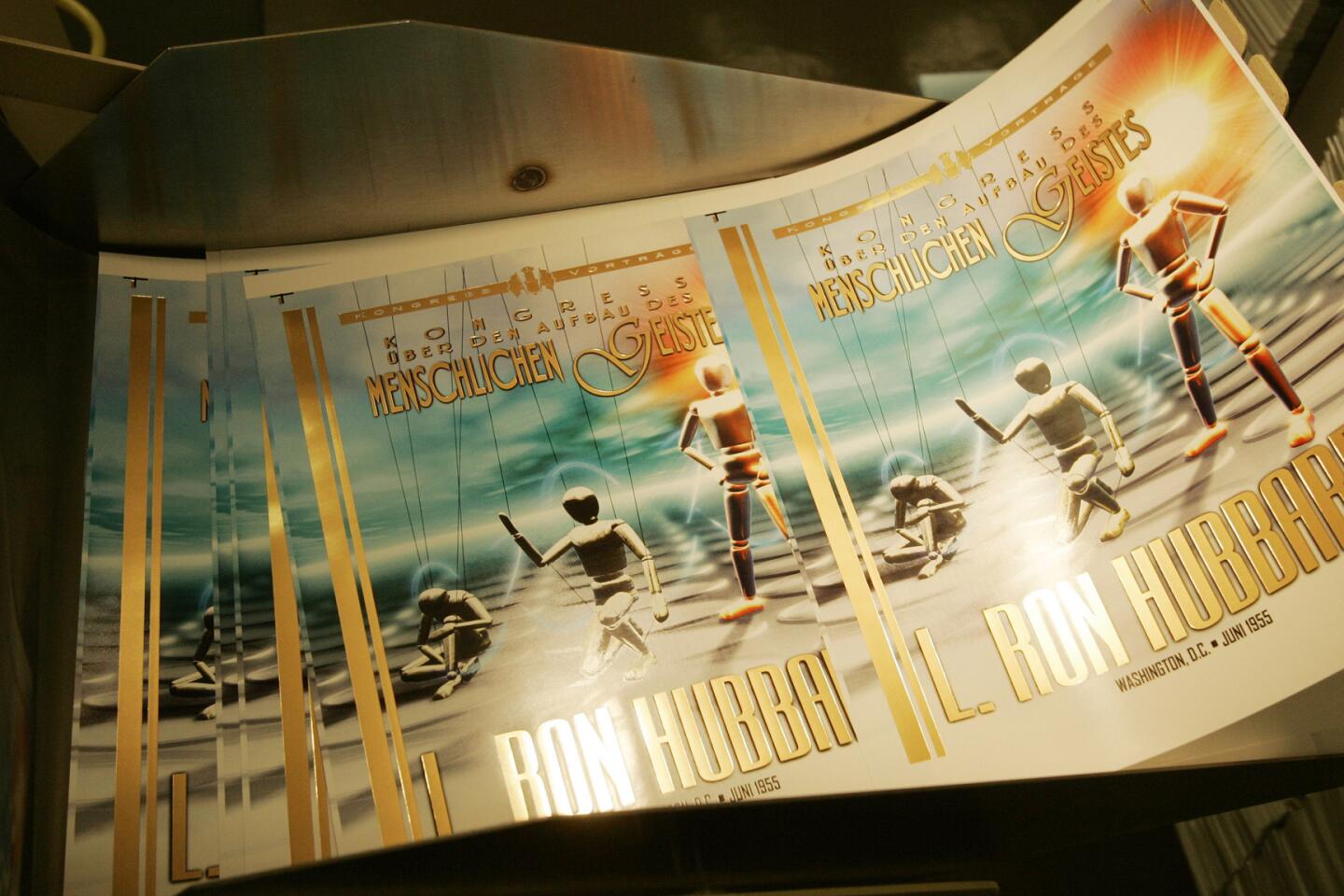 Inside Golden Era Productions, staffers produce nearly all the printed materials for the church. Here, a foil is pressed onto a lecture binder cover that will be used for a CD of one of Hubbard''s speeches that has been translated into German.
(Don Kelsen / Los Angeles Times)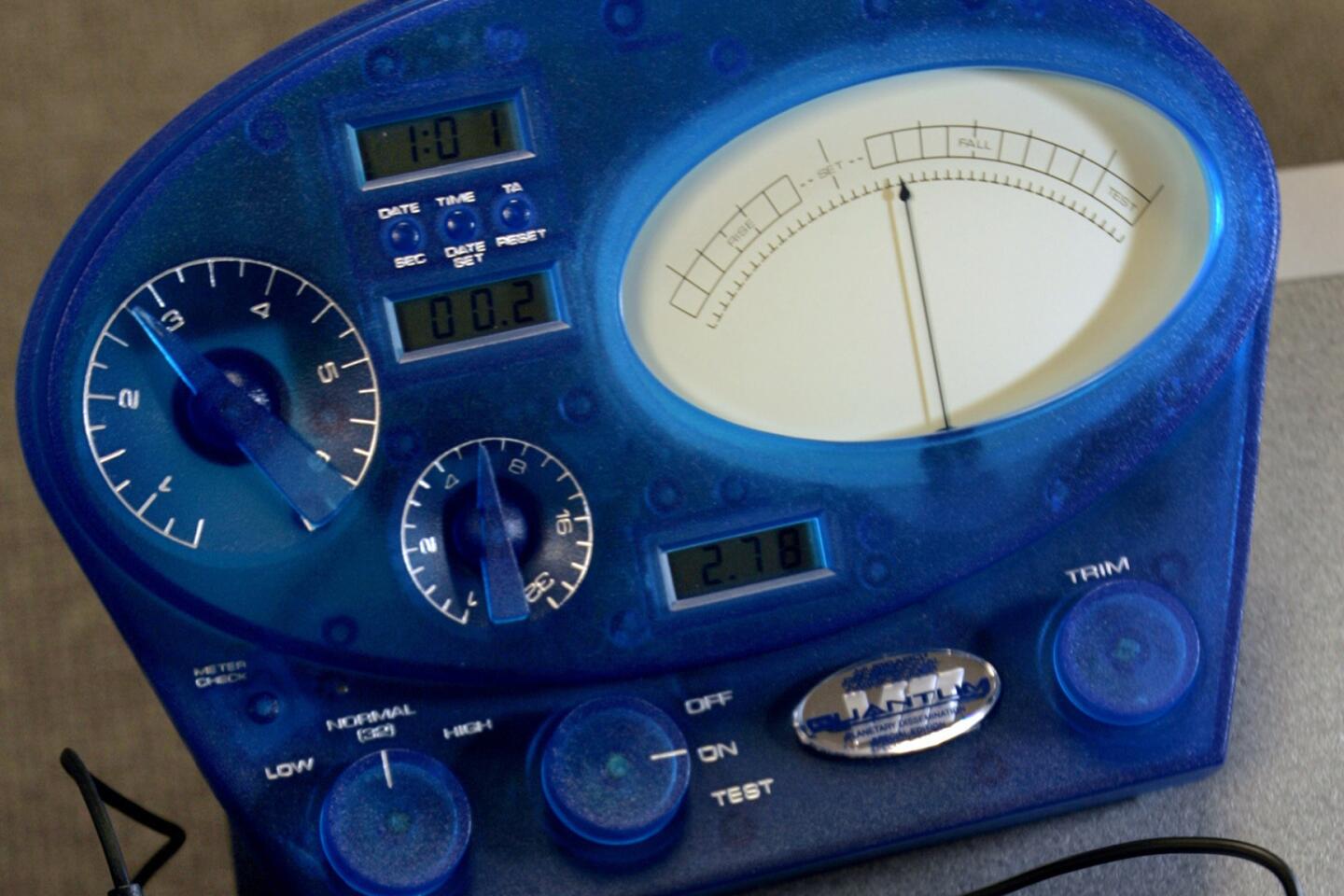 Hubbard invented the "e-meter" as a device that could measure the spiritual clarity of his followers.
(Don Kelsen / Los Angeles Times)
Times Staff Writers
The Church of Scientology uses celebrity spokesmen to endorse L. Ron Hubbard's teachings and give Scientology greater acceptability in mainstream America.
As far back as 1955, Hubbard recognized the value of famous people to his fledgling, off-beat church when he inaugurated "Project Celebrity." According to Hubbard, Scientologists should target prominent individuals as their "quarry" and bring them back like trophies for Scientology.
He listed the following people of that era as suitable prey: Edward R. Murrow, Marlene Dietrich, Ernest Hemingway, Howard Hughes, Greta Garbo, Walt Disney, Henry Luce, Billy Graham, Groucho Marx and others of similar stature.
"If you bring one of them home you will get a small plaque as a reward," Hubbard wrote in a Scientology magazine more than three decades ago.
Although the effort died, the idea of using celebrities to promote and defend Scientology survived--though perhaps not as grandly as Hubbard had dreamed.
Today, the church's most famous celebrity is actor John Travolta, who credits Hubbard's teachings with giving him confidence and direction.
"All I've had are benefits," said Travolta, a church member since 1975.
Another Scientology celebrity is actress Kirstie Alley, co-star of the television series "Cheers." Last year, Alley and Travolta teamed up in the blockbuster comedy film, "Look Who's Talking."
Alley is international spokeswoman for the Scientology movement's controversial new drug and alcohol treatment center in Chilocco, Okla., which employs a rehabilitation regimen created years ago by Hubbard.
A former cocaine abuser, Alley has said she discovered Hubbard's Narconon program in 1979 and that it "salvaged my life and began my acting career."
Alley also has become active in disseminating a new 47-page booklet on ways to preserve the environment. The booklet, entitled "Cry Out," was named after a Hubbard song and was produced by Author Services Inc., his literary agency. Author Services is controlled by influential Scientologists.
In April, Alley provided nationwide exposure for the illustrated booklet--which mentions Hubbard but not Scientology--when she unveiled it on the popular Arsenio Hall Show. Since then, it has been distributed to prominent environmental groups throughout the U.S.
Besides Alley and Travolta, the Scientology celebrity ranks also include: jazz pianist Chick Corea; singer Al Jarreau; actress Karen Black; opera star Julia Migenes; Priscilla Presley and her daughter Lisa Marie Presley, and Nancy Cartwright, who is the voice behind Bart Simpson, the wisecracking son on the animated TV hit, "The Simpsons."
U.S. Olympic gymnast Charles Lakes also is a prominent Scientologist.
After the 1988 Summer Games in Seoul, Lakes appeared on the cover of Celebrity magazine, a Scientology publication that promotes church celebrities. In an interview with the magazine, Lakes credited Dianetics for his success and strength.
"I am by far the healthiest person on the team," he said. "They (other team members) are actually resentful of me because I don't have to train as long as they do."
Celebrities are considered so important to the movement's expansion that the church created a special office to guide their careers and ensure their "correct utilization" for Scientology.
The church has a special branch that ministers to prominent individuals, providing them with first-class treatment. Its headquarters, called Celebrity Centre International, is housed in a magnificent old turreted mansion on Franklin Avenue, overlooking the Hollywood Freeway.
In 1988, the movement tried to associate itself with a non-Scientology celebrity, race driver Mario Andretti, by sponsoring his car in the GTE World Challenge of Tampa, Fla. But the plan backfired.
When Andretti saw seven Dianetics logo decals stripped across his Porsche, he demanded that they be removed.
"It's not something I believe in, so I don't want to make it appear like I'm endorsing it," he was quoted as saying.
For years, Scientology's biggest celebrity spokesman was former San Francisco 49ers quarterback John Brodie.
Brodie said that when pain in his throwing arm threatened his career, he applied Dianetics techniques and soon was "zipping the ball" again like a young man.
Although he still admires Hubbard's teachings, Brodie said he gave up promoting them after some of his friends in Scientology were expelled and harassed during a power struggle with church management.
"There were many in the church I felt were treated unfairly," Brodie said.
Sign up for Essential California for news, features and recommendations from the L.A. Times and beyond in your inbox six days a week.
You may occasionally receive promotional content from the Los Angeles Times.