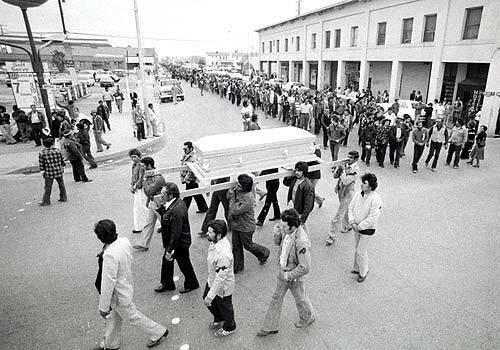 12 Images
A BROKEN CONTRACT: HISTORY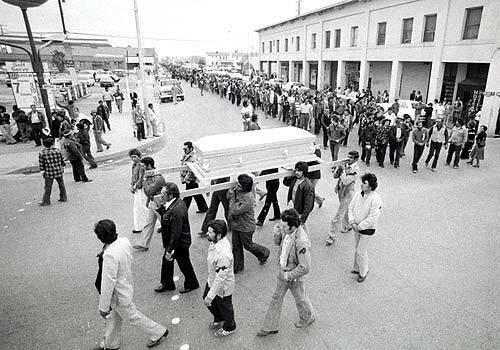 Pallbearers carry Rufino Contreras' casket through Calexico, Calif., on Feb. 14, 1979, leading a crowd of 7,000 mourners who walked three miles to the cemetery. Contreras had been gunned down four days earlier when he and others went into the fields to try to persuade strike-breakers to stop working.
(Don Bartletti / LAT)
Gov. Jerry Brown, far left, sits next to UFW leader Cesar Chavez at the graveside service for slain farmworker Rufino Contreras. Union co-founder Dolores Huerta is at far right in this 1979 photo.
(Don Bartletti / LAT)
Cesar Chavez and his wife Helen attend Rufino Contreras' funeral in 1979. Recriminations over the the farmworker's killing heightened tensions within the UFW leadership. Months later, Chavez pressed for a boycott and an end to the strike, but workers resisted and eventually won some of the best contracts in the union's history. In 1982, the UFW took in $2.9 million in dues, the most ever.
(Don Bartletti / LAT)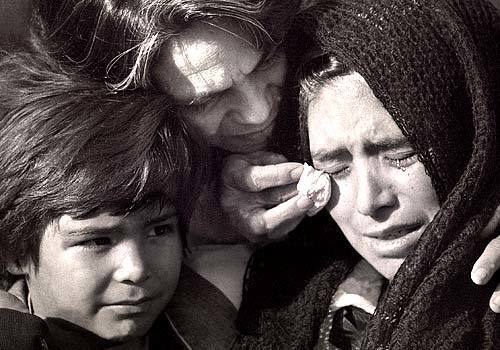 UFW co-founder Dolores Huerta dries the tears of Rosa Maximina Contreras at her husband's funeral. Rufino Contreras was killed during what has proved to be the UFW's last major strike.
(Don Bartletti / LAT)
Gilbert Padilla, shown at a funeral for a former UFW colleague in 2005, resigned as the union's secretary/treasurer in 1980, disturbed by changes in his longtime friend Cesar Chavez. "I knew Cesar was the man ... but I didn't think the movement belonged to him," said Padilla. "I thought it belonged to the workers."
(Don Bartletti / LAT)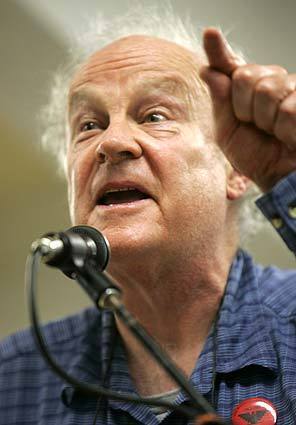 Jerry Cohen, shown at a reunion of UFW organizers in 2005, was the union's chief counsel in the 1970s and helped shape many of its early legal gains. He left after Cesar Chavez opposed a pay raise for lawyers. "It wasn't about money; it was about control," Cohen said. Chavez soon consolidated the legal staff, which moved to his UFW headquarters.
(Don Bartletti / LAT)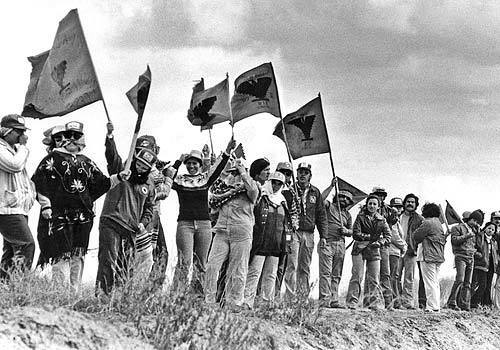 Strikers await UFW leader Cesar Chavez's arrival in a field near El Centro, Calif., on Feb. 1, 1979. The strike ultimately divided UFW leaders when Chavez pushed for a boycott.
(Los Angeles Times)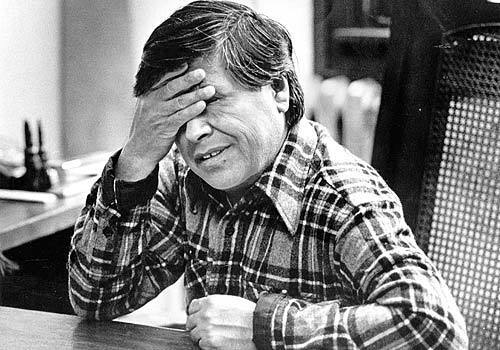 The strain of a hectic job shows in the face of UFW leader Cesar Chavez at the end of a long day in March 1979.
(Los Angeles Times)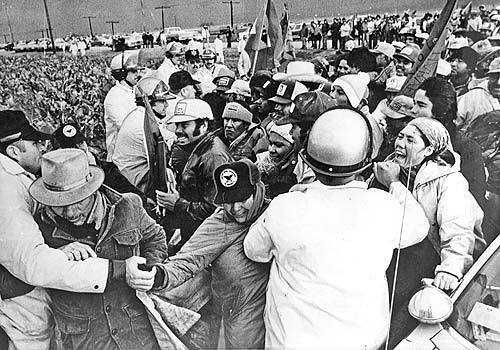 Monterey County sheriff's deputies struggle to keep UFW pickets out of a cauliflower field near Salinas, Calif., on Feb. 22, 1979. Two deputies were injured, and several of the picketers were arrested.
(Associated Press)
Doug Adair joined the UFW in 1965, a day before the Delano grape strike. After the convention in 1981 he was labeled a traitor for nominating Rosario Pelayo to the UFW board. Now he grows dates in Thermal, Calif.
(Don Bartletti / LAT)
Mario Bustamante, 57, and Rosario Pelayo, 66, in the UFW's former Calexico office, were both driven out of the union. They still recall with pride the days when Pelayo ran the union facility in Calexico, which has reverted to its old use: a place where laborers gather to wait for work.
(Don Bartletti / LAT)
Dolores Huerta, 75, visiting the Cesar Chavez memorial, has started her own foundation and is no longer involved with the union. Huerta says Chavez, sometimes misunderstood, was fighting to save the organization.
(Don Bartletti / LAT)