Low-income students get crash course in college preparation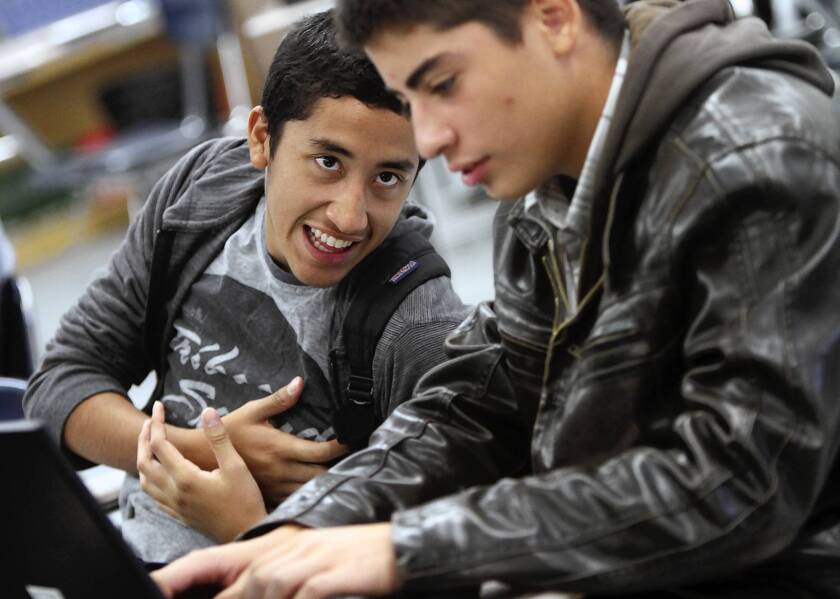 For Sylmar High School senior Thalia Linares, college feels like a long shot.
It's not a lack of motivation that worries her. It's the money and her immigration status.
Linares emigrated from Michoacán, Mexico, when she was 3. Now she's concerned not only that colleges won't accept her because she's undocumented, but that she won't be able to afford the tuition if they do.
So on a recent Friday evening, she skipped going to Venice High School to watch her school's football team in the first round of playoffs and instead attended a five-hour crash course in college preparation.
She and dozens of other Sylmar students, graduates and volunteers packed a classroom for the event hosted by College Summit, a national nonprofit dedicated to increasing the number of low-income students who go to college.
Linares' dark eyes darted frantically between a printed copy of her transcript and the partially completed Cal State Northridge application open on a laptop. It was due in exactly three weeks.
Linares let out a long sigh and caught the eye of 20-year-old Maria Gonzalez, a former College Summit peer mentor who now studies liberal arts at Los Angeles Mission College and helps out with these events.
The senior nodded politely as the friendly stranger talked about application due dates and class requirements. Then Gonzalez said something that grabbed Linares' attention: She, too, had moved from Mexico as a child and was undocumented.
Linares asked Gonzalez if she ever feared she couldn't afford school without access to funding reserved for citizens. "Of course," Gonzalez responded. "But there are so many scholarships out there. If you give me your email address, I'll email you every scholarship I ever applied to."
A smile spread across Linares' face.
For former College Summit peer leaders like Gonzalez and UC Santa Barbara student Alberto Perez, who got his shift covered at work and made the trek down to his alma mater for the event, giving back to this program is a no-brainer.
Each summer a handful of students from Sylmar and 11 other L.A. Unified schools who are considered "better than their numbers" — a reference to their test scores and grades — attend a weekend-long College Summit boot camp at a nearby university. They then return to their campuses as peer mentors and share what they learned with fellow students.
Perez said the days he spent at the University of Redlands in 2010 didn't just hone his focus on college, they changed his life.
During the process of writing his personal statement — each student gets assigned a writing coach at camp — he shared something he'd kept bottled up since childhood: the anger and confusion tied to losing four family members to cancer.
"Once I opened up on this, I figured I could open up about anything," Perez said.
He also credits much of his success to his former College Summit advisor, Laurie Kornblau, who hosted the recent event in her classroom.
Ms. K., as she is known, clad in blue camouflage shorts and a College Summit T-shirt, greeted her former student with a hug and a laugh at how much he'd changed. The once cripplingly shy junior had shown up wearing a sweater adorned with his fraternity's Greek letters.
Kornblau, who calls the peer mentors "dudes" or gives them such nicknames as Bristol, Shenaynay and Loco, teaches both English and courses related to college acceptance.
She said her students have the ability and the desire to become good college students.
"They're all bright and beautiful and should be doing something," she said. "The system's told them they don't deserve it, and the system is wrong."
Between 70% and 80% of the students who take her College Summit class go on to a post-secondary school, Kornblau said, adding proudly that her students fare better than the average Los Angeles Unified School District student. In the 2008-09 school year — the one for which the most up-to-date data are available on the state's Department of Education website — 63% of L.A. Unified graduates enrolled at a post-secondary institution.
Back in Classroom 33, decorated with college pennants and a sign that reads, "I'm going to college," Gonzalez pulled on her coat.
Before she headed out, she rested her hand on Linares' shoulder.
"Email me if you need anything," Gonzalez said.
Linares nodded.
"Promise?" Gonzalez asked.
Linares smiled and said yes.
---
The stories shaping California
Get up to speed with our Essential California newsletter, sent six days a week.
You may occasionally receive promotional content from the Los Angeles Times.