Schwarzenegger lends muscle to immigration discussion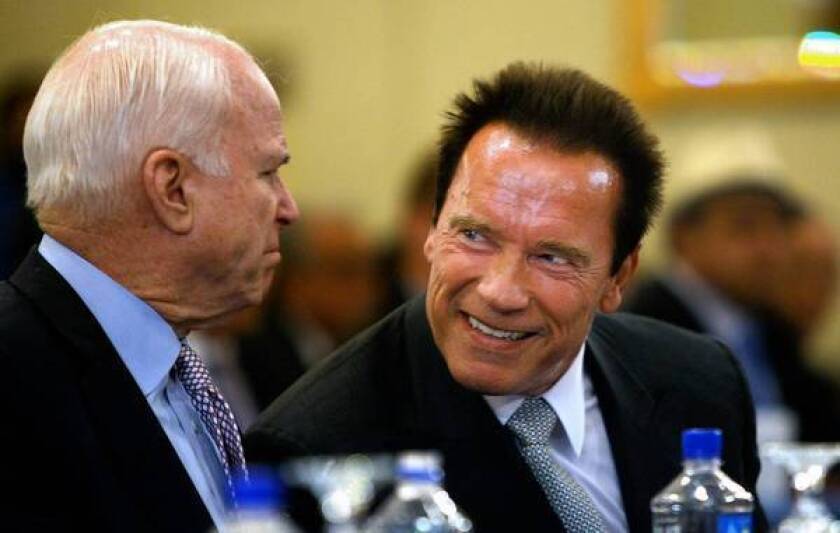 Arnold Schwarzenegger uses his own improbable rise from bodybuilder to action hero to California governor as an argument for immigration reform.
As a teenager in his native Austria, Schwarzenegger saw the United States as the only place he could achieve his outsized dreams. The 11 million immigrants now in the country illegally are not so different from his younger self, he told an audience Tuesday at the USC think tank that bears his name.
"These are all very hardworking people. They have a dream. They want to make their dream a reality," he said.
Then, Schwarzenegger turned the stage over to two U.S. senators at the epicenter of the immigration debate in Washington. The conversation turned to the practical matter of vote-getting.
Immigration reform will pass the House of Representatives if reluctant Republicans are convinced that it is a matter of political survival, said Sen. John McCain (R-Ariz.), one of the bipartisan so-called Gang of Eight who introduced a far-reaching immigration bill earlier this month.
McCain shared his strategy for winning over fellow lawmakers. He appeals to their "better angels," arguing that "we shouldn't have 11 million people washing around our country in the shadows." He also aims at his colleagues' "baser instincts" — that is, their need to attract the Latino voters who abandoned the GOP in the last presidential election.
"This will not gain one single Hispanic vote by passing this bill, but what it will do is put us on a playing field where we can compete," McCain said. "If we can't do this, you can't begin the conversation with our Hispanic voters, and all you have to do is the math."
In addition to a 13-year path to citizenship for unauthorized immigrants, the Gang of Eight bill strengthens border security and increases the number of work visas. It requires employers to check the immigration status of job applicants using a federal database.
With labor and business interests finding common ground and Republicans chastened by the last election, the climate is considered more favorable for immigration reform than it has been in years. Backers are confident that the bill will pass the Senate but concede it may have a tough time in the House.
Los Angeles Mayor Antonio Villaraigosa, who spoke later in the program at the USC Schwarzenegger Institute for State and Global Policy, said legalization would boost the city's economy. Many small businesses are started by immigrants, he noted.
"It's because it goes to the heart of the economic future of our city, the social cohesion of our city," Villaraigosa said. "That's why now is the time for real immigration reform."
Democrat Michael Bennet of Colorado, another Gang of Eight senator, told the USC audience that he expects the bill to come up for a vote in the Senate in June. The Senate margin of victory needs to be as wide as possible to increase the chances in the House, he said.
"I really worry that if we don't get this done now, it's going to be a very long time before we get this done, and it'll be one more self-inflicted wound holding American workers back," he said.
---
The stories shaping California
Get up to speed with our Essential California newsletter, sent six days a week.
You may occasionally receive promotional content from the Los Angeles Times.