UC panel names activist as first Muslim student regent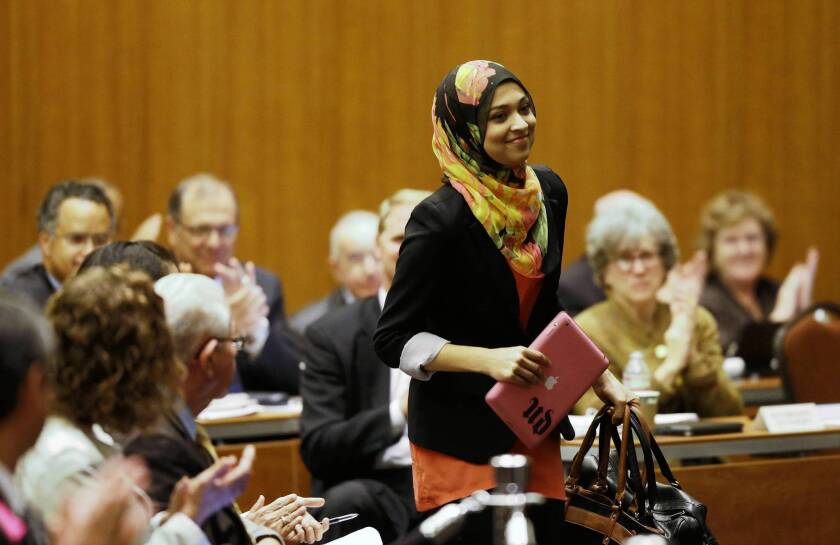 SAN FRANCISCO — On the eve of confirming Janet Napolitano as the next university president, UC regents on Wednesday faced the type of difficult financial, ethnic and political questions that await the U.S. secretary of Homeland Security at the 10-campus UC system.
The regents voted to raise tuition for graduate nursing programs while freezing fees for nearly all other students, and they appointed the next student regent, despite opposition from some Jewish and pro-Israel groups angered by her past advocacy of divesting university funds from Israel.
UC Berkeley student government leader Sadia Saifuddin, 21, the first Muslim to be student regent, won approval of all the regents except for Richard Blum, who abstained. Blum said he was concerned that her nomination to be the student voice on the board was too divisive and that he didn't know enough about her.
Other regents said the divestment issue should not disqualify Saifuddin from the university's governing board. They pointed to her other activities in seeking to improve student life and financial aid and noted that many Jewish students supported her.
As a student senator on campus, Saifuddin co-sponsored a controversial resolution that called for the UC system to divest from Israeli companies that do business with the nation's military.
The campus Senate narrowly passed that non-binding resolution in April after an emotional debate. But regents, who control investments, say they will not divest from Israel.
Rabbi Aron Hier, campus outreach director of the Simon Wiesenthal Center, was among the speakers at the San Francisco meeting who urged regents to reject Saifuddin. Her divestment activism has "polarized thousands upon thousands in the campus community and beyond," he said.
However, regent Bonnie Reiss, the chair of the committee that nominated Saifuddin, praised her and sought to counter any concern that the social welfare major was anti-Semitic. Reiss, who described herself as a Jew who strongly supports Israel, emphasized that Saifuddin would not have been named "if we did not believe her commitment to represent and serve all UC students regardless of religion or political point of view."
At a news conference after her confirmation, Saifuddin said her personal views about divestment "have nothing to do with my work as a regent." Saifuddin, who is from Stockton and is the daughter of Pakistani immigrants, said she would work to improve financial aid and the campus climate for students of all backgrounds.
For the next year, Saifuddin will be able to participate in all regents' discussions but she won't have voting rights until her one-year term begins in July 2014. UC Irvine law student Cinthia Flores is the voting student regent for the upcoming year.
In other business, a regents committee approved tuition increases for four graduate nursing programs and four other master's degrees. The move, expected to be approved by the full board Thursday, triggered criticism from students who said it would be a burden.
However, most regents and student leaders welcomed the move as a major retreat from a previous plan to hike fees for thousands of students attending 50 graduate and professional programs. That proposal was put on hold last fall after Gov. Jerry Brown opposed it.
Tuition will remain unchanged for all undergraduates and the vast majority of graduate students for the upcoming school year.
Graduate nursing students at UCLA, Davis, Irvine and San Francisco will face a $618 increase next year, bringing tuition to about $20,550 before other fees and living costs. Officials said that increase was needed to maintain teaching staff after the loss of federal funds.
The regents also established varying supplemental charges for four new master's: UC Santa Cruz's games and playable media; UC Santa Cruz's technology and information management; UC Davis' health services and physician assistant studies; and a UC Berkeley-UC San Francisco program that will train students to bring new inventions to patient care.
The regents are expected to easily confirm Napolitano on Thursday and to publicly announce salary and benefits for the former Arizona governor. Groups that aid students who entered the country illegally plan to protest, citing her cabinet agency's role in deporting large numbers of similar immigrants. From the opposite side of the political spectrum, some conservatives contend the Democratic politician has been a poor administrator and should not run UC.
---
The perils of parenting through a pandemic
What's going on with school? What do kids need? Get 8 to 3, a newsletter dedicated to the questions that keep California families up at night.
You may occasionally receive promotional content from the Los Angeles Times.