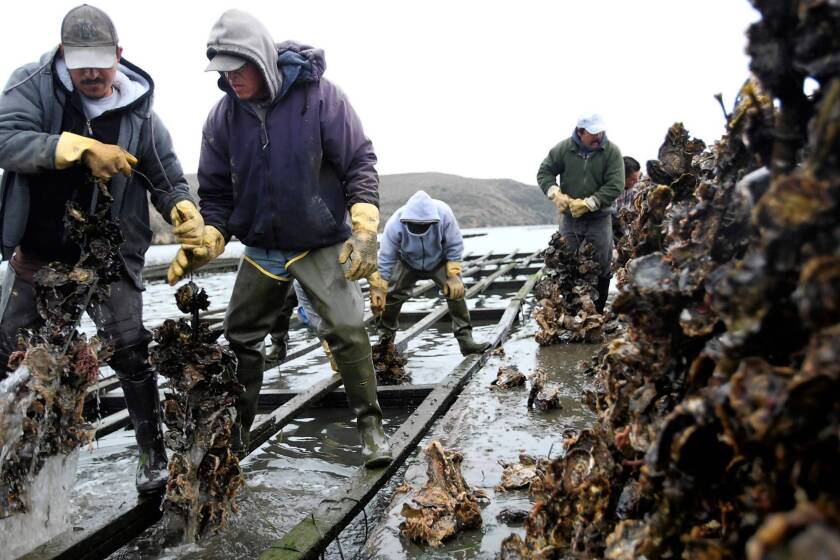 A Marin County Superior Court judge has ruled that an embattled oyster farm in the Point Reyes National Seashore must comply with state laws governing the coast.
The ruling by the judge means that Drakes Bay Oyster Co. must discontinue cultivating a non-native species of Manila clams, remove marine debris from the park's estuary and resolve other long-standing issues.
The California Coastal Commission has twice ordered the oyster farm to submit detailed operational plans in accordance with the state's Coastal Act. The latest notification about the farm's lack of compliance was in February, triggering the legal challenge from Drakes Bay supporters.
In a decision announced late Wednesday, Judge Lynn Duryee ordered Drakes Bay to comply with the commission's orders. The ruling maintained interim procedures for operating the business pending a federal court ruling about its future.
The 9th U.S. Circuit Court of Appeals is considering whether federal officials acted correctly in declining to extend the oyster farm's permit to operate in Drakes Estero, which is to be the West Coast's first marine wilderness under an agreement the former owner of the farm signed four decades ago.
Lisa Haage, the Coastal Commission's chief of enforcement, welcomed the judge's ruling.
"We're hoping that Drakes Bay will now decide to comply," she said, noting the farm's many violations, beginning with its lack of a coastal development permit.
"Our issue has never been the farm's lease" that allows it to operate in the federal park, she said. "Our issue is to protect coastal resources. They keep saying they want to be cooperative; this is the opportunity to show that."
Haage said the ruling means that the court is compelling the oyster company to comply with the Coastal Commission's edicts.
Peter Prows, a lawyer for the company, disagreed and said the ruling was "a big win for us."
"In our view, we've already submitted the proper plans," Prows said. "I don't see this as a big deal."
The commission staff countered by saying that the operation has seldom submitted required paperwork on time, despite pledges to do so. In the case of the non-native clams, Haage said, Drakes Bay never obtained a cultivation permit from the Coastal Commission or the National Park Service. Prows said the farm has a permit from the state Department of Fish and Wildlife.
The farm has been operated by Kevin Lunny and his family since 2005. The family has long sought to extend its operating permit with the park service. When the permit expired late last year, outgoing Interior Secretary Ken Salazar opted not to renew it.
That decision has bred an explosion of lawsuits, including the appeals court case, which could be decided at any time.
Earlier this week, the environmental group California River Watch gave notice it intended to file suit against the farm, saying its operation is polluting Drakes Bay.
---