L.A. mayor's race result may be unknown for weeks after election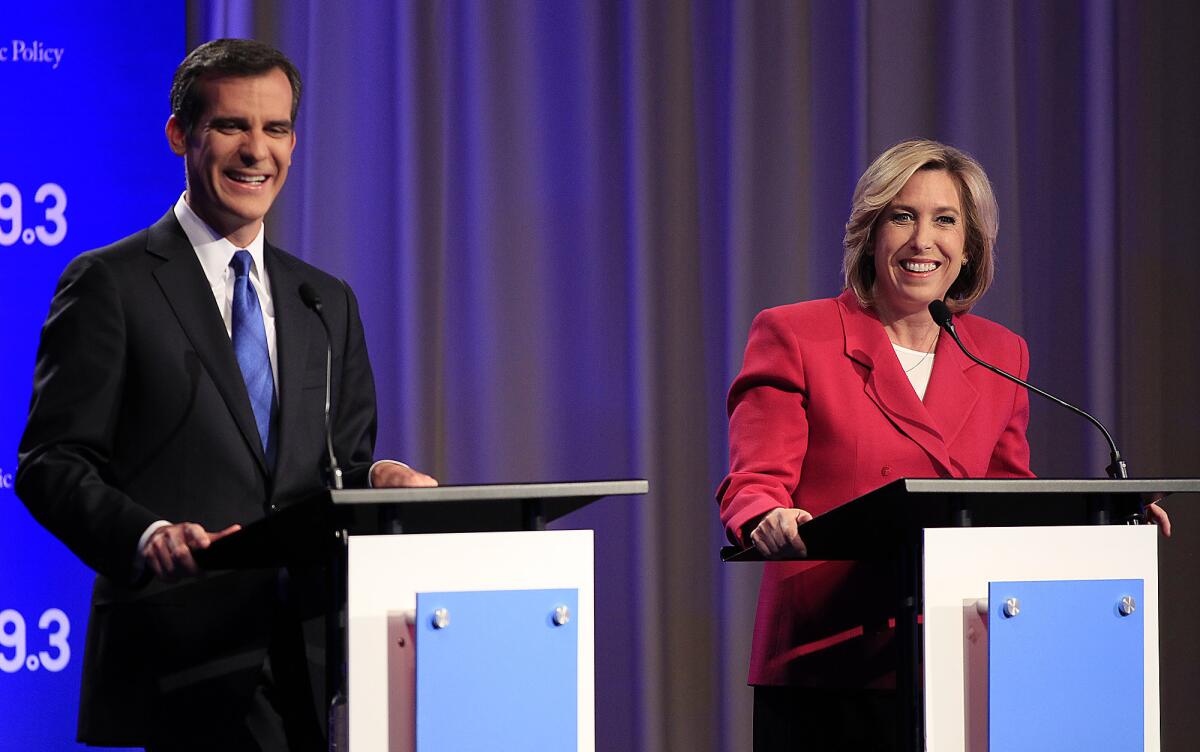 After a contest for mayor of Los Angeles that has consumed the better part of two years, the two finalists, their staffs, the media and a largely disinterested electorate doubtless would welcome an end to the drama Tuesday, election day.
But the large number of Angelenos voting by mail, the apparent tightness of the race and the peculiarities of the City Clerk's ballot-counting procedures open the possibility that the winner might not be known for days, or even weeks.
Although the campaigns of city Controller Wendy Greuel and Councilman Eric Garcetti still hope a winner will emerge May 21, Loyola Marymount University political scientist Fernando Guerra sees a "very high" chance of a delayed outcome.
FULL COVERAGE: L.A.'s race for mayor
"My sense is that the election is getting tighter and tighter and that it's going to be won by 1% or 2%," said Guerra, who oversees an exit poll on the municipal election. Others caution against projections in what is expected to be a very low turnout election, with perhaps 25% of the city's 1.8 million registered voters likely to cast ballots.
A poll last week found a virtual dead heat between Greuel and Garcetti. The Edmund G. "Pat" Brown Institute of Public Affairs at Cal State L.A. measured Greuel with the support of 46% of likely voters, while Garcetti had 45%. Nine percent were undecided.
A close race could be difficult to call Tuesday because more than a fifth of the votes probably won't be counted until after election night. In the first round of balloting in March, more than 22% of the votes — many of them vote-by-mail ballots — weren't counted until three weeks later.
L.A. ELECTIONS 2013: Sign up for our email newsletter
The reason for the delay is the city's strict — critics say cumbersome — procedure for verifying and counting mail-in ballots.
Voting by mail has been promoted by many election officials nationally as a method to increase turnout and to avoid polling place hassles and delays. Theoretically, voters send in their ballots far enough in advance of election day that they can be counted, and the results released, as soon as the polls close.
In reality, many voters mail their ballots at the last minute or carry them to polling places on election day. Los Angeles quickly counts ballots cast at polling places on election day and mailed ballots received in the City Clerk's office prior to that. But many other ballots can remain uncounted for weeks.
Before the mail-in ballots are counted, the City Clerk's office verifies the voters' eligibility, address and signature. But as many as half the mailed votes, perhaps as many as 100,000, will require additional effort to confirm the signatures' validity.
The city doesn't count any outstanding ballots until every one has been verified. In the March primary election, the process took the full 21 days allowed by City Charter, although the final tally did not differ substantially from election night. Garcetti led Greuel by 3.7% on March 5 and stretched that to 4.1% after the final 82,000 votes had been counted.
Los Angeles County and the state of California offer interim vote totals as they count provisional and mail-in votes. The county issues the vote updates twice a week. But the city of Los Angeles has previously not made public any interim totals before certifying the final vote.
"I don't know whether we are going to have an actual result" on election night, said John Shallman, chief strategist for Greuel. "If the race is a couple of points up or down, typically there is enough vote left that it would be hard for any candidate to concede or declare victory."
Holly Wolcott, executive officer in the City Clerk's office, said there may be one vote count update between election night and the final vote certification, but she could not predict when it might occur.
"We are trying to make sure every voter has had the opportunity to vote and to make sure that every ballot is accounted for," Wolcott said. "Our attitude is that accuracy is the highest priority."
Sign up for Essential California for news, features and recommendations from the L.A. Times and beyond in your inbox six days a week.
You may occasionally receive promotional content from the Los Angeles Times.