Metro adds monthly fee for toll road drivers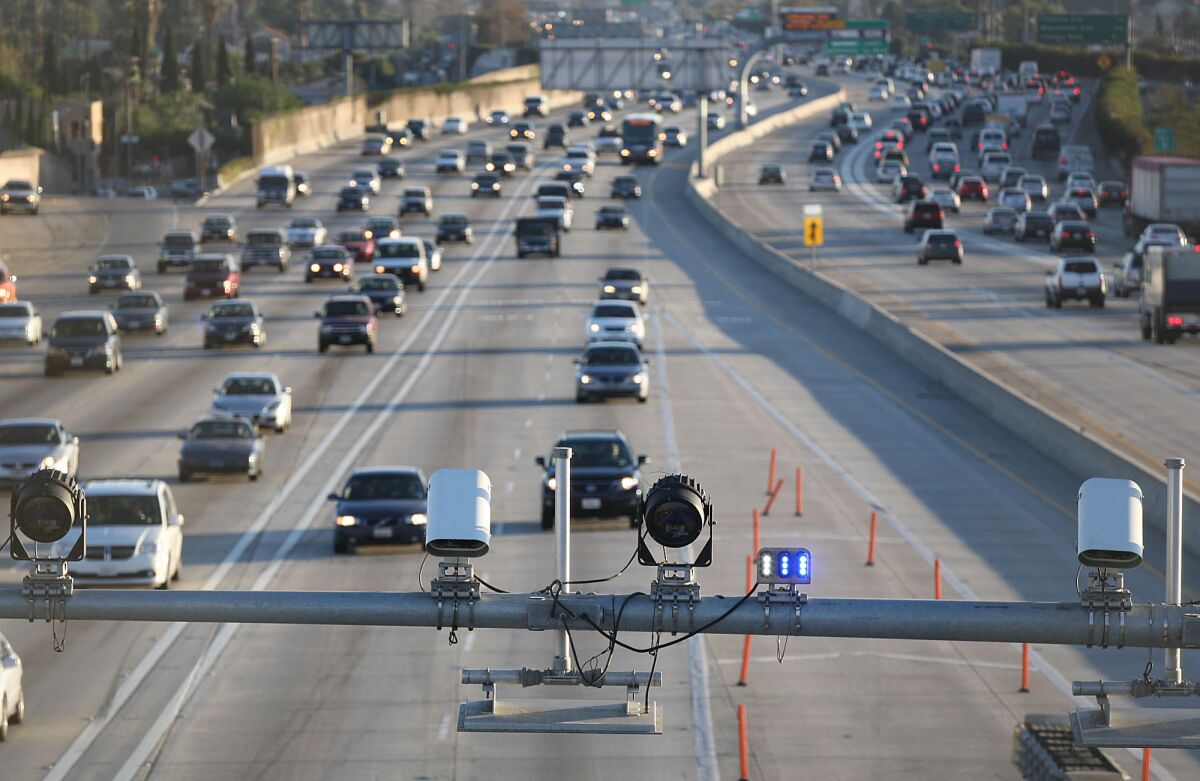 In a push to make toll lanes permanent fixtures on two of Los Angeles County's most congested freeways, local transportation officials approved a $1 monthly fee Thursday that will apply to all drivers with electronic tolling accounts, even carpoolers and infrequent users.
The Los Angeles County Metropolitan Transportation Authority's 8-3 vote signals a shift in the agency's approach to drivers who use the 25 miles of experimental toll lanes that link the South Bay and El Monte with downtown Los Angeles. Previously, the agency rewarded drivers who used the lanes more than four times a month by waiving their monthly fees.
Saying that the lanes provide a new option for commuters who use a built-out, 900-mile freeway network, Metro directors unanimously approved extending the toll lanes beyond January and hinted that more of the county's 435 miles of carpool lanes could soon have toll routes.
"We've had a very, very successful project that I think is going to do nothing but grow," said Los Angeles County Supervisor Gloria Molina, who is a Metro board member.
Each driver's $12 in annual fees will be assessed in addition to per-mile tolls, which start at 25 cents and can go up to $1.40, depending on how crowded the toll lanes are at the time. More than 253,000 Angelenos have opened tolling accounts.
The vote came days after the first comprehensive analysis of the toll lanes delivered mixed reviews. The analysis, written for federal officials by an independent contractor, said the program had mostly met its key benchmark: keeping toll lane traffic moving at least 45 mph during peak hours. The program also boosted ridership on an express bus line that uses the lanes, the report said.
But many drivers paying tolls shaved just a few minutes off their commute times, the report said, and some drove more slowly than they would have in the carpool lanes two years ago.
The toll program won't become permanent unless state lawmakers approve a bill introduced by Sen. Ed Hernandez (D-West Covina), which would make it possible for Metro to operate the lanes indefinitely and add toll lanes to other freeways. Thursday's vote sent a signal to Sacramento that local lawmakers support the bill, Metro staff members said.
Several public speakers said they were concerned that a fee for every driver, including carpoolers using the toll lanes, would discourage people from signing up for accounts. During the months when Metro waived the account maintenance fees, sign-ups for the tolling devices increased, the agency has said.
Metro owes the project's contractor $3 a month in maintenance fees for every tolling device put into service. "There are people who just want to go to the airport once or twice a month," Molina said. "But for every transponder out there, whether it's used one time or 55 times, that cost is still $3." That totals about $9.1 million a year in fees.
Metro staff said that by charging every driver $1 a month, the agency would make about $700,000 more a year toward maintenance fees.
Metro collected more than $23 million in tolls over 14 months, the report said, and will reinvest the money in pedestrian, transit and vanpool improvements in the areas surrounding the freeways.
Twitter: @laura_nelson
---
The stories shaping California
Get up to speed with our Essential California newsletter, sent six days a week.
You may occasionally receive promotional content from the Los Angeles Times.