California plans takeover of property insurer overwhelmed by Camp fire claims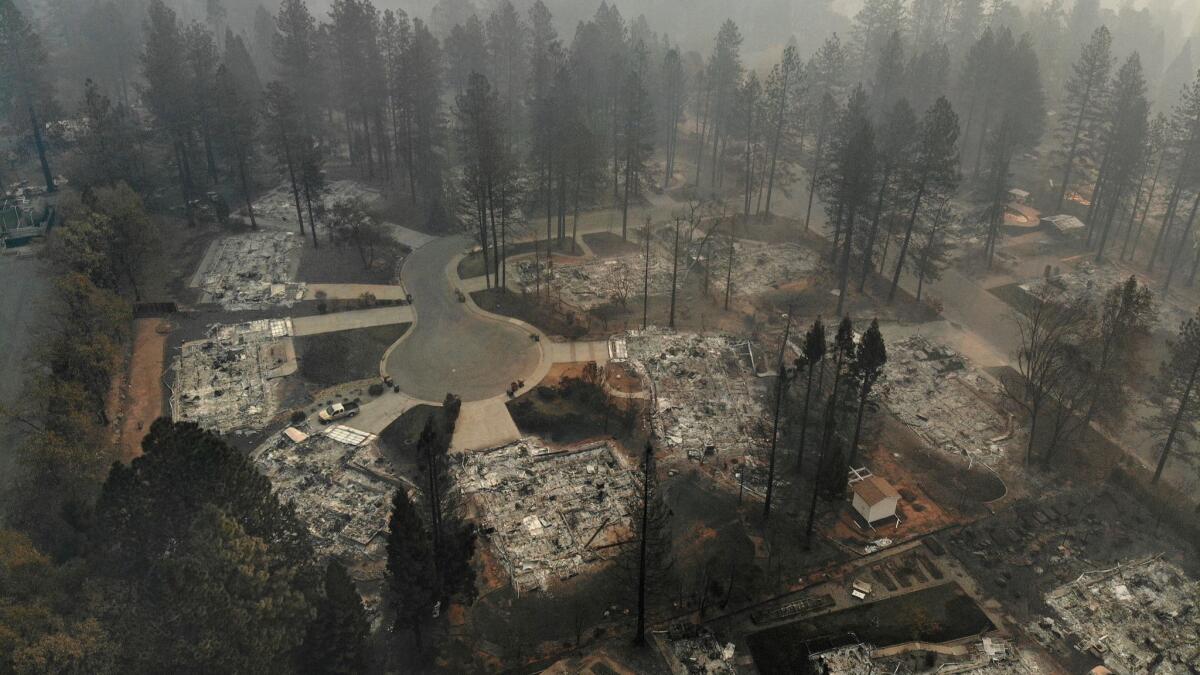 California officials will take over a small insurance company that has been overwhelmed by claims from property owners in Paradise whose homes were leveled by the Camp fire.
A Merced County judge on Monday allowed Insurance Commissioner Dave Jones to liquidate the assets of Merced Property & Casualty Co., which informed Jones' office two weeks ago that it was on the brink of insolvency.
Jones' office had petitioned the court on Friday for that authority — which is uncommon if not unprecedented for a California property and casualty insurer.
The 112-year-old company, based in the San Joaquin Valley city of Atwater, has about $23 million in assets but expected it would ultimately need to pay out $64 million in claims, largely for properties in Paradise, according to a court filing.
Jones said the order would enable the California Insurance Guarantee Assn. — a state-run insurance fund — to begin paying claims.
"Protecting Camp fire policyholders who have already suffered through so much was my first consideration," Jones said in a statement.
Merced policyholders will be notified how to file claims or seek the return of premiums, according to the statement. Nancy Kincaid, a spokeswoman for Jones' office, said the association will cover property insurance claims for up to $500,000.
That's probably enough to cover most claims. The median home price in Paradise as of October was $257,400, according to Zillow. According to a Department of Insurance handout on the liquidation process, policyholders who have claims exceeding the association's limit may be able to seek additional payments out of Merced's assets.
Jones last week ordered the state Department of Insurance to review other insurance companies to see if they have been jeopardized by recent wildfires.
Kincaid said the department's investigators have found no other companies at risk of failure, though Rex Frazier, president of the Personal Insurance Federation of California, an industry trade group, said he's heard two more firms might be in trouble.
Merced's failure highlights the unprecedented destruction caused by the fire, which leveled nearly 14,000 homes, more than any other in state history. It also reflects the small size of the insurance company and possibly its willingness to offer homeowners policies in an area where some other firms had pulled out.
Merced operates only in California, mostly in the Sacramento and San Joaquin valleys. And it accounts for less than one-tenth of 1% of all the homeowners insurance policies in the state, collecting about $4 million in premiums last year, according to the Department of Insurance and company financial statements.
By comparison, insurance giant State Farm accounts for nearly 18% of all homeowners policies in California and collected $1.4 billion in premiums last year.
It's not clear now many policies Merced wrote in the Paradise area, but Frazier said small companies tend to have more of their business concentrated in specific areas. That makes it more likely that such a company could be bankrupted by a single catastrophe.
Steve Mora, president of insurance brokerage Heritage Insurance Agency in Chico, did not sell Merced policies but said the company appeared to be more willing than others to sell policies in Paradise. The town and surrounding areas were classified as high fire-hazard severity zones by the California Department of Forestry and Fire Protection.
"Most mainstream companies had pulled out of that area," Mora said. "They were either non-renewing policies or were not writing any new policies."
Frazier said this is the only instance he knows of in which an insurer has been put out of business by a single calamity.
"It's highly unlikely a major carrier would be taken down by something like this," he said. "For a small company, all it takes is to get a lot of bad luck in an area that's overexposed."
He noted that one insurer, 20th Century Insurance, was almost bankrupted by the Northridge earthquake but that the company, now called 21st Century Insurance, eventually recovered and was never taken over by the state.
Like most insurance companies, Merced had reinsurance — essentially a form of insurance for insurance companies — to cover catastrophic losses. But destruction from the Camp fire may have been so great that Merced did not have the wherewithal to pay even its own share of claims.
A state examination from 2016 shows that under the reinsurance coverage in place at the time, Merced would have to pay the first $150,000 of any claim before its coverage would kick in. That means the company's $23 million in assets could have been eaten up by just 153 claims.
Twitter: @jrkoren
---
UPDATES:
5:55 p.m.: This article was updated with more details and comments from Rex Frazier, spokesman for an insurance industry trade group, and Steve Mora, president of a Chico insurance brokerage.
This article was originally published at 12:10 p.m.
Sign up for Essential California for news, features and recommendations from the L.A. Times and beyond in your inbox six days a week.
You may occasionally receive promotional content from the Los Angeles Times.