California steel industry leaders say they would be hurt by Trump's proposed tariffs
California steel manufacturers are concerned that tariffs proposed Thursday by President Trump will drive up the price of their products, threatening their ability to compete with foreign and eastern U.S. steel makers and forcing them to cut local jobs.
On Thursday, Trump surprised many industry leaders — and members of his own administration — by announcing plans to impose 25% tariffs on steel imports and 10% duties on aluminum. He said he will sign the order next week.
In California, industry leaders and analysts argue that the tariffs would provide no benefits to steel manufacturers on the West Coast — companies that import steel in the form of slabs and coils, rather than making it from iron ore. They use that to create finished products for a vast array of businesses across the United States. Those companies also worry that the tariffs would drive up the price of domestic steel.
On Friday, a senior administration official said the new tariffs would apply to metal imported from all nations. Some experts wondered if the administration would go easier on allies such as Canada.
"The worst-case scenario is we continue to spiral into a trade war," said Jonathan Aronson, a USC professor of communications and international relations. "My guess is that people will get the president to mitigate or delay acting, but he's unpredictable."
On the West Coast, steel manufacturers largely depend on imported steel from Brazil, Japan, South Korea, Taiwan and Australia. It is cheaper to ship steel over the ocean than by road or rail from eastern U.S. foundries.
Last year, California imported almost $2 billion in iron and steel, a 6% increase from the previous year. The state imported $2 billion worth of aluminum, a 25% increase from the previous year. About 38% of imported aluminum came from China, according to an analysis by Jock O'Connell, the international trade advisor at Beacon Economics.
Fontana-based California Steel Industries, the largest steel mill in the western United States, depends almost solely on imported semifinished steel slabs, usually from Mexico, Brazil and Japan. These slabs are usually about 35 feet long, almost 10 inches thick and weigh 20 to 30 tons.
Only a handful of U.S. companies make semifinished steel slabs. And those companies make those slabs mostly for their own use, said Brett Guge, an executive vice president at California Steel Industries.
The cost of bringing those slabs from the eastern United States to the West Coast is five times more expensive than bringing them from other countries.
The Trump administration's hope is that steel and aluminum makers will increase their production, meeting the nation's demand. O'Connell said that is a "dubious proposition."
Even if domestic producers do make more metal, it won't offset the negative effect of the tariffs to the overall economy, he maintained. "Just the cost to the industries that use iron and steel and aluminum will long outweigh the benefits of any increase in U.S. employment rate or U.S. share of the domestic market," O'Connell said.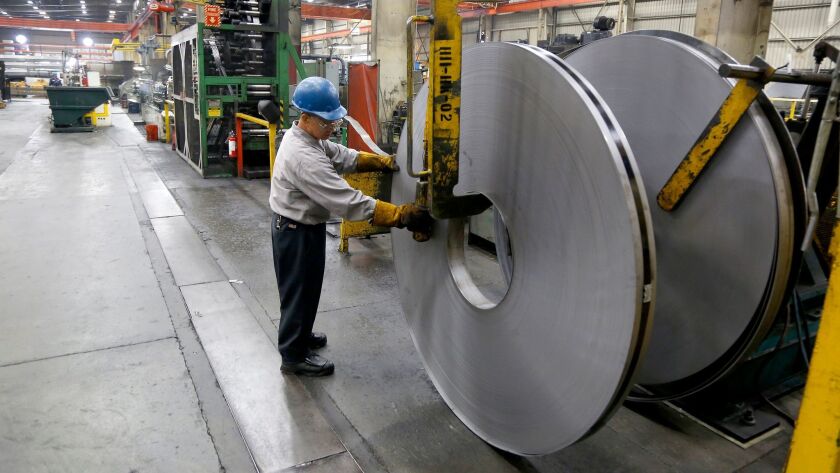 Marcelo Botelho Rodrigues, president and chief executive of California Steel Industries — whose Fontana plant dates to the giant Kaiser Steel works, which closed in the early 1980s — said the tariff could force West Coast steel manufacturers to cut jobs because of rising costs. At the same time, it would benefit companies east of the Mississippi River, which might be able to hire more people.
"We are fighting to not be put out of the market," Botelho said. "We truly believe the intention of the Trump administration is to protect American jobs, but in our specific case, we're being pushed out of the market, rather than being helped to generate more jobs."
O'Connell at Beacon Economics said the tariffs will not only drive up the cost of imported steel and aluminum but also provide a reason for domestic steel producers to increase their prices, which would then drive up the cost of construction projects across California. The tariffs probably would have a largely negative effect on the overall economy, he said.
Last year, the U.S. Department of Commerce started its national security investigation on steel imports, soliciting letters from the industry. That had companies such as Vernon-based Hannibal Industries — the largest manufacturer in the western United States of steel pallet racks, used often for warehouse storage — nervously anticipating how Trump might act.
Steve Rogers, executive vice president of Hannibal Industries, said about two months ago, overseas steel suppliers stopped shipping Hannibal steel over fear of the potential tariffs. The employee-owned company has already seen a 20% cost increase.
Hannibal has had to move to more costly steel supplies from Mississippi and Alabama. But Rogers doesn't think that's a long-term solution.
"It's our belief that domestic steel supply can't support domestic consumption," Rogers said. "There is not enough capacity to support domestic consumption strictly through domestic supplies, and obviously that leads to price increases."
Times staff writer Don Lee contributed to this report.
---
The stories shaping California
Get up to speed with our Essential California newsletter, sent six days a week.
You may occasionally receive promotional content from the Los Angeles Times.