Fires strike a blow to the wine industry in Sonoma and Napa counties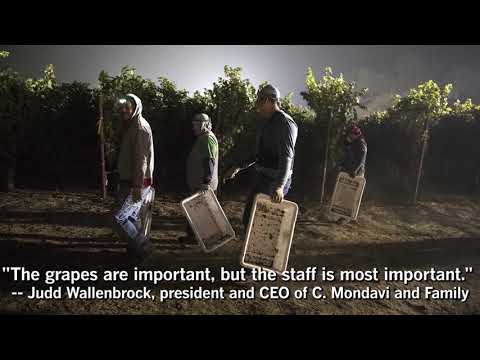 The Nuns and Atlas fires in Northern California have charred acres of Napa Valley vineyards.
The deadly firestorms raging across wine country have burned hotels, small lodges, winery buildings and even some vineyards, officials in the region said.
But the worst damage is likely to be to the residents who toil in the wine and tourism industry, particularly in Santa Rosa, in Sonoma County, where the Fountaingrove fire devastated neighborhoods in the north end of the city.
That fire burned the 250-room Hilton Sonoma Wine Country hotel and the smaller Fountaingrove Inn, and reportedly destroyed several other small inns, restaurants and other businesses, according to fire officials and local media reports.
"I'm pretty sure I lost my house," said Karissa Kruse, president of the Sonoma County Winegrowers, an industry group. "It sounds like most of the houses in the Fountaingrove neighborhood have been burned down."
Despite scattered reports of flames engulfing and surrounding wineries in the thick oak woodlands of Sonoma and Napa counties, the vineyards are likely to weather the flames well, Kruse said. Most of the crop has been picked, she said.
"Our grapes are about 90% harvested in Sonoma County," Kruse said. "I think Napa is probably a little behind us, just given how much cabernet fruit they have, and the ripening time for cabernet."
It would be "way too soon to know" if smoke damaged the remaining grapes, she added.
"We're just trying to get our arms around making sure everybody is safe," she said.
In Napa County, more than 50 structures, including homes and barns, have burned in the Atlas Peak fire alone, Napa County Fire Chief Barry Biermann said during a news conference.
Residents around Santa Rosa described running from the approaching flames in the pre-dawn hours Monday. Among them were vintner Ken Moholt-Siebert, whose family vineyard, Ancient Oak Cellars, lies beside California 101 near Santa Rosa.
Before he could spring uphill to turn on a pump, embers from the Tubbs blaze ignited a spot fire, which soon tore across the property where his family has been raising sheep and growing grapes for four generations.
"I was just being pelted with all this smoke and embers," Moholt-Siebert, 51, said. "It was just really fast."
Moholt-Siebert eventually fled, watching the flames engulf the vineyard where Pinot Noir grapes were still on the vines. Those and the ancient oaks from which the winery drew its name are probably gone, he said.
"I have a feeling there is not going to be much left," Moholt-Siebert said.
The Paradise Ridge winery sustained extensive damage, as flames raced through Sonoma's Kenwood and Glen Ellen wine districts, while in Napa, they tore through the Stags Leap district of Napa, threatening some of the best-known winery facilities in the region.
The fires erupted so fast Sunday night that Duff Beville, who owns a vineyard management company, didn't know what was going on as he supervised night picking crews in Healdsburg. Then power went out in the area and operations had to shut down, he said.
"As a general rule, vines don't burn because they're a green plant," Beville said. "But cover crops between the vines can burn."
The wine industry contributed $57 billion to the state's economy in 2015 and is responsible for 325,000 jobs, according to the Wine Institute and California Assn. of Winegrape Growers.
Times staff writer Javier Panzar contributed to this report.
Follow me: @LATgeoffmohan
Sign up for Essential California for news, features and recommendations from the L.A. Times and beyond in your inbox six days a week.
You may occasionally receive promotional content from the Los Angeles Times.