Metro staff support a $6-billion widening of the 710 Freeway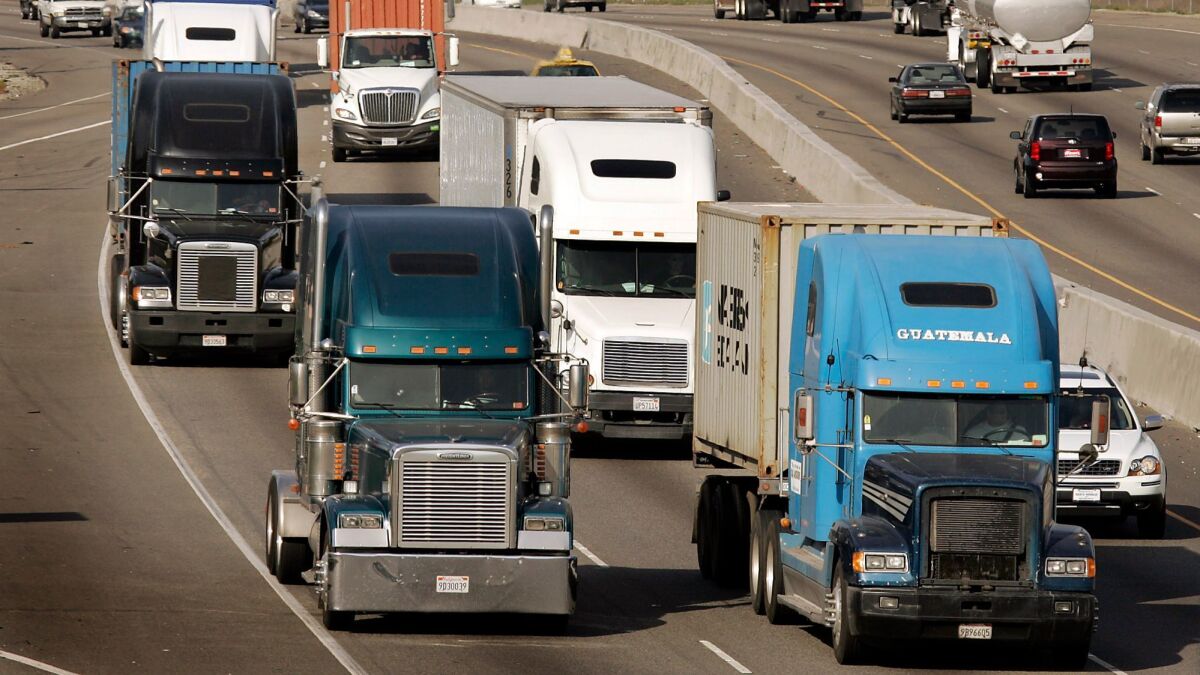 Each year, tens of thousands of truck drivers make the 19-mile trip up the 710 Freeway from the ports of Los Angeles and Long Beach to rail yards near downtown, carrying cargo bound for every corner of the United States.
The 710 handles so much freight traffic from the ports that commuters on the freeway frequently find themselves trapped between big rigs or cut off from their exits by long lines of trucks.
County transportation officials have puzzled for decades over how to smooth congestion and accommodate more cargo on the 710 while minimizing harm to nearby residents who bear the brunt of the corridor's congestion and pollution.
This week, staff members with the Metropolitan Transportation Authority threw their support behind a familiar, if controversial, solution: a wider freeway.
In a report to the agency's board of directors, Metro staff urged support for a massive, $6-billion proposal that would add a lane in each direction along the 710 between Ocean Boulevard in Long Beach and the 60 Freeway in East Los Angeles. The price tag is one of the largest for a freeway widening project in county history.
The proposal calls for changes to 24 major streets that cross the 710, as well as new interchanges with the 91, 5 and 405 freeways. A new, separated lane would allow truckers to bypass commuter traffic near the 405.
Transportation officials say the widening is necessary because a soaring number of trucks is cramming each day onto an inefficient route that needs to be modernized.
"The trucks are going to continue to come, and the goods are going to continue to come to the port," said Metro Senior Director Ernesto Chaves. Without building new lanes, he said, "we'll have more trucks on the same old infrastructure."
But transportation and environmental activists — many of whom have fought the project for years — say Metro's preferred alternative would not do enough to reduce emissions along a corridor known as the "diesel death zone" and would displace people in some of Southern California's poorest and most polluted areas.
"We want a vision that's different from 'We're going to pave over your community for trucks and gas-guzzling cars,'" said Adrian Martinez of Earthjustice, a nonprofit that is part of a coalition seeking changes to the project.
If Metro and Caltrans opt to widen the freeway, the new lanes should be open only to zero-emission trucks, Martinez said. Adding capacity for zero-emission vehicles near a port complex that handles 40% of the country's cargo would push the industry toward greener practices, he said.
Caltrans and Metro would seize 109 homes and 158 businesses to expand the freeway, displacing an estimated 436 people. Construction would have a disproportionate effect on poor residents who are black and Latino, a Caltrans environmental analysis found.
"We're trying to build a project in a built-up, mature environment," Chaves said. "There's going to be some displacement."
The proposal has been under study for three years and is cheaper than the other option Metro and Caltrans are considering: four elevated, zero-emission truck lanes that would cost $10 billion and displace about 484 people.
Although Metro is a transit agency, officials there have increasingly overseen and funded freeway projects across the county. Metro provided the lion's share of the funding for the 405 Freeway widening in the Sepulveda Pass, which opened a year late and went 55% over budget.
Measure R and Measure M, two half-cent sales taxes administered by Metro, would provide $920 million to the so-called 710 South project. Where the remaining $5 billion would come from is unclear.
Deciding on an alternative will help close the funding gap, Metro officials say, because state and federal officials are wary of funding wobbly projects. Initial funding from the sales tax measures would be enough to begin work on some smaller elements of the project, Chaves said.
Metro directors will discuss the 710 Freeway widening staff recommendation Wednesday at a committee meeting and are scheduled to make a decision at their March 1 meeting. Caltrans is expected to make a decision by the end of the summer.
Martinez's group and others plan to urge Metro's directors to delay their decision until they can find a solution that will appease residents who struggle with the area's poor air quality and traffic congestion, Martinez said. Metro appears to be rushing to a decision, he said.
Metro disputes that characterization, noting that planning efforts to improve the freeway began in 1999 and environmental reviews have been underway since 2008.
"We've been at this for 20 years," Chaves said. "We've gone back to the drawing board a few times because we're trying to get the right alternatives."
For more transportation news, follow @laura_nelson on Twitter.
---
The stories shaping California
Get up to speed with our Essential California newsletter, sent six days a week.
You may occasionally receive promotional content from the Los Angeles Times.