18 structures lost in Alpine fire that hopscotched through neighborhood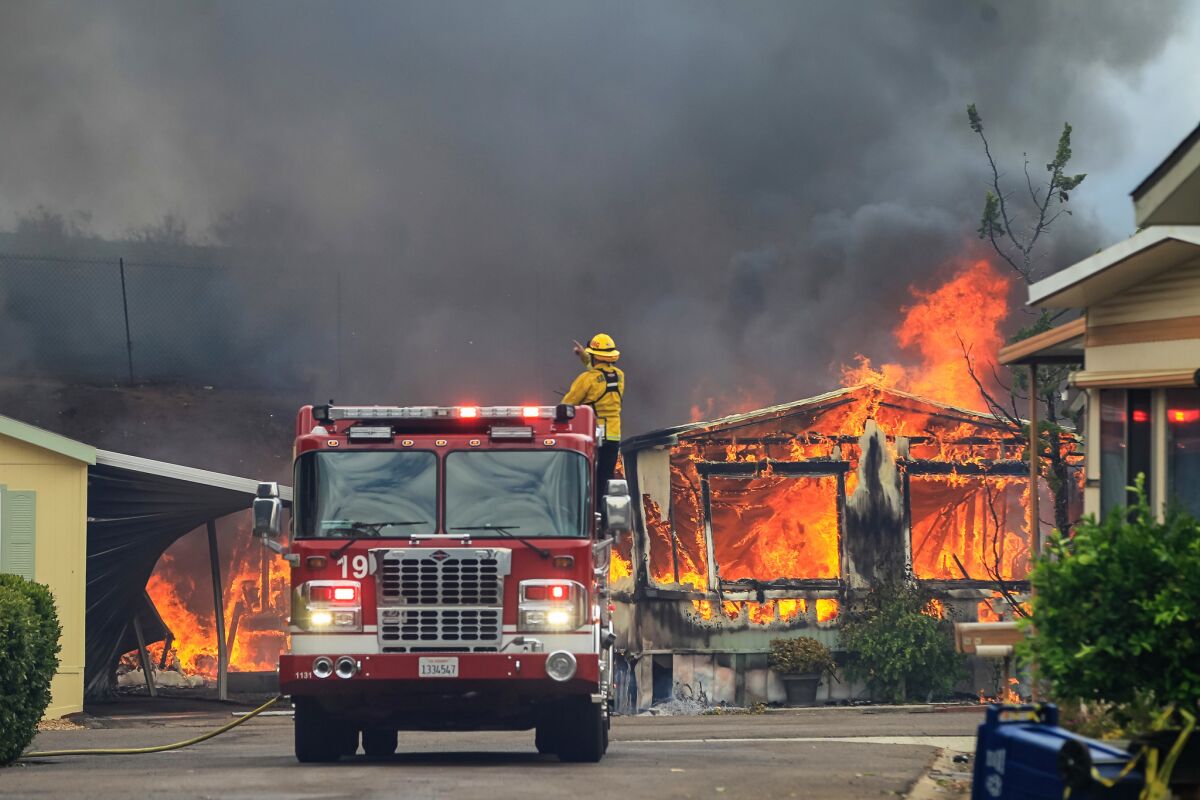 Firefighters on Saturday continued to make progress against a blaze in Alpine that destroyed 18 structures and damaged eight others.
Wind-driven embers caused the West fire to spread quickly from its ignition point near Interstate 8 and West Willows Road, prompting evacuations as some homes burned. Evacuation orders remain in place.
"Crews are making good progress," said Capt. Kendal Bortisser of the California Department of Forestry and Fire Protection. "Damage assessment teams are still out there. There are still some areas they haven't gotten into. The number of structures destroyed and damaged will likely go up as they continue to work on their assessment."
He said officials are figuring out what roads to reopen.
"They're working to get this stuff done so we can get people back to their homes," Bortisser said.
Declared a local emergency by Friday afternoon, the West fire presented special challenges for firefighters as it hopscotched through neighborhoods. And the weather wasn't helping. As they push for full containment, crews will continue to toil in the summer's first real heat wave, which sent temperatures to 108 degrees in Alpine on Friday. Although cooler, Saturday's high is predicted to reach 103 degrees.
Alpine resident Kiersten Pinard was among those scrambling to grab what she could and get out as the fire chewed through a home four houses down the road.
"I was super scared, super upset … [thinking] that our house was going to be gone," said Pinard, who was forced to evacuate from a different Alpine home during the 2003 fires. "But you know, my husband was at work, my daughter was at school, so we were safe. That's the most important thing."
The fire delivered relatively random doses of devastation.
"There are homes that are perfectly untouched, and others that are burned to the ground," Alpine Fire Protection District Chief Bill Paskle said.
By 5 p.m., fire crews were able to stop the blaze from spreading forward.
Red Cross spokeswoman Emily Cox said an overnight shelter was opened at Los Coches Creek Middle School, east of El Cajon. Companion pets were to be allowed there.
In the parking lot outside the shelter, Ben Stanfill sat sweating on a rock, his motorcycle helmet propped on a smaller rock at his feet.
He got a call at 1:10 p.m. from his mother, asking him to go to her house and pick up her cat. He raced there on his motorcycle, where he met up with his sister and her boyfriend.
A little before 4 p.m., Stanfill, his mother, his sister and her boyfriend all arrived at the shelter together, loaded with whatever they could carry with them.
"We just grabbed everything you can't replace or re-buy," Stanfill said. "My grandma's photographs, the cat, my sister's Mickey Mouse teddy bear she's had since she was little."
Stanfill's mother's house was not in a mandatory evacuation area, but the family just wanted to be safe.
"Now we just wait and see," Stanfill said.
Figueroa and Repard write for the San Diego Union-Tribune.
---
The stories shaping California
Get up to speed with our Essential California newsletter, sent six days a week.
You may occasionally receive promotional content from the Los Angeles Times.