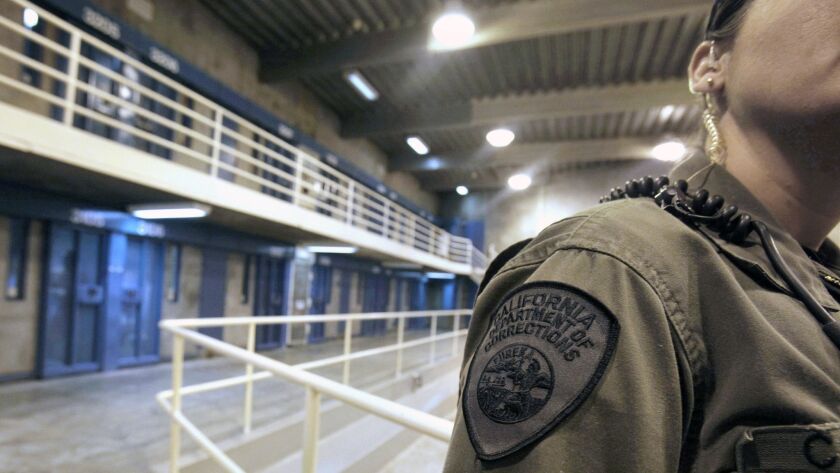 Reporting from Sacramento —
Federal officials in Sacramento indicted more than a dozen members and affiliates of the Aryan Brotherhood prison gang on Thursday, alleging that top officials within the organization used smuggled phones to order murders and orchestrate a multistate drug trafficking operation from their cells.
Sixteen defendants, including nine inmates, were named in a criminal complaint alleging federal racketeering, murder, drug trafficking and other charges stemming from a five-year investigation into extensive, organized criminal activity inside California's most secure prisons, according to the U.S. Department of Justice.
Authorities say that two of the inmates, Ronald Yandell, 56, and Daniel "Danny" Troxell, 66, are well-known members of the Aryan Brotherhood Commission, a three-man council that runs the white supremacist organization.
"What we report today is a very significant setback for one of California's most notorious prison gangs," U.S. Atty. McGregor W. Scott said at a news conference in Sacramento. "The geographic scope of these prison murders and ordered murders extended the length of California, from Imperial County in the south to Lassen County in the north, inside prison walls and out."
In a 143-page criminal complaint, the U.S. attorney's office said a 2015 legal settlement allowed inmates like Yandell to be moved from solitary confinement at Pelican Bay State Prison's Security Housing Unit and into "less-stringent California prison environments" and led to an increase in the gang's power, revenues and membership. Troxell was among the plaintiffs in the class-action suit filed by a group of Pelican Bay inmates against the state.
The complaint also charges inmates William Sylvester, 51; Travis Burhop, 46; Brant Daniel, 44; Donald Mazza, 48, Pat Brady, 48; Michael Torres, 55; and Jason Corbett, 47.
When the investigation began, Yandell, Troxell, Sylvester, Burhop, Torres and Corbett were all serving life sentences for murder.
Five other individuals were also arrested as part of the investigation and authorities are actively searching for two others. Those arrested were Samuel Keeton, 40, of Menifee; Jeanna Quesenberry, 52, of Sacramento; Kristen Demar, 44, of Citrus Heights; Justin Petty, 37, of Los Angeles; and attorney Kevin Macnamara, 39, of La Palma. Warrants have been issued for the arrests of Kathleen Nolan, 64, of Calimesa, and Matthew Hall, 50, of Manhattan Beach.
Federal wire taps allowed authorities to intercept hundreds of phone calls and text messages to map out the gang's hierarchy and record its actions in a large-scale sting operation. In some instances, investigators were able to thwart murder plots and undercover agents purchased drugs directly from the gang's associates, authorities said.
Prosecutors allege that members of the gang conspired to commit five murders and had planned four others. Of the five homicide victims, four were members of the Aryan Brotherhood who had violated gang rules and one was a member of another prison gang, who disrespected the Aryan Brotherhood gang, Scott said.
Authorities say Yandell and Sylvester, cellmates at Folsom prison since 2015, oversaw a large heroin and methamphetamine trafficking operation. Along with Burhop, an inmate at Calipatria State Prison, the prisoners coordinated the flow of drugs within California and to Nevada, South Dakota and Missouri.
Some of the phones that the gangs used to commit crimes were allegedly smuggled into the prison by Macnamara, an Orange County lawyer who met with an inmate in an area protected by attorney-client privilege, Scott said. Family members and gang associates on the outside were also recruited to transport drugs.
In one instance, police surveilled a phone call in which Yandell arranged for cellphones, batteries, chargers and mini hack saw blades to be smuggled into Folsom prison inside Little Debbie snacks. He told an associate that the phones could be sold for $1,000 each.
As part of the investigation, authorities seized large amounts of drugs, a cache of weapons from a house in Manhattan Beach and a Sacramento home, which officials believe was purchased with drug proceeds and used as a stash house.
Chris Nielsen, a Drug Enforcement Administration special agent, said the investigation reveals that, contrary to public belief, criminal activity isn't necessarily thwarted when inmates are behind bars. "This case would suggest it's the opposite," he said.
If convicted, the inmates could face the death penalty, he said.
The Aryan Brotherhood was founded in California's infamous San Quentin State Prison in the 1960s and has grown into one of the country's most feared and well-known white supremacist prison gangs. The group's membership is estimated to be around 20,000 nationwide, according to the Southern Poverty Law Center.
Though the group is nearly synonymous with white supremacist and neo-Nazi culture — members often sport tattoos of swastikas or the runic insignia of Hitler's SS — many experts say it is driven by the potential for profit through drug trafficking more than its racist ideology. The group has also been known to set aside racial divisions and work with Latino prison gangs, specifically the Mexican Mafia.
"When it comes to white supremacist prison gangs, their hateful ideology is often tangential to their criminal enterprise. So, although they unite around their white-supremacist beliefs, it becomes secondary to drug running, identity theft and violence," said Joanna Mendelson, a senior researcher on extremism and domestic terror for the Anti-Defamation League in Los Angeles.
"The name of the game is who has the juice, the power and access to benefit their criminal dealings. They'll compromise their ideals. On the streets they may be more ideologically focused, but behind bars the end game is about control and power," Mendelson said.
The group expanded across the country around 1975, after some of its high-ranking members were sent to federal prison, according to the SPLC. Also known as the Brand, the Aryan Brotherhood has been frequently linked to heroin and methamphetamine trafficking, prison violence and assaults and killings of corrections officials.
The California chapter of the gang is distinct from the Texas arm, Mendelson said.
Prison restructuring and changes in the way jailers can use solitary confinement in California have allowed Aryan Brotherhood members greater mobility inside prison walls, giving the gang a "boost" in recent years, she said.
Some of those named in Thursday's indictment are familiar figures in white supremacist circles. Yandell has long been considered an Aryan Brotherhood leader in California, Mendelson said. Mazza originally founded a white supremacist group known as Public Enemy No. 1 in Southern California in the 1980s before he was pulled into the Aryan Brotherhood while incarcerated, she said.
Though the Aryan Brotherhood differs from a white nationalist movement that has enjoyed growth across the U.S. in recent years, members of violent racist street gangs in California still see membership in the infamous prison organization as a badge of honor.
"The Aryan Brotherhood is still perceived in white supremacist prison culture with great reverence," she said.
---