City College of San Francisco wins back accreditation after years of uncertainty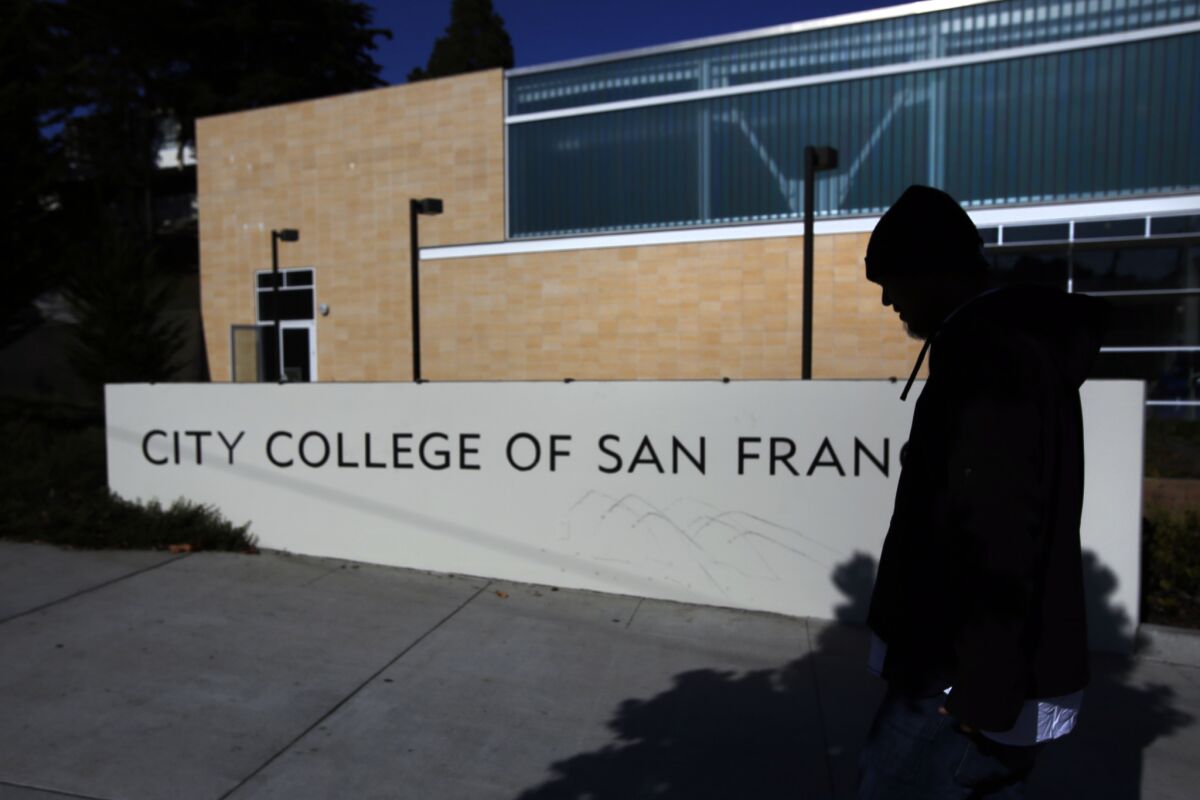 After a five-year dispute with the oversight commission that sought to revoke its accreditation, City College of San Francisco — one of the nation's largest community colleges — has been reaffirmed for a full term of seven years, school officials said.
The decision this month by the Accrediting Commission for Community and Junior Colleges follows a contentious battle that involved a series of lawsuits, a critical state audit of the commission and other public challenges by political leaders, faculty unions and the U.S. Department of Education that questioned the panel's findings and procedures. In 2015, California community college leaders voted to establish a new accrediting system.
"This decision is a major win, and a testament to the dedication and hard work of the entire City College community," Susan Lamb, the school's interim chancellor, said in a statement after the accrediting commission's vote was announced. "With the help of elected officials and San Francisco voters, we came together under extremely difficult circumstances and worked hard to achieve this major milestone."
The commission, a private body based in the Marin County city of Novato, is charged with the oversight of California's 113 community colleges as well as those in Hawaii. It found in 2012 that City College — the state's largest community college — was riddled with problems. The school, which had 90,000 students at the time, had not done enough to balance its budget to meet the campuses' financial obligations and was deficient on numerous fronts, including its administration, staffing and facility repairs, according to the panel's scathing report.
The commission's sanction, known as "show cause," which required City College to justify why it should remain accredited, is the gravest step short of withdrawal of accreditation. The news shocked school leaders, faculty, students and even lawmakers.
The last time the panel revoked an accreditation was Compton College in 2005. Colleges that lose accreditation can no longer offer financial aid. The loss of accreditation can also ruin a school's reputation to such an extent that it is forced to close. City College saw its enrollment drop by tens of thousands, resulting in reduced public funding.
City College officials spent years proving they could meet accreditation standards and detailed their efforts in a 500-page self-evaluation report delivered to the commission last year, Lamb said.
Lamb and college trustees said they are relieved this "nightmare" is over and look forward to focusing on rebuilding the school's enrollment and its many popular programs in fields such as stem cell research, medical imaging and culinary arts.
The California Federation of Teachers, which represents 25,000 community college faculty across the state and had filed suit against the accrediting commission, said its decision was long overdue.
"All of us at the college are so excited and relieved that the accreditation crisis is over. But we mustn't forget that the accreditation crisis at CCSF should never have occurred," City College faculty union president Tim Killikelly said. "The quality of its education was never in doubt."
Follow @RosannaXia for more education news
---
The stories shaping California
Get up to speed with our Essential California newsletter, sent six days a week.
You may occasionally receive promotional content from the Los Angeles Times.