USC vows new scrutiny of athletics in wake of college admissions scandal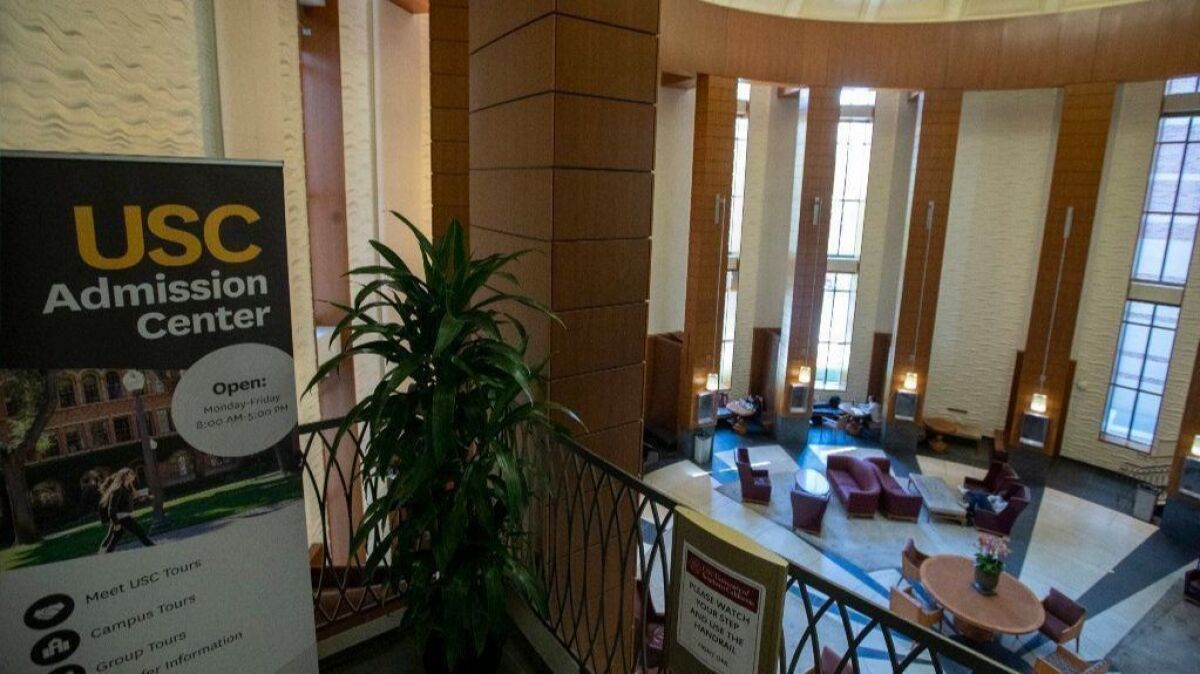 Last month, the scheme was laid bare: USC, and at least half a dozen top universities, had been breached by a multiyear conspiracy that used bribes, rigged tests and at least a few Photoshopped applications to slip the children of wealthy and influential families past admissions processes that grow more selective every year.
USC promised to put new safeguards in place. The university's interim president, Wanda Austin, laid out some of those changes this week in a letter to the school community.
Before an application is forwarded to the admissions staff, each prospective recruit for a particular team would be scrutinized by the head coach, the senior sports administrator overseeing the team and the school's Office of Athletics Compliance, Austin said.
Austin also promised an audit of athletic rosters at the beginning and end of every academic year, and to cross-check rosters with lists of admitted students.
In a recruiting scheme, as described in charging documents filed in federal court, Newport Beach college consultant William "Rick" Singer paid coaches and an administrator to present the children of his clients to a USC admissions committee as student athletes.
After being admitted as recruited athletes, the children dropped off their teams' rosters by the time they matriculated, or soon after.
Donna Heinel, formerly the third-ranking official in USC's athletics department, is accused of accepting $1.3 million in bribes between 2014 and 2018. Heinel was indicted on a racketeering charge and fired by the university. She has pleaded not guilty.
The children of Singer's clients were purportedly recruited to USC to compete in basketball, football, soccer, volleyball, track and field, water polo, lacrosse and crew.
Prosecutors say the applicants had never played the sports competitively.
USC is reviewing the cases of students tied to the scandal, and Austin said Wednesday that most of those students had sat for initial interviews. The outcomes of those reviews could range from no action to revocation of a student's admission, depending on the facts of each case, Austin said.
Two students implicated in the scheme include the daughters of actress Lori Loughlin and fashion designer J. Mossimo Giannulli. Their daughters were admitted to USC as rowing recruits, but in truth, prosecutors say, the girls had never rowed competitively and simply posed on a rowing machine for photographs that accompanied their bogus recruiting profiles.
Loughlin and Giannulli have been charged with fraud conspiracy and money laundering conspiracy. They have pleaded not guilty.
The stories shaping California
Get up to speed with our Essential California newsletter, sent six days a week.
You may occasionally receive promotional content from the Los Angeles Times.