Trump sparks revival for college Republicans, along with battle over 'future and soul' of movement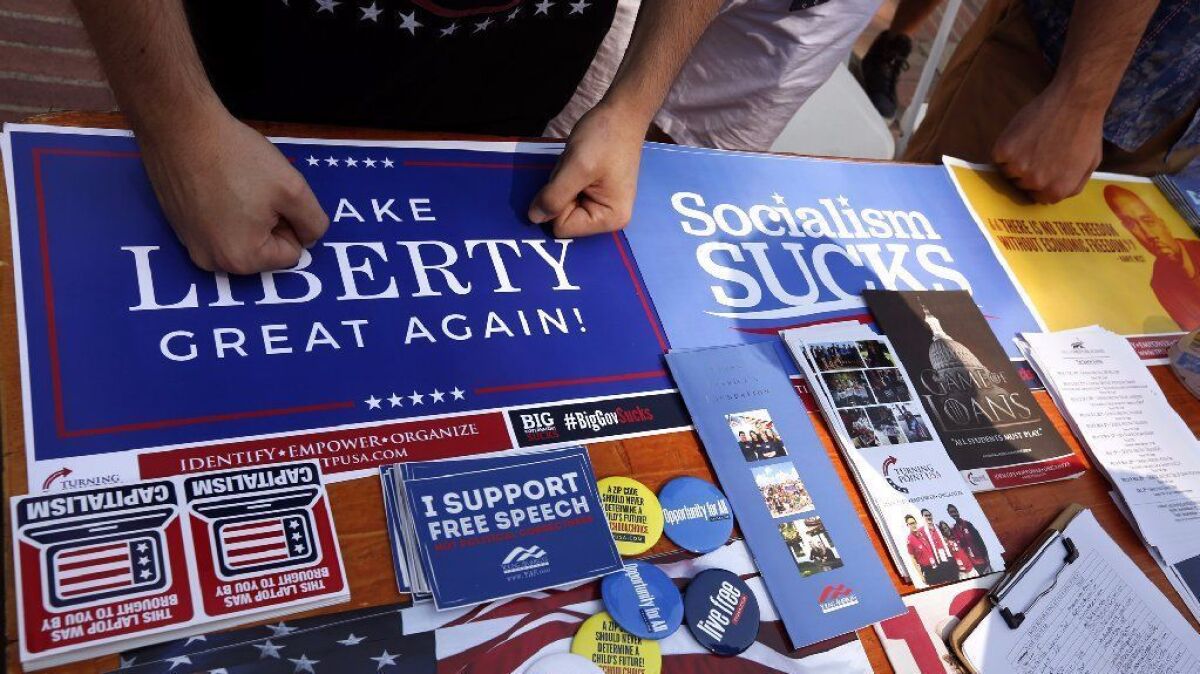 UC Irvine senior Ariana Rowlands is buddies with Milo Yiannopoulos, the right-wing provocateur who has sparked campus uproars over free speech. She writes for Steve Bannon's Breitbart News. And she is unapologetically combative in campus culture wars.
Leesa Danzek, a USC graduate, works for a centrist Republican state legislator. She favors moderation and inclusion and says shock-jock tactics will drive college conservatives away.
The two young women head opposing slates for control of the California College Republicans in its first contested election in nearly a decade.
The bruising battle, to be decided at the state party convention this weekend, mirrors the larger national struggle between GOP establishment insiders and insurgents inspired by President Trump.
"This election will determine the very future and soul of college Republicans — and maybe even the conservative movement as a whole," said Eric Lendrum, a recent UC Santa Barbara graduate who writes for the conservative online Millennial Review.
Long overlooked on California's overwhelmingly liberal campuses, college conservatives are now drawing national attention thanks to free speech dust-ups at UC Berkeley, UC Davis and Cal State L.A.
Campus conservative leaders said Trump's election boosted their numbers even if it intensified hostility toward them. At Berkeley, College Republican Troy Worden says he still gets doxxed, spat on and cussed out by fellow Bears — but now as many as 80 people come to club meetings that usually drew about 10 last year.
"Republicanism is becoming cool," said Brock Bauer, a UCLA sophomore majoring in financial actuarial math. "It's a counterculture. It feels like you're rebelling against your generation."
At a recent UCLA club festival, a stream of students ventured to the Bruin Republicans table, which was covered with buttons, pamphlets and "Socialism sucks" bumper stickers. Like a carnival barker, club officer Tyler Fowlkes called out to students to join UCLA's "premier right-of-center club," a haven on the leftist campus, complete with outings to a shooting range. "We even pay for the ammunition," he told them.
Rowlands and Danzek illustrate college Republicans' diversity and sharp disagreement over how to expand the campus conservative movement. Some clubs have decided against inviting Yiannopoulos, for instance, calling him a divisive rabble-rouser.
Danzek heads a slate called Thrive, which is seen as more moderate on social issues and better connected to the party establishment. She led the state organization, which supports about 70 campus chapters, over the last year.
Raised in Simi Valley with politically diverse friends, she aims to welcome all Republicans, along with independents and Democrats. She wants to connect students who hope to make a difference to jobs, internships, and helpful people.
She hopes to lead the state organization with Nick Steinwender, a junior at California Lutheran University, who is running as her co-chair and was elected student body president by reaching out across political lines. They believe in traditional roll-up-your-sleeves politics, and say they led College Republicans to reach more than 250,000 voters through phone banking and door knocking in the 2016 election cycle.
"I'm into welcoming more into the Republican Party, not giving them a reason to vote against us," Danzek said of their approach. "At the end of the day, if I can't convince you to be Republican, I can at least convince you not to hate me because I'm Republican."
She said Rowlands' in-your-face style isn't for everyone.
"There's always a fear of being associated with something that could hurt your career or your character to the public," Danzek said. "And many fear that…aligning with the most outrageous of the right side of the political spectrum might negatively impact them."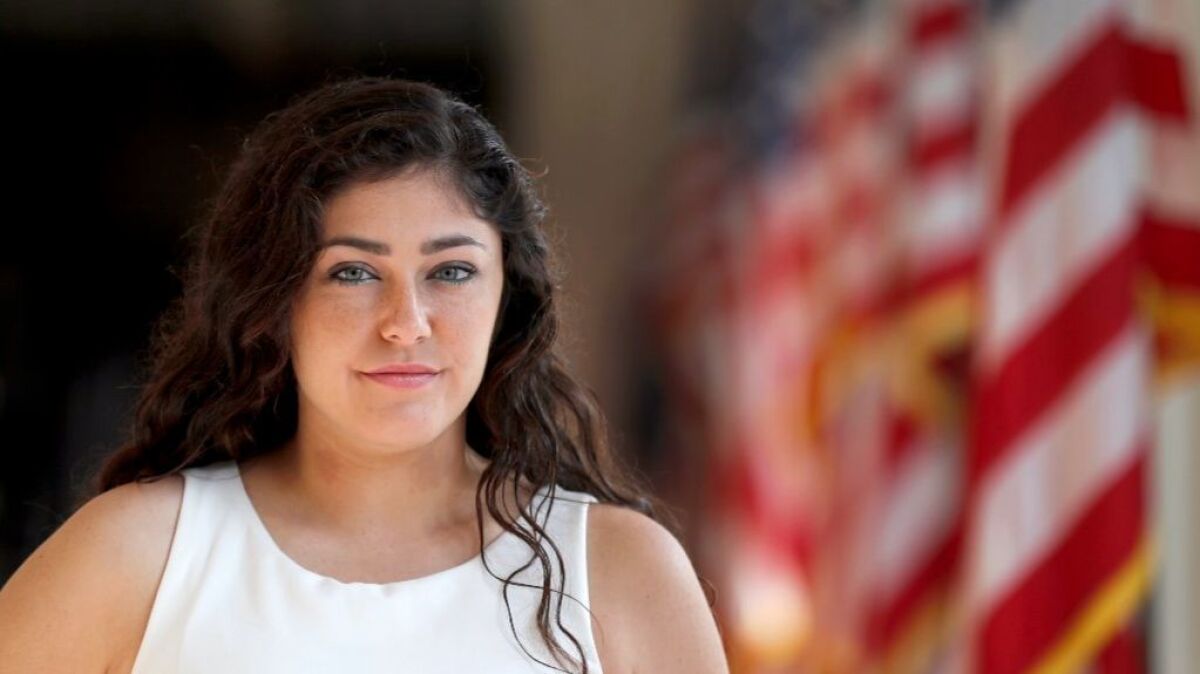 Rowlands' Rebuild is more socially conservative than Thrive, which it casts as a cautious defender of a status quo that has failed to grow campus Republicans.
Rowlands said she decided to launch the insurgent slate after being told by a former CCR officer to work with college administrators, not defy them. She had just fought UC Irvine administrators when they tried to restrict her club after a Yiannopoulos appearance.
"The establishment doesn't want to ruffle feathers," she said. "We want to make a difference."
Rowlands' parents are immigrants from Wales and Mexico. She opposes relief for young people brought to the country illegally and abortion, and said she's fine with being "definitely the most hated person" on campus.
"The college administrators, the social justice warriors, they doubled down on their beliefs and they're taking out their anger for Trump on us," she said. "We're fighting and we're not going to give up."
At Rebuild's recent leadership retreat, workshops included how to fight back against college administrators. The group's style is "responsible but loud activism with a clear message," Rowlands said.
On her slate are students good at headline-grabbing actions.
Noah Ritter co-founded College Republican chapters at Cal State Fullerton, his current school, and at Orange Coast College, where he organized a protest after news broke last year about an instructor caught on videotape telling a class that Trump's election was an "act of terrorism." He organized dozens of students to help force a recall election for state Sen. Josh Newman, D-Fullerton.
He calls the Rebuild slate "real activists who want to step up to the plate," as opposed to the usual "people who have networked their way and are friends with the current slate, then the year after that, they'll give it to their friends."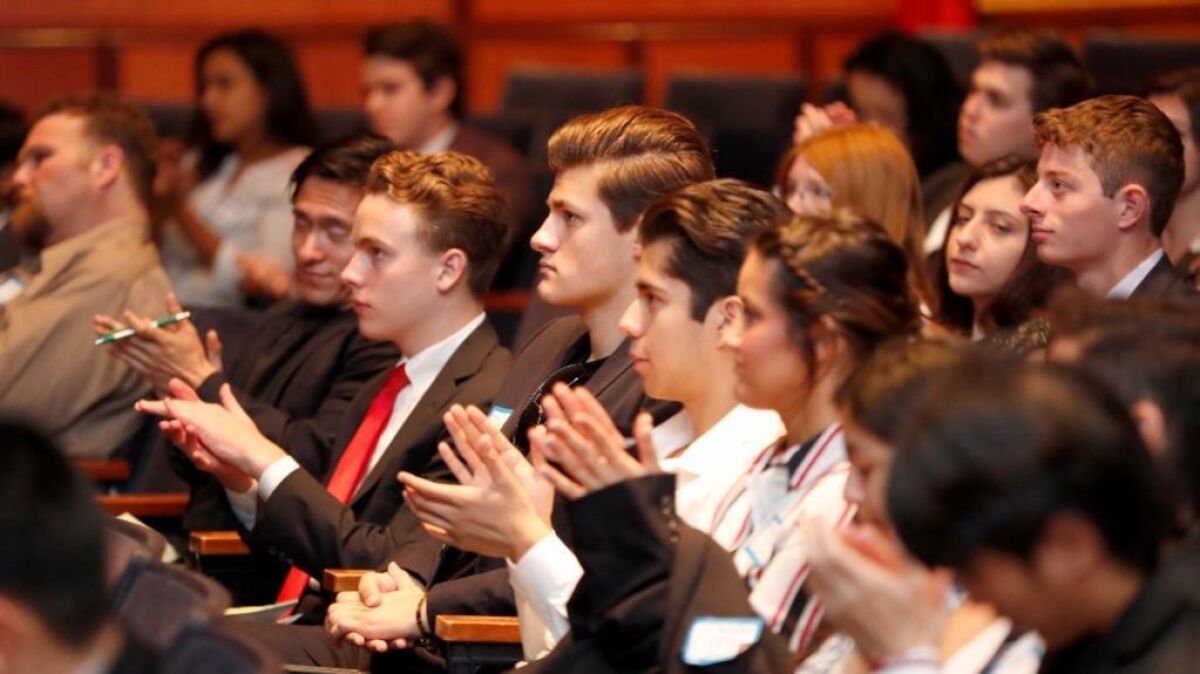 Relations between the two slates are tense. Rebuild has accused Thrive of using its connections with the state executive board to shut down voting at the CCR convention in April, when it looked like Rowlands would win. The election was postponed to Saturday.
Danzek says the state executive board was merely enforcing clear procedural rules.
Amy Binder, a UC San Diego sociology professor and the author of "Becoming Right: How Campuses Shape Young Conservatives," said national politics are forcing students to choose sides.
"No one is more provocative than Trump himself," she said, "and now students are in this position of having to choose whether to do what the president does, or having to make decisions to not be like the president."
The battle has caught many students in the middle. The UCLA, UCSD and University of La Verne chapters, for instance, have declined to endorse either slate.
Jonathan Rios, a GOP club leader at La Verne, voiced concerns about how a more provocative CCR would affect his kind of small, close-knit school, where conservatives enjoy good relationships with administrators and liberal classmates.
"I don't like where it's going," Rios said. "I think it's going to lead to a very one-sided organization that's going to exclude a lot of similar-minded students, perhaps like myself."
And Bradley Devlin, secretary of the Berkeley chapter, who recently pushed to impeach Worden as president to get away from pro-Trump "tribalism," said he plans to run for the job to bring the club back to "constitutional conservatism."
Some former College Republicans announced plans to start the Berkeley Conservative Society aimed at inclusive, "civilized" discourse.
Students across the state said they were disappointed by the infighting. Conservatives, some said, share common feelings of rejection by peers and pressure to mask their views from liberal professors.
"At the end of the day, you're a Republican," said Sara Garcia, a UC San Diego sophomore and GOP club officer. "We all have the same end goal: we want to show that we have a voice on campus. And we can't be doing that if we're arguing amongst ourselves."
teresa.watanabe@latimes.com | Twitter: @teresawatanabe
rosanna.xia@latimes.com | Twitter: @rosannaxia
ALSO
White nationalist Richard Spencer to noisy Florida protesters: You didn't shut me down
Milo Yiannopoulos confronted by dozens of counter-protesters during brief appearance on UC Berkeley campus
Steve Bannon's speech to the California GOP tonight has some Republicans nervous
The stories shaping California
Get up to speed with our Essential California newsletter, sent six days a week.
You may occasionally receive promotional content from the Los Angeles Times.