D.A. examining past criminal cases involving L.A. sheriff's deputies on a secret list of problem officers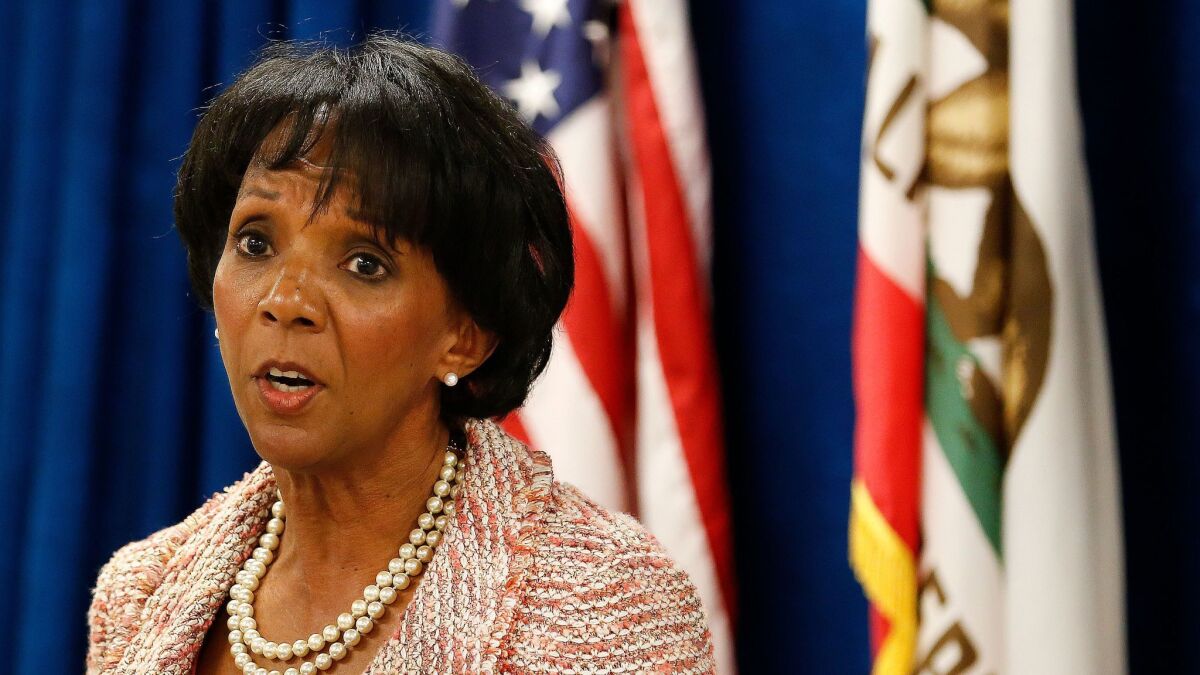 The Los Angeles County district attorney's office has launched a comprehensive review of past criminal cases featuring deputies placed on a secret Sheriff's Department list of officers whose histories of misconduct could undermine their credibility in court.
Dist. Atty. Jackie Lacey said she ordered the examination in response to a Times investigation last month that identified 24 deputies on an older version of the confidential list, including many who were disciplined or convicted of crimes.
Prosecutors, she said, are combing through cases in which those deputies might have testified and are trying to determine whether defendants should have been notified about the misconduct.
The deputies have been identified as potential witnesses in more than 4,400 felony criminal cases since 2000, according to a Times analysis of district attorney records, though it is unclear how often they testified or how significant a role they played in those cases.
Lacey said she could not recall a similarly large undertaking by her office since the Rampart scandal of the late 1990s, when accusations of perjury, evidence-tampering and other serious misconduct against dozens of LAPD officers led prosecutors to undo the convictions of more than 100 defendants.
"These are things prosecutors need to know to make sure that justice is done," she said of the deputy misconduct detailed by The Times. "As far as I'm concerned, it's part of our … obligation to look into those cases in which the officers testified in the past and review those cases."
The newspaper's investigation provided the public — and prosecutors — with the first glimpse of who had been placed on the Sheriff's Department list.
The union that represents rank-and-file deputies went to court to block Sheriff Jim McDonnell from giving the deputies' names to prosecutors, who are required by law to tell criminal defendants about evidence that would damage the credibility of an officer called as a witness. Last year, an appellate court ruled that the list of about 300 deputies must remain secret, citing California's strict laws protecting the confidentiality of police discipline.
But Times reporters reviewed a 2014 version of the roster that included 277 deputies, and scoured court and law enforcement records for details of how deputies landed on it. A Times analysis showed that the deputies were potential witnesses in more than 62,000 felony cases since 2000. It's unclear how many names have since been removed or added or whether deputies on the 2014 list are included in the current version.
The newspaper published the names of deputies who had been convicted of crimes, found by sheriff's investigators to have committed misconduct or been flagged by prosecutors for behavior that raised serious concerns about their conduct.
Law enforcement and court records show:
One deputy poured taco sauce on an inmate's shirt to fabricate blood from a jail brawl. Another pepper-sprayed an elderly man in the face and then wrote a false report to justify arresting him. A third tipped off a suspected drug dealer's girlfriend that the dealer was being watched by police.
Lacey said while "all of it was bad," she was particularly alarmed by a case from 2000 in which a deputy pulled over a woman and received oral sex from her in his patrol car.
County and law enforcement documents reviewed by The Times show that the woman later told authorities that Deputy Scott Maus didn't use force or threaten her but that she didn't consent and felt intimidated by an armed deputy in uniform, according to county records. Prosecutors at the time concluded there was insufficient evidence to prove Maus acted against the woman's will.
Most of the deputies are still on the force.
California is among 22 states that keep officer discipline from the public, but it is the only one that blocks prosecutors from seeing entire police personnel files.
The review by prosecutors could result in convictions being overturned, said Laurie Levenson, a former federal prosecutor who now is a professor at Loyola Law School in Los Angeles.
"If you envision a case in which the key witness was the officer, and it comes out that he lied in past instances, that could undo all sorts of convictions," she said.
Lacey, whose office is supposed to keep track of officers with credibility problems in case they testify, said she and her prosecutors learned for the first time about some of the deputies by reading the Times report.
"I was surprised but also appreciative of the journalism because we do need to know all of the issues relating to the officers featured in the article," Lacey said.
A district attorney's spokeswoman said the agency is reviewing cases in which deputies testified after committing misconduct.
The office is adding the deputies' names to an internal watchlist of officers with potential credibility issues so that prosecutors can notify defendants in future cases if the deputies are called to testify. The agency is also sending letters to defendants from prior cases in which some of the deputies testified, Lacey said.
Still, a defendant who has already been convicted could have a hard time proving that new revelations of an officer's misconduct would have changed the outcome of his or her case, said Suzanne Luban, a lecturer in law at Stanford Law School.
Luban said that convicted defendants have a high legal burden in proving that any new evidence of misconduct by a police witness would have made a difference in the outcome of their original case.
Leaders of the Assn. for Los Angeles Deputy Sheriffs, the union that sued the sheriff, declined to comment, citing a pending Supreme Court case. But the president of another guild representing deputies highlighted the confidential nature of the information and cautioned against using it as the sole metric of an officer's career.
"Many of these misconduct cases are from many years ago and these employees were punished at that time," said Lt. Brian Moriguchi, president of the Professional Peace Officers Assn. "What about their conduct since then? What about their records for saving lives?"
The so-called Brady list is named for Brady vs. Maryland, a landmark 1963 Supreme Court decision that requires prosecutors to alert defendants to favorable evidence, including information that could undermine the credibility of government witnesses.
McDonnell said his effort to give the deputy names to prosecutors is part of his attempt to reform the Sheriff's Department, which was upended by a jail abuse scandal that resulted in the criminal conviction of more than 20 agency officials, including former Sheriff Lee Baca.
For more news about the sheriff's Brady list, follow us on Twitter: @mayalau, @bposton and @corinaknoll.
---
UPDATES:
3:30 p.m.: This article was updated to add a statement released by the president of the Professional Peace Officers Assn.
This article was originally published at 6:30 a.m.
---
The stories shaping California
Get up to speed with our Essential California newsletter, sent six days a week.
You may occasionally receive promotional content from the Los Angeles Times.