Despite new construction in Pacoima, the question remains: How much will L.A. Unified spend on charter schools?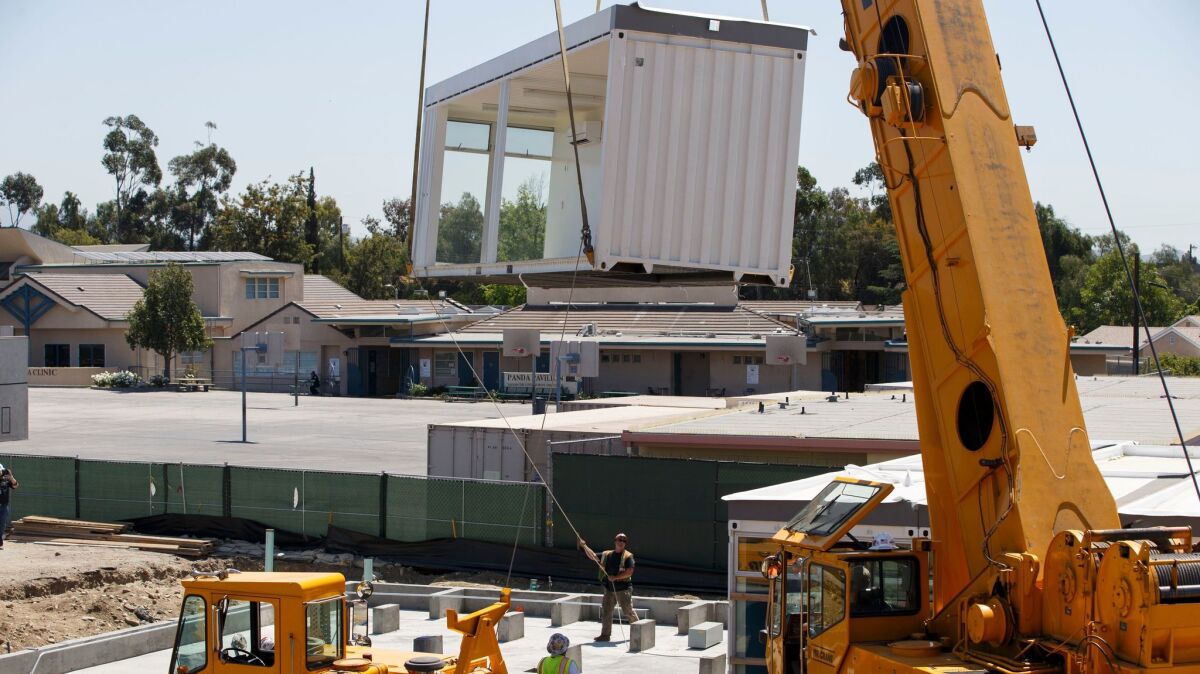 New classrooms under construction at a charter school in Pacoima mark a moment of truce — even mutual respect — in a hot and cold war between charters and the Los Angeles Unified School District.
On Friday, people gathered to celebrate the innovative project at Vaughn Next Century Learning Center, which will replace 40-year-old portable classrooms with buildings made from shipping containers. L.A. Unified is paying for half of it.
But the battle continues over how much money the district will spend on charter-school construction projects in the future. Just last week, L.A. Unified won a court case focused on that issue — and it could have enormous consequences.
The school district won the right to spend $200 million less on charter-school construction than it originally had pledged to do.
The 50-50 arrangement at Vaughn was negotiated by Yvonne Chan, who worked at the district for 17 years and was Vaughn's principal in 1993 when the school became an independent charter.
Semi-retired, she now answers to "chief visionary officer," but she's been a real estate wheeler dealer all along.
Over a span of more than 25 years, she started with an overcrowded elementary school campus and built four additional campuses to serve neighborhood students from preschool through high school. In the process, enrollment in the charter schools nearly tripled.
"She doesn't do it by bullying, but with persistence and by developing the right partnerships," said Mark Hovatter, head of facilities for L.A. Unified.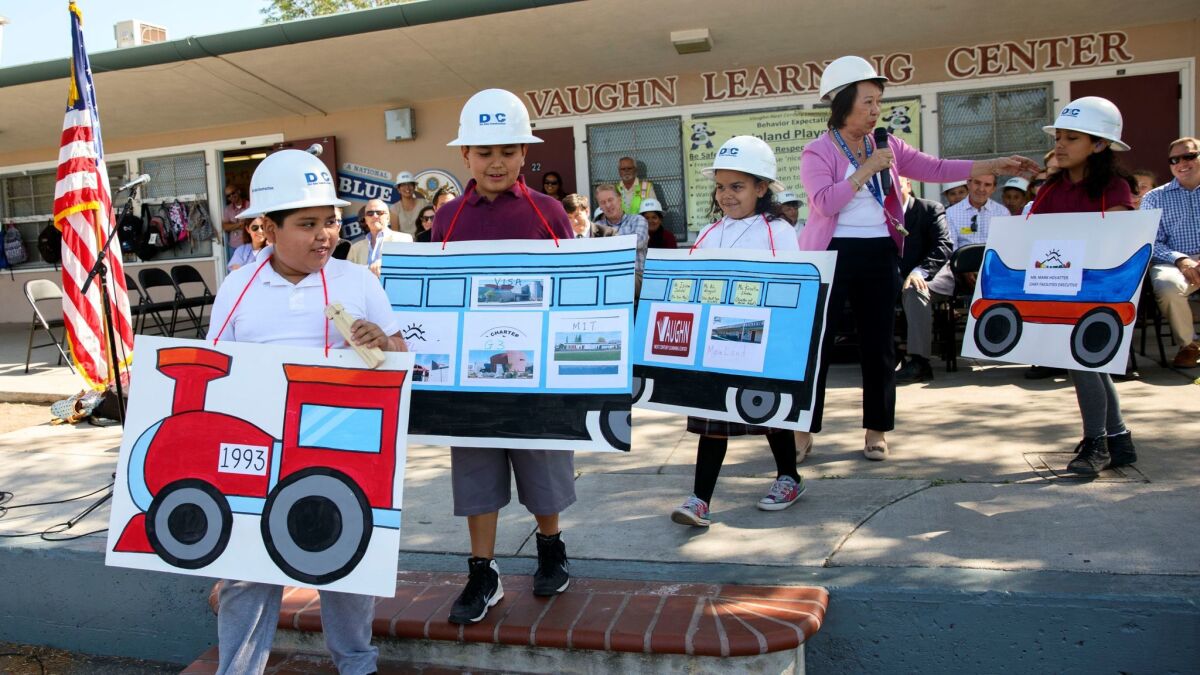 The latest project will result in 14 1,600-square-foot pods, each about 67% larger than a standard classroom.
"These are permanent classrooms that look and feel like a classroom and it's a low-maintenance classroom," Hovatter said.
Chan plans to put two teachers in many of them.
"Encourage teacher teaming. No one should teach alone, especially newbies," she said, listing ideas in her sometimes elliptical style that has become something of a trademark. "Better serve English learner students and students with disabilities in team and flexible grouping environments."
"We have many male teachers," she added. And having more than one adult in a classroom is a way "to avoid potential allegation" of sexual misconduct.
The $11.5 million construction project, already under way, is supposed to take six months from beginning to end, at much less than half the cost of traditional classroom construction.
Hovatter said the school district hopes to learn from the venture.
"It can take four or five years to build a classroom from the time that we identify the need," Hovatter said. "If we want to start a new program, it's because the need exists today. We don't want to tell someone to come back in five years."
Setting up opportunities to experiment and to learn from was a central goal when California lawmakers authorized the first charters in 1992.
Since then, a cadre of philanthropists and powerful foundations have made the rapid growth of charters, most of them non-union, their central strategy for improving the nation's education system. Union leaders and other critics are just as committed to slowing down the growth of these privately operated public schools. They characterize charters as part of an unhealthy effort to make schools too much like corporations and turn education into a profit center.
L.A. Unified has more charters than any other school system, enrolling about 16% of district students.
For all the muscle behind them though, charters often struggle to find classroom space, partly because they lack some of the funding sources and the legal authority over land use available to traditional school systems.
So it was a big deal for charters in 2008 when L.A. Unified officials pledged $450 million for charters in a $7 billion bond measure. Charter leaders then threw their support behind Measure Q. That support was helpful, but what probably mattered most was the large liberal turnout that came out to elect Barack Obama as president.
Fast-forward several years: District officials realized that the Measure Q money wasn't nearly enough to meet their needs, and they decided to set aside less for charters. One factor was the unanticipated legal pressure they were under to make their own buildings more accessible to the disabled.
The California Charter Schools Assn. sued in January 2016, saying charter schools were due the money promised.
But on Tuesday, L.A. Superior Court Judge Mary Strobel dismissed the suit, saying that the formal language of the bond measure included no guarantees for charter schools, despite any unofficial public indications to the contrary.
"We're very disappointed in the ruling," said Ricardo Soto, general counsel for the California Charter Schools Assn. The district's actions "undermine any trust the charter school community can have in commitments from the district for bond funding."
District officials counter that since 2002, L.A. Unified has allocated $380 million for charter school construction from various bond measures. About $180 million of that has been committed to specific projects, many of them completed.
The district also is obligated, under state law, to share existing classroom space with charters. It has done so, but not without disputes. The litigation on this front goes back seven years, and the issues are still unresolved.
ALSO
L.A. school board targets McTeacher's Nights, but not all fast-food fundraisers
L.A. Unified narrowly backs state bills for new controls over charter schools
California audit clears L.A.'s largest charter school network of misspending
---
The stories shaping California
Get up to speed with our Essential California newsletter, sent six days a week.
You may occasionally receive promotional content from the Los Angeles Times.