For L.A. students, Kavanaugh hearing goes beyond the usual civics lessons
The students in Brandon Cabezas' Advanced Placement government and U.S. history classes have been studying the Supreme Court. They've learned about checks and balances, looked at Supreme Court nominee Brett Kavanaugh's judicial record and talked about the high court's shifting ideological lines.
But class got much more personal for them recently when Christine Blasey Ford accused Kavanaugh of sexuallly assaulting her decades ago, when they both were teens.
"Culture was a lot different then," said senior Charlie Delgado of the early 1980s, when the alleged incident occurred. "They could get away with it and nothing would happen," he said of sexual assault.
Not so now, he said — bringing up a 2017 incident in which one student accused another of rape and "it was one of the biggest deals in our school."
On the day after the Senate Judiciary Committee hearing at which Ford made her allegations and Kavanaugh vehemently denied them, Charlie was one of the 20 students at Cortines School of Visual and Performing Arts that Cabezas had invited to an extracurricular discussion during his conference period. They huddled together in a tight group in the middle of his sunny classroom and needed little prompting to talk about the story they'd watched unfold on live TV, gone home to study in replays and kept track of on their cellphones.
Paolina Acuna-Gonzalez, a 12th-grader, was struck by a difference in the demeanor of Ford and Kavanaugh.
Ford, said Paolina, "showed a lot of respect. She tried to answer the questions as thoroughly as possible... Kavanaugh showed a lack of respect and maturity, especially to the Democratic senators, which concerned me."
What did this say, she said, about the judicial temperament that Kavanaugh would need on the Supreme Court?
Cortines is an arts-focused school downtown in liberal-leaning Los Angeles. There wasn't a lot of sympathy for Kavanaugh in this classroom with an image of the Declaration of Independence on the wall.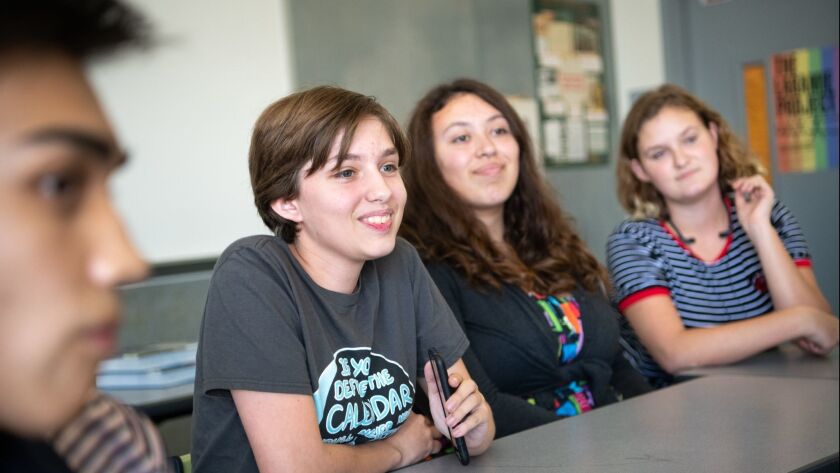 "I am inclined to believe Dr. Ford," said Lucia Venegas, a junior, "because I am inclined to believe the victim of the assault." Kavanaugh, she said, "tends to answer questions like a politician" and "doesn't paint himself very well. … It starts looking like he has something to hide."
Senior Delilah La Pietra said she had tried to keep an open mind as she watched the testimony — and felt some sympathy for Kavanaugh.
"I saw a lot of my dad in him: a family man, an older white male. I thought his opening statement was very strong."
She said she tried to imagine what it would be like if someone falsely accused her father.
"Taking the politics away from him, I saw a dad and a husband," she said. "But he completely lost me when he started answering questions. … He stuttered. He faltered. He was dancing around a lot of things he could have answered straight up."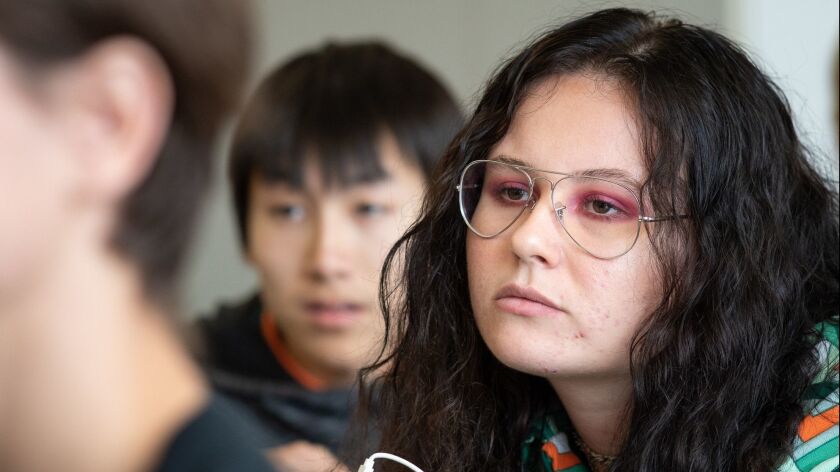 One wall of the classroom has posters explaining such concepts as close reading and contextualization. Cabezas pointed to one that described corroboration and asked students to apply what they'd learned about it.
That led many of them to proclaim their support for an FBI investigation.
If you are being framed, "why would you not want the FBI involved?" said 11th-grader Treyton Littlejohn, referring to Kavanaugh's angry words suggesting he had been set up. "That to me kind of just says it all."
Only Nailah Braziel, a junior, came forward to say that initially she would have voted to confirm Kavanaugh: "He is highly qualified for this position."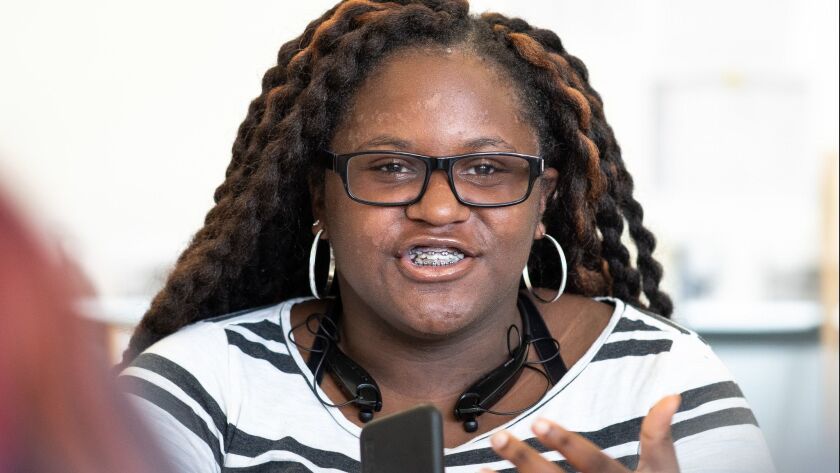 The spectacle of the hearing, however, raised doubts for her about his character, she said.
Some students said that both Democrats and Republicans played a sometimes unsavory, partisan role.
"I feel like the Democrats are using this woman's trauma to push their agenda," said Atzel Martinez, a senior. "It's not fair. They're not treating her as a person. They're treating her as a tool."
William Ortiz didn't know whom to believe or to trust, but said Kavanaugh's attack on Democrats just made him "sound crazy."
"It kind of sucks that everything's political," he said.
A central element of Ford's story and Kavanaugh's denial is the difficulty of uncovering incontrovertible evidence after so many years have passed.
That's unlikely to be a problem in the future.
Teenagers today document "every party we go to," said senior Kortney Nash.
---
The stories shaping California
Get up to speed with our Essential California newsletter, sent six days a week.
You may occasionally receive promotional content from the Los Angeles Times.