New L.A. schools chief Beutner pledges to listen, learn and take action
Superintendent of the Los Angeles Unified School District Austin Beutner gives press conference at Belmont High School.
New Los Angeles schools Supt. Austin Beutner proved Wednesday that he's a quick learner even without an education background. Like countless public officials before him, he appeared at an important event — his first speech and news conference — with a photogenic background of students.
His message — that he would put those students first — seemed heartfelt if hardly original. Nor was it a huge surprise that he pledged to push cooperatively but unflinchingly to improve the district's academic performance and stabilize its finances.
As an introduction, Beutner, a former investment banker who made a fortune on Wall Street, offered little flash, but that was partly the point.
"I'm about deeds not words," he said when asked about his next steps. The way he said it was low key, more vow than boast.
"To state the obvious, I'm an unconventional choice, unconventional by lots of measures," Beutner, a former deputy mayor and L.A. Times publisher, said in prepared remarks at Belmont High School. "But the district is at a crossroads. We face some tough issues. But I believe we can move forward together and address these issues to unlock the enormous potential the district holds."
His remarks Wednesday were about setting the right tone: reminding his supporters that he was tough enough and smart enough to do the job well — and suggesting to skeptics that he could work fairly and productively with everyone.
Leaders of the teachers union express deep skepticism. They associate Beutner with charter schools, which are part of the public system but privately operated and mostly non-union. Charters compete with L.A. Unified for students, and Beutner has been a board member of, and donor to, charter organizations.
"I think he will treat the school district as a business, which is his background, and education is not a business unless you're trying to privatize it," said Arlene Inouye, secretary of United Teachers Los Angeles.
The current school board majority was elected with major financial support from charter-school advocates, who also pushed for Beutner as superintendent, though he has said little publicly about charters.
"He's also going to push the idea," Inouye said, "that the school district is broke — no raise for employees — and that we've got to cut resources from school."
Beutner did speak about the financial problems, though on his first day out he offered no specific remedies.
"Hard choices are just that: hard," he said. "But our school board is capable of making hard choices. It was not easy to choose me, and now we have more hard choices to look at."
The district has a healthy reserve this year, but the worry is what could happen several years out — with rising costs locked in and future revenue not likely to keep pace, barring increased state funding.
The Board of Education selected Beutner by a 5-2 vote Tuesday, passing over interim Supt. Vivian Ekchian, who has spent her career in the L.A. Unified School District, rising from teacher to senior management.
Beutner, 58, said there are core skills that translate from his mostly business resume, including building a team, being open to learning, becoming informed by data and holding himself and others accountable.
The new schools chief will harness such skills for students, said Robert K. Ross, head of the nonprofit California Endowment, who also spoke at Belmont.
"He is a truth seeker and truth teller," Ross said.
"Part of what I need to do is recognize I can learn, and I will learn," the new superintendent said during a brief question-and-answer session. "And I have to surround myself with people who know how this district works and know more about what happens in the classroom than I do."
At Belmont, Beutner also talked briefly about his life — growing up attending public schools, working as a young man in low-wage jobs, having a teacher for a mother. Making it big in high finance but then turning to public service after he broke his neck in a near-fatal mountain biking accident.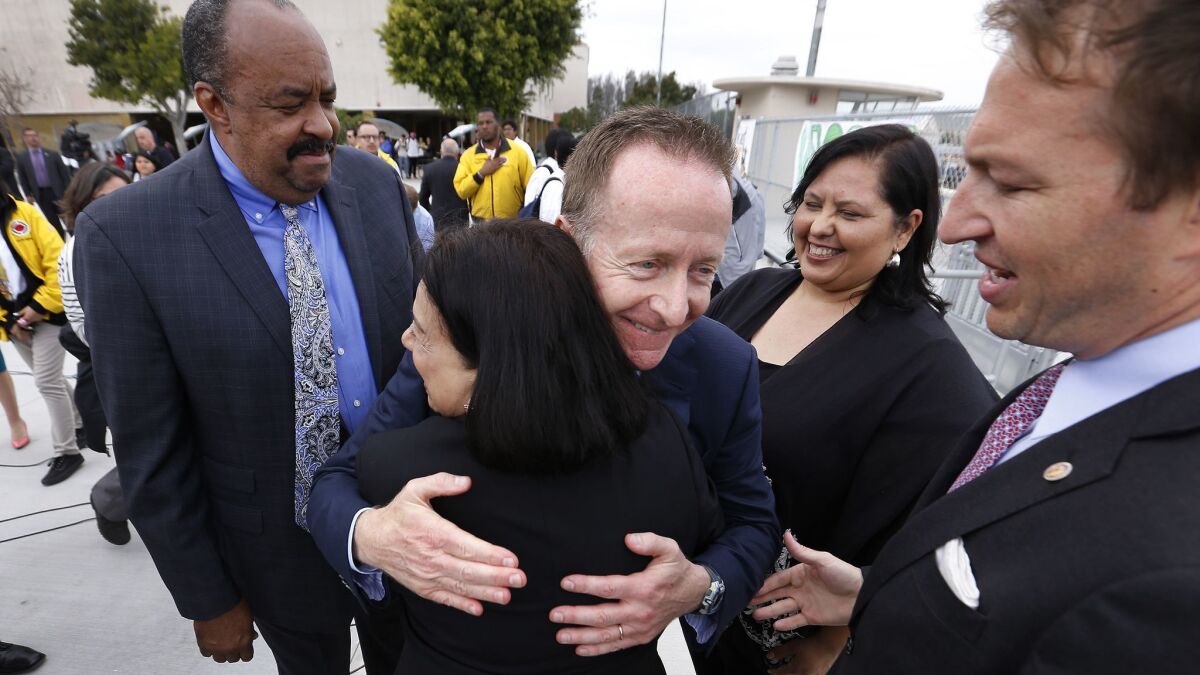 The board selected Beutner through a confidential search process that began after then-Supt. Michelle King announced her retirement for health reasons in January. The two board members who voted against Beutner asserted after the vote that the search was a sham, set up from the beginning to deliver the job to Beutner.
At Belmont, board President Monica Garcia said Beutner was the right pick if "we believe we can do better than right now."
Beutner said he would work with his critics, including doubting teachers.
"Each of us start this in the same place, which is: It's about the kids. And I think we can find common ground," he said. "The magic happens in the classroom. It's my job to support [teachers]. It's my job to make sure they have the resources and the training they need to do their job, which is inspire and educate the kids."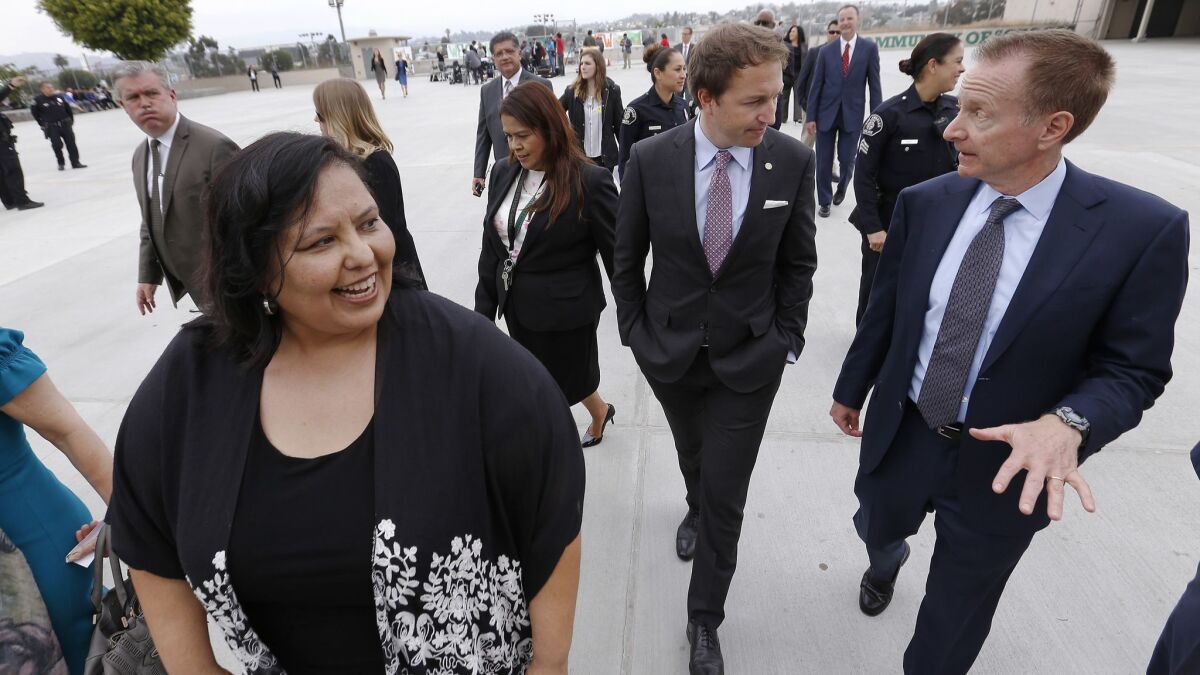 ---
UPDATES:
7:00 p.m.: This article was updated with additional details from Beutner's appearance and additional reaction to his appointment.
This article was originally published at 2:55 p.m.
---
The stories shaping California
Get up to speed with our Essential California newsletter, sent six days a week.
You may occasionally receive promotional content from the Los Angeles Times.