Must Reads: This Boyle Heights teacher is the face of the L.A. teachers' strike
The story behind Roxana Dueñas poster.
Roxana Dueñas is the face of the Los Angeles teachers' strike. Her image is plastered on billboards, classroom walls and the United Teachers Los Angeles website. It graced a full-page advertisement published earlier this month in the Los Angeles Times, which sometimes shows up on the paper's website.
The history and ethnic studies teacher is pictured head-on, her face framed by large glasses, her dark hair parted to one side. She looks confident, determined. She tells people to "Stand with L.A. teachers."
The poster of Dueñas, 34, who teaches at the Math, Science, and Technology Magnet Academy at Roosevelt High School in Boyle Heights, is one of several commissioned by UTLA and done by local artists last month. With the strike entering its fourth day, Dueñas has embraced her role as one of its most visible symbols, while she joins her colleagues on the picket line.
"When you see it you think, 'Wow, this is important work,'" she said of the poster. "A lot of teachers' work is done behind closed doors — it's not a public performance. It feels nice to be seen."
The poster was crafted by Ernesto Yerena, who also lives in Boyle Heights and was one of the artists involved in the "We the people" protest art campaign in January 2017 ahead of President Trump's inauguration. That campaign was led by artist Shepard Fairey, who designed Barack Obama's iconic red, white and blue "Hope" poster, and variations featuring Latina, Muslim and African American women.
Yerena remembered how effective Fairey's portraits were and decided his UTLA poster would be a nod to "We the people." He and Dueñas have mutual friends and share similar values. He had spoken to her students on a couple of occasions in recent years.
Dueñas spent less than an hour in Yerena's studio, posing for portrait photos, some with a raised fist. He let her choose the winning photo and submitted the final work to UTLA for approval a couple days later.
"I know how damaging education can be for young brown kids if it's not used to empower us," he said. "Roxana is one of those teachers that teaches kids to become critical thinkers."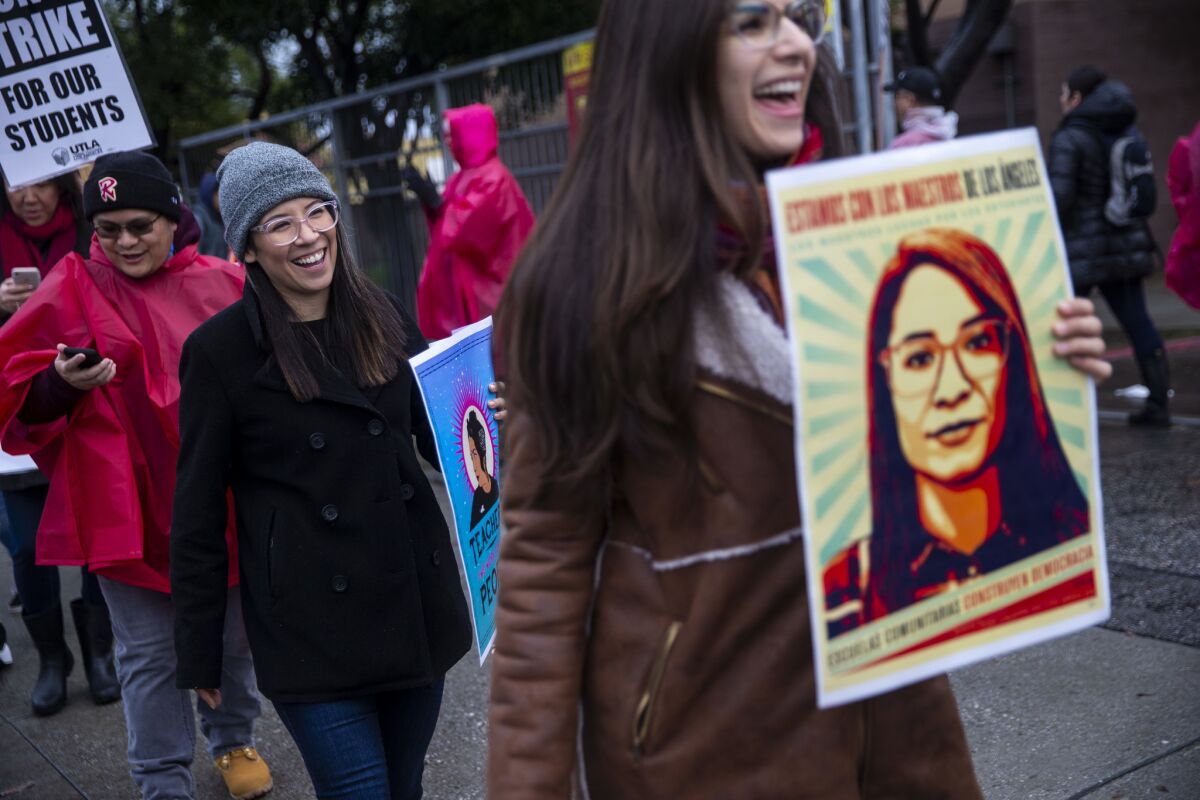 Dueñas has taught for 11 years, nine at Roosevelt, though this is her first year teaching at the magnet school. She grew up in the neighborhood, the daughter of a cook and a stay-at-home mom who immigrated from Mexico, and attended the rival high school, Garfield. Her sister and cousins attend the magnet school where she now teaches.
In women's studies and Chicano studies courses at UC Santa Barbara, Dueñas learned for the first time that her otherwise positive high school experience had been devoid of learning about her own culture and history. She was surprised to discover, years after graduating, that her high school had participated in the 1968 walkouts by East L.A. Chicano students protesting unequal treatment.
After receiving her master's in education from UCLA, Dueñas decided to go back to her community to make sure students learned that history. She and two other teachers created the ethnic studies curriculum in 2014 at Roosevelt, originally called "Boyle Heights and Me," that became a required year-long class for ninth-graders.
Roosevelt principal Ben Gertner said Dueñas builds strong relationships with her students and develops a challenging and engaging curriculum such as Socratic seminars, in which the students role-play historical figures.
"It's so important for the students to see themselves in their teachers, to have someone who they can relate to, who has been so successful and has high expectations of them," he said. "She's not just someone who clocks in — she really gets to know her students and pushes them."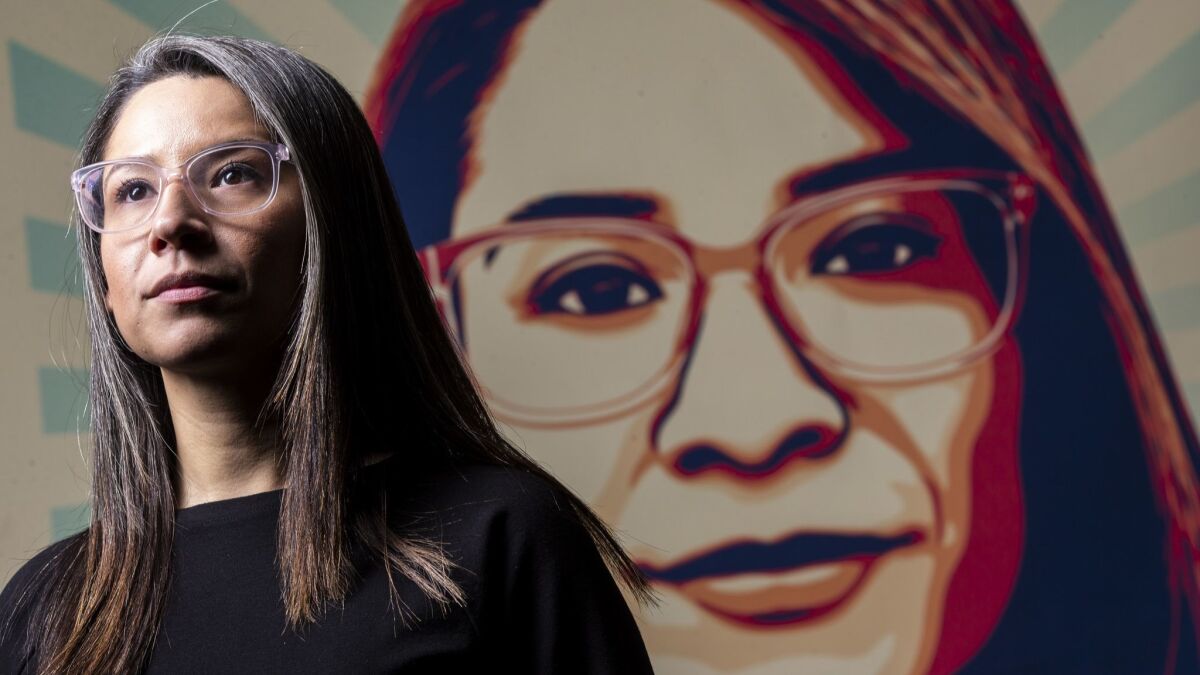 Yerena said he wanted to highlight a teacher of color because of the nationwide ethnic disparity between students and teachers. He recalled his own youth in the Imperial Valley, where most students were Latino and most teachers were white.
According to the Urban Institute, nearly half of U.S. students in 2015 were not white, while less than a quarter of teachers were people of color. At LAUSD, less than 11% of students are white and 66% of teachers are people of color.
Pedro Noguera, an education professor and founder of the Center for the Transformation of Schools at UCLA, called it a strategic move for the teachers union to use a Latina as the face of the strike. He said the image illustrates the fact that most teachers are women and connects to broader issues of social justice. UTLA did not respond to requests for comment for this story.
"It's a pointed reminder of who is being served, who is on strike and what's at stake for the city," Noguera said.
After the UTLA posters were released in mid-December, Dueñas started seeing her own face in the halls of her school and in colleagues' classrooms. Last week in her history class, a student came up to her, held up her phone and smiled. The poster was her lock-screen image.
The student, 16-year-old junior Kenia Ruiz, said her class had been studying the strike that day after previously learning about the history of unions and labor movements. Dueñas asked her students to read news articles about the LAUSD strike and write about the issues behind it and who they are affecting.
"I'm so proud of what she's done already," Kenia said. "We all know how passionate she is about history and how she teaches it."
Kenia has stayed home during the strike, choosing not to cross the picket line and doing the homework some teachers assigned. But she didn't always support the strike, thinking teachers were doing it just to get a raise. Then Dueñas told her that teachers are also fighting for things like smaller class sizes, and more counselors and nurses.
"It opened my eyes and made me realize she's right," Kenia said. "I've seen a lot of classes that have more than 40 students."
Dueñas said that despite the confusion surrounding the strike, she hopes her students understand that she and her colleagues are making a sacrifice for the collective good.
"This is an opportunity to really demonstrate to our students that it's not just reading about it in history books," she said. "We're fighting for our rights and for their rights."
andrea.castillo@latimes.com | Twitter: @andreamcastillo
---
The stories shaping California
Get up to speed with our Essential California newsletter, sent six days a week.
You may occasionally receive promotional content from the Los Angeles Times.