Elbert T. Hudson dies; civic leader, Tuskegee airman and L.A. Police Commission's first black president was 96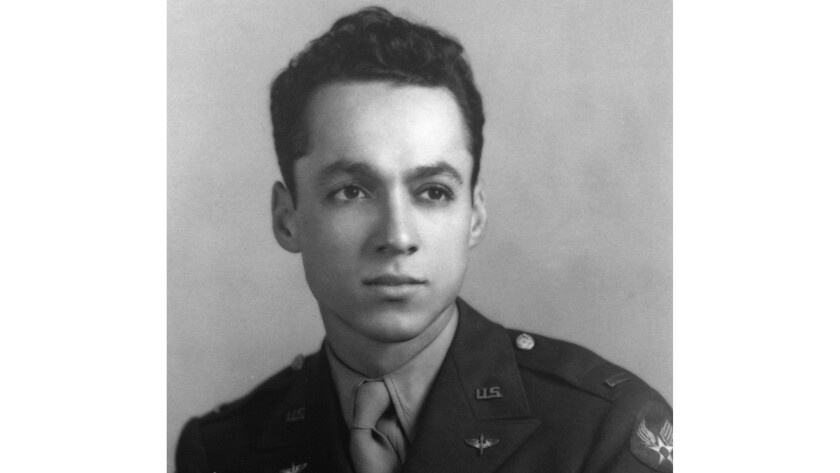 When the headquarters of the Broadway Federal Bank in South Los Angeles burned down during the 1992 L.A. riots, Elbert T. Hudson knew exactly what to do: rebuild.
He and his son Paul C. Hudson reestablished the bank, founded by Hudson's father, in a trailer across the street from the ruins of the old building.
"We weren't going to let a building get in the way of the bank's mission," Paul said.
Hudson, 96, died Aug. 8 at his Los Angeles home.
An outspoken advocate for black issues, Hudson strove to be an agent of change for his community, his daughter Karen said. During his tenure as president and CEO of one of the first black-owned banks in Los Angeles, he extended loans and job offers to black, Asian and Latino people who were discriminated against by other banks. He mentored dozens of black youth and served as the head of the Los Angeles chapter of the NAACP.
"He was firmly steeped in not only civil rights and community service, but the idea that for all your blessings you have to give something back," his daughter said.
Hudson was born in 1921 in Shreveport, La., the fourth of six children. He moved to Los Angeles when he was 3 because his father, head of the local NAACP chapter, was getting death threats. He attended the 28th Street Grammar School, John Adams Junior High and Polytechnic High. His childhood was steeped in the traditions of the civil rights movement. On Sundays, after church, he helped his father sell NAACP memberships, Karen said.
"He felt like he had a lot to live up to," Karen said.
During World War II, Hudson flew a P-51 Mustang as member of the Tuskegee Airmen, escorting bombers on 23 combat missions in the Mediterranean theater of operations. After the war, he obtained an undergraduate degree at UCLA and earned a law degree at Loyola University.
In 1963, Hudson was named to the Los Angeles Police Commission, where he became an outspoken advocate for the black community. When he was named the first black president of the panel in 1966, shortly after the Watts Riots, he did not hide his reservations about the position.
"In view of the present tensions and conflicts that exist in our city today, I am not really sure whether I should thank you for electing me to the presidency," Hudson said in his acceptance remarks.
Back then, the names ringing out at Police Commission meetings were not Ezell Ford and Brendon Glenn but Leonard Deadwyler and Jerry Lee Arnie, both shot and killed by LAPD officers during Hudson's tenure.
Hudson urged the LAPD to learn more about minority communities, and also counseled his own community against blaming police for things they had no control over. He criticized officers for not understanding "the day-to-day oppression under which black and brown people live."
He resigned his post as vice president of the commission in 1971 to take a position as head of the L.A. chapter of the NAACP. During a news conference announcing his resignation, he expressed reservations about the direction the department was taking.
"I could not serve the best interests of the Police Department while serving the best interests of my organization and my community," Hudson said.
His father, H. Claude Hudson, founded one of the first black-owned banks in L.A. in 1946, and Hudson took over the bank in 1972.
As president and CEO, Hudson focused less on profits and more on growing minority neighborhoods, his daughter said. Loans from Broadway Federal Bank helped establish Ward African Methodist Episcopal Church, the Second Baptist Church and the Lewis Metropolitan Christian Methodist Episcopal Church and several black neighborhoods in South Los Angeles.
His friends and family remember a man of humility and quiet strength who strove to be a role model for those around him. He was a highly disciplined man who woke up for a 5 a.m. walk around the neighborhood every day, maintaining the regimen well into his 80s. He took his family to the beach every Sunday, Karen said, and made pancakes for her sleepovers.
Hudson was a consummate gentleman, but never stood on ceremony, "as happy with a hot dog as a steak," Karen said. He chose his words carefully, but he was not afraid to raise his voice. He eschewed a political career and instead spent much of his time mentoring dozens of men and women and supporting the children in his neighborhood.
"He was so much to so many," Paul said. "From war hero to civil rights activist, from legal advisor to community banker, from friend to mentor. But to me, he was everything."
Memorial services have not yet been announced. Donations in lieu of flowers should be sent to the Marilyn Project at the Ebony Repertory Theatre at 4718 W. Washington Blvd., Los Angeles, CA, 90016.
Twitter: @frankshyong
---
The stories shaping California
Get up to speed with our Essential California newsletter, sent six days a week.
You may occasionally receive promotional content from the Los Angeles Times.