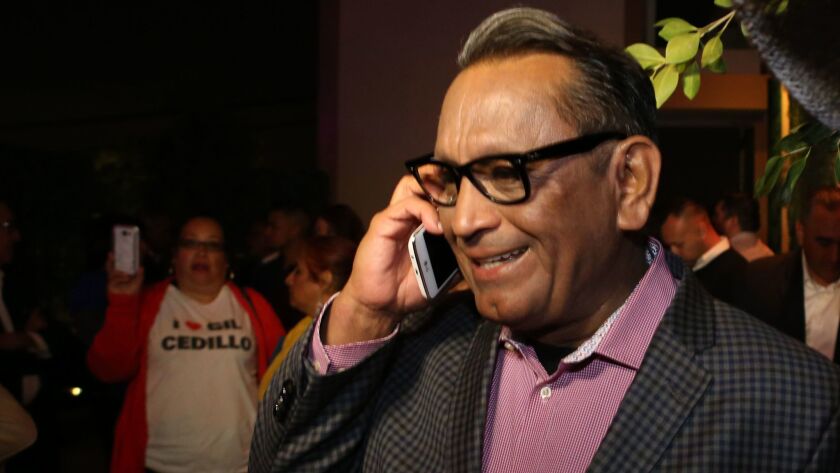 A billboard company owner is facing a $15,000 fine for violating rules that limit how much donors can give to politicians in Los Angeles.
Attorney Joseph Kouba made campaign donations to Councilmen Gil Cedillo and Jose Huizar — and also gave to officeholder committees for Councilmen Marqueece Harris-Dawson and Paul Krekorian — between 2013 and 2015.
During the same period, Kouba directed Summit Media, a billboard company in which he holds 50% ownership interest, to donate to those same candidates and officials, according to a city report.
If someone owns a company, its political contributions are tallied up along with any personal donations during each election cycle, according to city rules. The total amount given by Kouba and Summit Media exceeded the legal limits on political contributions by $2,600, city investigators found.
The attorney could have faced a maximum penalty of $20,000. Los Angeles City Ethics Commission staff recommended a somewhat lower fine, noting that Kouba had cooperated with investigators.
However, "the violations are serious and they indicate a pattern of activity," commission staff wrote. They noted that Kouba had been fined $1,000 eight years ago for putting up political ads without including a legally required disclaimer.
Kouba, who has signed an agreement to pay the fine, declined to comment Thursday. The ethics commission is scheduled to consider the proposed penalty next week.
Because it isn't always clear who owns a particular business entity, it can be difficult to tell exactly who is financially backing candidates — and whether donors are adhering to campaign finance rules.
The contributions that led to the proposed penalty for Kouba are just the latest example of a local donor exceeding restrictions by contributing money through businesses that they own or control.
Earlier this year, the ethics commission imposed a $17,000 fine on real estate investor Leeor Maciborski, who wrote checks through more than a dozen different companies to help elect Councilman Mitch O'Farrell.
The Times previously cited those donations, which came from limited liability companies, as an example of how hard it is to tell who is behind campaign contributions made by businesses. City investigators were able to determine the connections between the companies after Maciborski handed over operating agreements.
Twitter: @LATimesEmily
---