Free legal clinic assists those who want to reduce or expunge marijuana convictions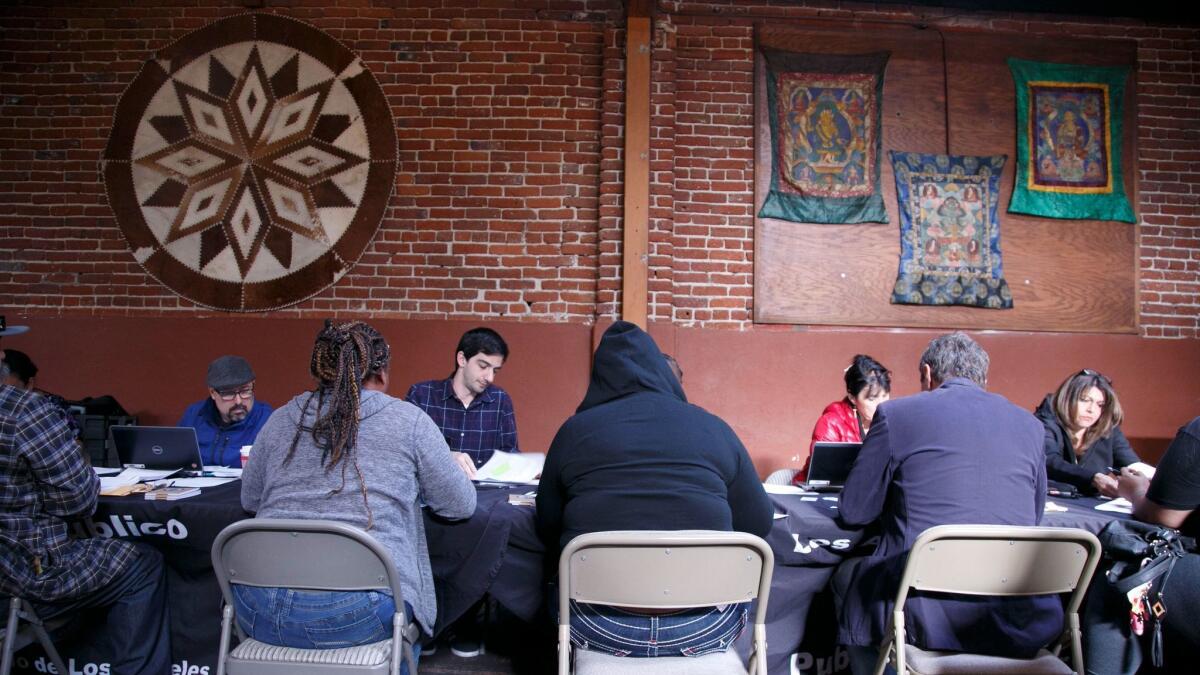 Tim Gee woke before dawn Saturday and donned a black three-piece suit with crimson tie. The Las Vegas resident then flew to Los Angeles, home to a past that still haunts him.
Hours later, he stood holding a FedEx envelope full of documents, waiting with dozens of other convicted felons seeking free legal assistance at a special clinic near downtown Los Angeles in getting their charges reduced, dismissed or expunged from their criminal records.
More than 25 years ago, Gee was arrested for possession of marijuana with intent to sell. He finished his probation and eventually moved to Las Vegas, where he now owns two soul food restaurants. Recently, though, he's been worried his record could interfere with his desire to get a liquor license and expand his business.
"It's kind of heavy," said Gee, 50. "I just don't like the feeling of someone thinking I'm different than who I really am at this point in my life."
He was one of nearly 100 people who took part in Saturday's "expungement clinic" organized by the Drug Policy Alliance, a national drug law reform group. The event comes as California prepares for marijuana legalization.
Starting Jan. 1, sales of recreational marijuana will be legal under Proposition 64, which was passed by voters in November 2016.
Most of the attention on the new law has been focused on regulations for growing and selling pot, but it also provides an avenue for people charged or convicted of marijuana-related offenses to ask that their charges be dropped, their sentences reduced or their criminal records expunged if they are no longer considered crimes under Proposition 64.
"We've been having to fight hard to let people know that it's actually one of the largest sentencing reforms in the country," said Eunisses Hernandez, a policy coordinator for the Drug Policy Alliance. "We know based on arrests that there are tens of thousands of people who have been arrested and impacted by marijuana prohibition and these are the people that need help."
The Alliance estimates that only about 4,500 people statewide have so far applied to have their records reclassified under Proposition 64. Hernandez said they expect that number to grow as word gets out.
The Drug Policy Alliance has already hosted around two dozen expungement clinics this year, assisting about 1,200 people with post-conviction services. Legal help was provided Saturday by attorneys, paralegals and clerks from the L.A. County Public Defender's Office and the Legal Aid Foundation of Los Angeles.
Saturday's event, held at the Amity Foundation on Grand Avenue just south of downtown, was the last of the year. Another will be held at the same location Jan. 6. Registration and information are available online.
"The expungement clinics provide folks a second chance," Hernandez said. "They offer people an opportunity to take those scarlet letters off their criminal records that they carry with them."
Kedrick Pickett, 45, hopes Saturday's event will allow him to do just that.
A truck driver the past 18 years, Pickett said he has always been upfront on job applications about his rap sheet, which includes a burglary charge and a possession of marijuana charge from 2000. He's managed to stay employed, but always suspected his criminal record has prevented him from moving on to better, higher-paying jobs.
"A lot of companies just go by the paperwork. 'Oh he's got a conviction? We can't mess with him.' But by that paper, they don't know I've been volunteering for youth football for over 20 years," or that he's a father, and has a grandson he dotes on, he said. "I can only hope they judge me on my experience, not on the record that I created when I was in my early 20s."
For more on California politics, follow @cmaiduc.
---
UPDATES:
6 p.m.: This story was updated with comments from participants in the "expungement clinic."
This article was originally posted at 11:45 a.m.
Sign up for Essential California for news, features and recommendations from the L.A. Times and beyond in your inbox six days a week.
You may occasionally receive promotional content from the Los Angeles Times.