20 years in prison to the Oscars: 'Gary from Chicago' writes his Hollywood ending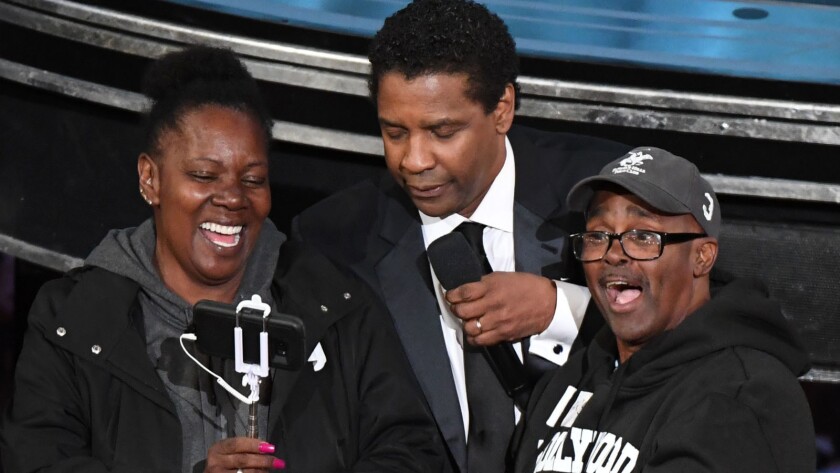 Hollywood loves a story of redemption, and right on cue, Oscar night delivered Gary Alan Coe, a one-time drug addict and career criminal who, after decades in prison, is trying to turn his life around.
Coe became an instant sensation at the Oscars after he and his fiancée were plucked off a Hollywood street to join a tour group that was bused to the Dolby Theatre, which hosted the town's glitziest awards show Sunday night. The unsuspecting tourists were guided to the front of the house by host Jimmy Kimmel as part of a comedic routine.
Coe's antics — he snapped photos, kissed the hands of Halle Berry, Nicole Kidman and Octavia Spencer and Best Actor nominee Denzel Washington presided over a faux wedding of Coe and girlfriend, Vickie Vines — were immediately endearing, and thus "Gary From Chicago" joined Oscar lore.
Only three days before, Coe had been released from a California facility after serving a 20-year prison sentence. Coe, 59, was sentenced to 25 years to life in July 1997 for petty theft with prior convictions under California's "three strikes" law.
He'd been out of prison just a few months from a 1994 grand theft conviction, when on New Year's Eve 1996, he stole perfume from a Robinson's May department store in Redondo Beach.
Two prior convictions for robberies in the 1980s and in 1975 for attempted rape in Cook County, Ill., when he was 18 meant that perfume theft made Coe eligible for a life term under the three strikes law approved by California voters in 1994. He entered Corcoran State Prison — which also houses Charles Manson.
In 2012, California voters approved Proposition 36, which revised the three strikes law to impose life sentences only when the newest felony conviction involves a serious or violent crime.
Coe and thousands of others became eligible for resentencing.
He never gave up behind bars, said his attorney, Deputy Public Defender Karen Nash.
"His is a story of redemption and compassion...14 prison guards wrote letters supporting his release," Nash said. "He was drug addict and very different man back then."
While in prison, Coe mentored other inmates and "became the poster person for rehabilitation," she said.
Over the objection of prosecutors, the public defender's office persuaded a judge that Coe was eligible to be resentenced, despite his prior attempted rape conviction.
Because of that conviction, Coe is listed in California's Megan's Law sex offender database.
On Feb. 14, a Los Angeles Superior Court judge ruled that Coe did not pose a threat to society and resentenced him to six years in prison for the 1996 petty theft. He was given credit for time served and released from prison Thursday. His last six years were served at the Corcoran Substance Abuse Treatment Facility.
Nash said that Coe is frank about his considerable rap sheet and years of drug addiction, fueled, he says, by a troubled childhood.
And it is rare, she said, for so many correctional officials to support an inmate's resentencing and release
"They saw the guy everyone saw at the Oscars," Nash said. "A guy who carries his girlfriend's purse. A guy who shows inmates not to follow the path he did of crime."
Coe told the Chicago Tribune on Monday he was holding hands with his fiancée while walking on Hollywood Boulevard when he was asked by someone he thought worked with a tour bus company if he would like a free sightseeing tour. He said he had no idea one of the stops would be the Oscars when he boarded the bus with about a dozen other passengers.
"When they opened the door, we were in the Oscars live," he said.
Coe's daughter, Jacqui Williams, 36, a Chicago native who lives in Lafayette, Ind., said her father was born in Memphis, Tenn., and moved to Chicago at age 12 in 1969. He relocated to the West Coast after being released from prison in 1992.
"He's a really sweet, genuine, loving-type of dad. He's the best. I'm proud of him," Williams said.
"I want to show people if you don't give up on yourself, anything can happen," Coe told the Tribune on Tuesday. "People let public opinion crush them, but I served my time. I'm a changed man."
Twitter: @lacrimes
Chicago Tribune staff writers Stacey St. Clair and Tracey Swartz contributed to this report.
ALSO
The best picture show at the Oscars: the flub, the reactions, the blame
A view from backstage: How that big Oscars mistake overshadowed months of planning and precision
'What is happening???' Times photographer explains how he captured that viral Oscars moment
---
The stories shaping California
Get up to speed with our Essential California newsletter, sent six days a week.
You may occasionally receive promotional content from the Los Angeles Times.