Scenes of Homelessness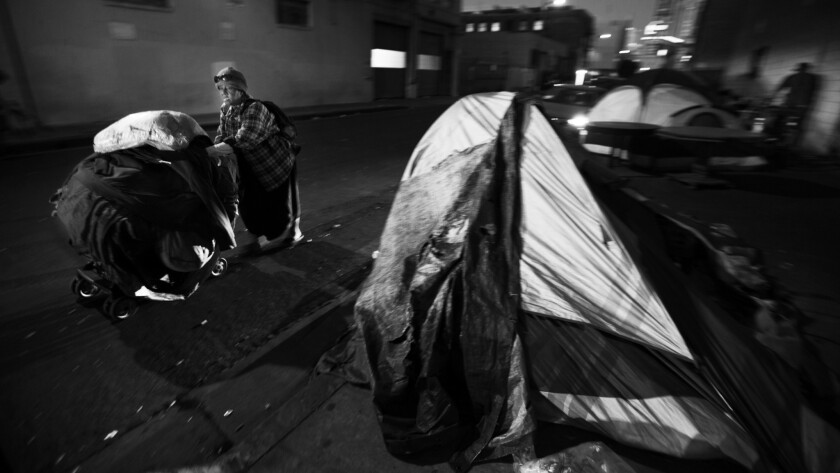 To portray the life of homeless people on the streets of Los Angeles, Times photographer Francine Orr enters their world slowly.
Working alongside colleague and videographer Albert Lee, Orr visits at night to witness people at their most vulnerable.
She asks permission to photograph them, and when they allow it, she spends time listening and watching. Her work is painstaking. She compares it to casting a fishing net and waiting for the right moment.
People sometimes yell at her for being there with a camera. Other times, they thank her for documenting their lives. She wins the trust of those who are untrusting simply by being there, respectful of their space but unflinching in her gaze.
Her images are stark, raw and haunting. Her pictures capture the despair and perseverance of people who are homeless in L.A. and give their lives a depth and dimension that passersby rarely see.
Homelessness has a harsh, daily routine. Morning means waking up on a sidewalk at San Pedro and 5th and rolling up your belongings before heading off to wherever the day takes you.
On Skid Row, one homeless person shuffles from one side of the street to the other as police and sanitation workers clear it for deep cleaning.
On those rare days when it rains, a blanket serves as an umbrella. In fact, a blanket for a homeless person is like armor. It offers warmth and privacy and fends off intruders, both well-meaning and malevolent.
Homelessness has become so normalized in Los Angeles that a man waiting at a crosswalk for a light, engrossed in his phone, doesn't even notice the body on the sidewalk under a blanket next to his feet. A worker outside a downtown storefront simply sweeps around a man sleeping on the sidewalk, taking care not to disturb him.
Those who are homeless carry on through the day, harrowing though it may be. An addict and her boyfriend near MacArthur Park refuse to go to an overnight shelter with its numerous rules. An Iraq War veteran on the streets of Hollywood says he keeps his hands filthy to repel anyone who may come too close.
A flock of birds flies over a sidewalk encampment early one morning — a vision of calm above a landscape of misery.
---
The stories shaping California
Get up to speed with our Essential California newsletter, sent six days a week.
You may occasionally receive promotional content from the Los Angeles Times.